MK1 Sciroccos have always been a favorite of mine. When searching for a second car a few years ago, my decision was between a '77 Scirocco, and the '84 GTI that I ultimately bought. The biggest challenge in buying an old car in New England is rust. Finding a clean rust free example in this region is like snapping a picture of Bigfoot having tea with the Loch Ness Monster.
If there were a list of harshest climates for cars to live in, New England would have to rank somewhere near the top.  So how does a 32 year old car like this Scirocco in Presque Isle, Maine stay so clean? With 47K original miles, it's easy to see this car saw very little road time, and I'd be willing to bet no winters during it's live in Northern New England.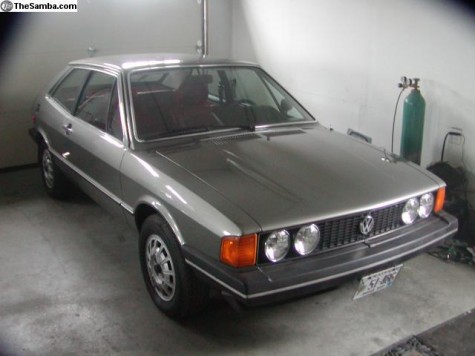 This is a very rare, original 1980 Scirocco with just 47,000 miles. The car was originally sold in Manchester NH and somehow avoided suffering the same rusty fate as virtually all other New England Sciroccos. I don't have the exact story, but it was stored for decades. A Samba member told me that he looked at this car in 1998 and it had been stored in a garage for the previous 10 years at that time. A business owner and collector in Hartford CT eventually acquired the car several years ago and performed a mechanical restoration to make it his sunny day daily driver. The car is now in perfect running condition with new belts, hoses, water pump, starter, brakes, Borla exhaust, battery, struts and tires on perfect original wheels without any curb rash. The fuel injection system was also sorted as the car had not been driven for an extended period. That also included a new gas tank, injectors, pressure regulator, fuel distributor, fuel pump and more. This car has the optional 5-speed transmission for relaxed highway cruising, a solid 35 mpg and very precise shifting. I'd drive this car cross-country tomorrow without question. It starts instantly, pulls strong and smooth, and doesn't make any funny noises, smells or hesitations. I had forgotten how much low end grunt these cars have. The exhaust has a really nice note to it with Borla dual pipes from the rear muffler. The car runs and drives like new. It's tight and feels just like I remember from decades ago…it has a certain buzziness. I had also forgotten about the reclined driving position in the Scirocco. Even though I'm older and heavier than 30 years ago, it's still comfortable. This car doesn't have the sunroof, so there's ample headroom for tall guys like me.
When I acquired the car, the paint was totally original, but had enough flaws that I decided to paint both sides in the original color. These flaws included some door dings, a stain under the fuel cap, clear coat peel and some surface rust along the bottom of the doors. This work was done professionally. I left the remainder of the paint intact. The color is L98G, platinum metallic. In case I haven't been clear, there is no rust on this car and there is no filler. There has not been any collision repair. The doors fit perfectly and have that nice quality "thunk" when closed.
I mentioned that there's just 47,000 miles and the odometer does work. I don't have a trail of paperwork, but I've had a lot of cars and the interior of the car truly supports the odometer. The red vinyl seats have absolutely no wear…not even on the bolster where you get in and out. They really look and feel new. The pedal pads look right for the mileage with no wear. The red carpet looks like new with no decades of ground-in dirt and stains. The headliner looks new. The steering wheel looks and feels new. The cargo area looks new with none of the usual scratches and scuffs…especially on the black cardboard pieces and the painted areas. Even the carpet on the top of the cargo cover isn't faded! There's no rust under the spare tire. The door panels have never been cut for speakers. All of the rubber seals and trim are excellent. That's the advantage of northern cars. Rubber and trim gets baked in the South and West, but not in northern New England. The only letdown is that the obligatory dash cracks are there. However, I've never actually seen a used Scirocco Mk 1 without dash cracks. I have to wonder if such a thing exists. The radio was updated to a modern Kenwood unit, but period VW AM/FMs are easily obtainable. All in all, the interior is so nice and original, I think it's as close as anyone will come to having the same sensation felt on the showroom floor 32 years ago. It'd be nice to detail the engine compartment, but it has the original cosmoline all over everything. It's original and it's a royal pain to remove, so I left it as it came from the dealer. There are no leaks at all.
If you want a well sorted original Mk 1 as you remember from decades ago, this is the one. It really is low mileage, it's not rusted or wrecked, the interior hasn't been baked or mildewed, and it never suffered from under-financed youthful ownership (i.e. neglect and modification). These cars will probably increase significantly in value during the next 10 years as there's a lot of people with fond memories and high regard for the Mk 1…and they are very hard to find. The price of this car should be cheaper than buying a tired $1-2K example and performing a time-consuming restoration. Another consideration is to use this car as a daily driver. At this price, it's half the price of a new entry-level car and won't depreciate if maintained well.
While the market for vintage water-cooled VWs is definitely on the rise, this Scirocco is priced a little too strong, even for an original low mile car like this.  With the usual issues that come with age, deteriorating interior, and the usual wear and tear.  While replacement parts for these are hard to come by, they're out there, which makes this car a few internet searches away from being perfect.
With high retail on these cars at $5,500, all things considered, this car is worth $6,000 all day long, and with the low mileage, I'd even be willing to stretch to $6,250.  Whether or not it can be had for that, will all come down to how motivated the seller is.
-Brian