The 4000 was introduced initially in the U.S. as a 1980 model to replace the Audi Fox. The initial offering was a 1.6L 4-cylinder with 4-speed manual transmission, both in two and four door versions. The 1981 model year saw the displacement jump to 1.8L and a 5-speed maunal transmission was made standard. The S model offered the 5-cylinder with automatic transmission you see in this car. While it was by no means an autobahn burner, the 5-cylinder engines made great torque and had a sound to die for.
The Audi 4000 really didn't capture the eye of the North American market until the 4000CSQ was introduced, and Quattro-mania sweeped the nation…well not really quite on that scale. This clean '81 4000s for sale in Vancouver, British Columbia was brought to our attention from reader Milo and is a well kept example of Audi's entry level sedan.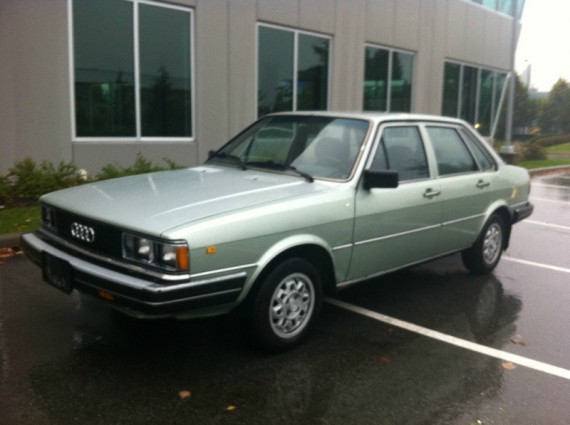 1981 Audi 4000S. Automatic, air conditioning, power windows, locks, mirrors and sunroof. Heated seats, only 133,000 km on this car. Local BC, no accidents, fresh aircare comes with three months unlimited warranty.
This 4000 is a well preserved car having only seen 4,200km (2,681 miles for those of us not on the metric system) per year. The green over green color scheme embodies everything early '80s and as far as I'm concerned is coll as hell. At $1,950, this is a great little car for secondary transportation, or dare I say a "winter beater" for those that have something far too pretty to see the snow. Would it be better if it were Quattro? Sure, but these are just as cool and a bit rarer.
-Brian