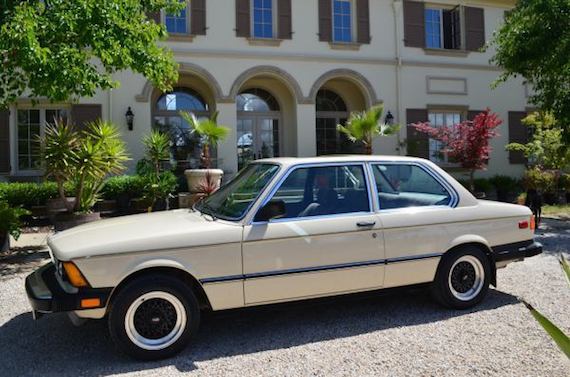 The 1981 BMW 320i survivor we featured last month is back up for sale. The E21 is still a bit of a dark horse with collectors, but it's certainly worthwhile to snap up a good one while they hover at affordable levels.
The below post originally appeared on our site May 28, 2014: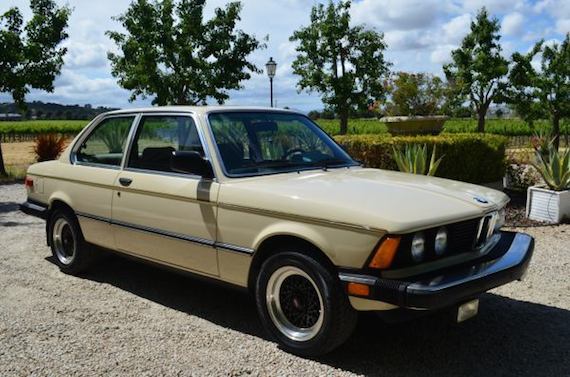 We've seen some crazy E21s on GCFSB, sporting less than 20k miles in their three decades of life. These tend to be the only ones we write up, because the original 3-series lacks the cultish following of the later E30 and most seem to be beat to hell. Today's is a sweet middle ground, where it's covered just 80k miles (not a lot, but not a little), and is looking outstanding inside and out. The Safari Beige well suits the E21's lines, as do the black basketweaves with bright rims. The amazing preservation extends to the beige cloth interior, which looks fantastic and comfortable. One of my best friends in high school had a beater E21, but it was still a cool and unique car. This 320i would be an outstanding buy for someone who loves BMWs but wants to start light – like a high schooler (or parent).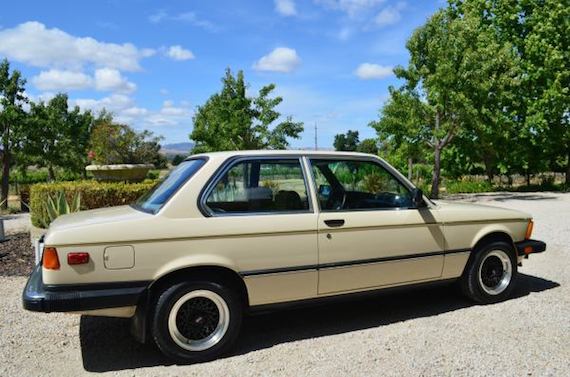 Year: 1981
Model: 320i
Engine: 1.8 liter inline-4
Transmission: 5-speed manual
Mileage: 81,280 mi
Price: Reserve auction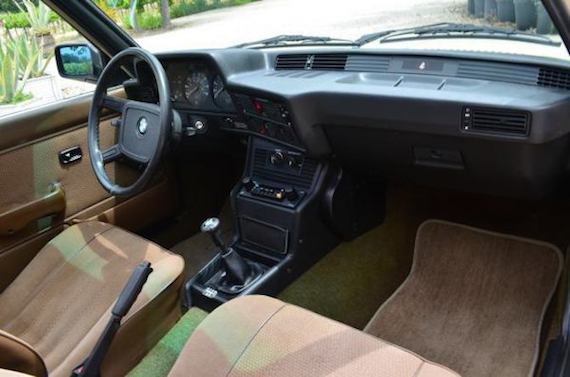 OVERVIEW-THIS PARTICULAR BMW 320i (E21)
We have had a soft spot in our hearts for BMW's for many years. In fact, our owner purchased a new 1979 BMW 320i "In the day." The car was driven from Illinois to California when he relocated and, as they say, "The rest is history." In 1983, the 1979 BMW "3-Series" was traded in on a newer model, this one a 1983 "S" 320i including factory Recaro style seats and BBS wheels. We thoroughly enjoyed that car and think of it often as one of our favorite sporting sedans. Since then, we have had too many BMW's to count including M5's, M3's, and a host of others.

When we drove this particular car we couldn't help but be impressed with how much it reminded us of the cars that we had in the 1980s. The car remains exceptionally solid, exhibits the handling and braking that BMW's are known for coupled with a comfortable interior. In the early 1980s the BMW 320i (body designation E21) was the "must have" car of young, upwardly-mobile professionals–or "Yuppies," as they came to be known. This particular car is a true unmolested "Survivor" of this class with only 81K miles while owned by the original buyer for 32 years, mostly in California (originally delivered in Texas). The car has been carefully maintained as evidenced by included documentation.

BMW 320i's in totally original, unmodified condition are becoming, as the old saying goes "As rare as Hen's teeth." This example retains a lovely patina and the label of "Survivor" is certainly appropriate. Cosmetically, it presents very well and it has been extremely well maintained as is supported by a large volume of repair / maintenance history. Notable features of the car include:

– 1.8 L 4 cylinder engine w/ fuel injection
– 5-speed manual overdrive transmission
– 4 wheel independent suspension
– Power assisted front disc/rear drum brakes
– Rack and pinion steering
– Halogen high beam lights
– AM/FM BMW cassette stereo
– New radial tires on period correct aftermarket mag wheels
– New battery
– Air conditioning elements all present but not functional at this time
– Complete safety/performance inspection by a local BMW specialist in July 2013 including $1000.00+ of maintenance/repairs
– February 2014 new windshield/rubber seal
– May 2014 speedometer cleaning and calibration
– Recent new radiator
– Transmission rebuild reported by previous owner
– All factory manuals plus purchase documents and sales brochures
– Haynes repair manual
– Original Safari Beige paint in good condition
– Original "Mocha" cloth interior in very good condition (with carpet fading that is characteristic in this vintage BMW)
– Optional manual sunroof
– Clean CARFAX (no accidents or negative activity) – Reflects chronological mileage progression

DETAILS-THIS PARTICULAR BMW 320i (E21)

This car is a well maintained, unmolested "survivor" still bearing the majority of its original paint and interior. Although not restored, it is very presentable and drives extremely well. The car was owned by the original buyer for 32 years, mostly in California. The VIN is WBAAG3308B8005882 and the car has current California plates. The current odometer reading is 81,208 miles, and, judging by the maintenance records, is felt to be entirely accurate. The car comes with virtually all of the original documentation including all factory manuals and the original window sticker including:

– BMW Folder for Materials
– BMW Owner's Manual
– BMW Service Manual (Stamped with Dealer Servicing through 60,000 Miles!)
– BMW Radio Manual
– BMW Service Location Manual
– BMW Window Sticker
– BMW Standard Equipment & Fuel Economy Rating Sticker
– Original BMW Options List (Something we have never seen)
– BMW Color & Upholstery Selections
– Complete Dealer 320i Brochure
– "The Ultimate Driving Machine" – BMW Brochure
– Mailing to Original Owner for BMW Optional Equipment / "Extras"
– BMW Original Odometer Mileage Statement (Showing original delivery miles of 20 miles)
– BMW Original Vehicle Service Contract
– Original Car & Driver Road Test Article 1980

HISTORY OF THIS PARTICULAR BMW 320i

This car was sold to the original owner by BMW Auto Center in Houston, Texas on April 2, 1981 for $15,862. That original owner and two college buddies all purchased 320i's at that time. He subsequently moved to Denver for about 6 years, eventually moving to the Pleasanton, CA area. This original owner was very meticulous as evidenced by the maintenance records. He finally sold the car after 32 years of ownership in 2013 to the second and current owner, also a Pleasanton area resident. The current owner has continued the meticulous care as evidenced by further maintenance records. He has driven the car only a few hundred miles and kept it garaged.

MAINTENANCE

The car was faithfully maintained by the original owner with many service stamps in the original BMW service book up through the 60,000 mile stamp. He had additional work performed in the last 5,000 miles of his ownership as listed below (no receipts available):

– Transmission rebuild-shifts beautifully, all synchros smooth
– New radiator-does not heat above mid-point even on 100 degree day

The second and current owner has continued this maintenance beginning with a comprehensive safety and performance inspection and repairs ($1,034) at Performance Technic, Inc., a local BMW specialist. They stated it is one of the nicest E21's they have seen with the lowest miles they can recall. "It is in fine operating condition."

Maintenance by the current owner includes the following:
– Complete tune up
– Oil and filter change
– New fuel pump
– Brake lines flushed-brakes excellent
– New fan belt
– New tires
– New battery (dated 5/2013)
– Speedometer overhaul (as a result of erratic speedometer needle), replace all dash bulbs $303, May 2014
– New windshield (due to pitting) w/ new rubber seal $448, February 2014

ENGINEERING FEATURES
– 1.8 L OHC four cylinder engine
– Bosch K-Jetronic fuel injection
– Transistorized, breakerless ignition
– 5 speed overdrive manual transmission, fully synchromesh
– Four wheel independent suspension
– Front torsion bar stabilizer
– Power assisted brakes-front discs, rear drums
– Rack and pinion steering
– Electronic tachometer
– Warning lights for low fuel, handbrake and braking system, brake pad wear, alternator, oil pressure
– Halogen high beam lights
– New Aspen Touring 195/60R14 radial tires, 10/32″ tread
– WEDS black spoked wheels, a period specific OEM after market replacement

COMFORT/SAFETY FEATURES
– Electric rear window defroster
– Tinted glass all around
– LED digital quartz clock
– Tool kit (under trunk lid)
– Electric outside rear view mirror
– Fully reclining front seats
– 3-speed intermittent windshield wipers
– Flow-thru ventilation system
– 3-point seat belts front and rear
– Integrated center roll bar
– Hydraulic safety bumpers

FACTORY OPTIONAL EQUIPMENT
– Luxus touring group (air conditioning, AM/FM cassette stereo, fog lights)
– Manual sunroof
– BMW logo rear mud flaps

EXTERIOR

The exterior still bears the original Safari Beige #147 paint with dealer-applied pin striping tape (as was so common "in the day.") The paint is high gloss and not thin, but does show some defects, particularly on the trunk lid plus a small "hot spot" at the bottom front of both doors. There is also some slight surface rust on the valence panel under the nose and a small dent on the right side of the hood. Both front and rear bumpers are in good condition. All trim is good with one small door ding size dent below the passenger side window. The body shows no evidence of accident damage plus the CARFAX (available upon request) does not indicate any signs of accidents. The hood, trunk lid and both doors close smartly and all body panel gaps are good as expected for German engineering. The rubber seals remain pliable and in excellent condition overall condition.

There is a small, tight crack in the left side backup light lens. All window glass is tinted and excellent and the windshield and its rubber seal are brand new. The car has the optional manual sun roof and BMW logo rear mud flaps. The underside of the car is original, not detailed, but free from other than the usual patina and light surface rust on exposed components. However, there is no rust through and the floors, rocker panels, and other major surfaces are very solid and damage free.

The car retains its original dealer installed "mid-line" multi-color pinstripe that was so fashionable in the late 1970's / early 1980's. While it shows some signs of separation, it is in overall good condition and could certainly be replaced with a different pin-stripe should the new owner choose.

INTERIOR

The interior is still the original Beige #0077 cloth, which is rare and hard to find in today's survivors. The seats show virtually no signs of wear and the door panels are excellent. The black dash pad is free of cracks and the black steering wheel is excellent. The car has 4 color coordinated floor mats. Both side windows roll smoothly and the rear windows fold out at the rear as designed. All weather stripping, though original, is still pliant and functional.

The original BMW AM/FM cassette stereo is still working in the dash with two rear package shelf speakers. The air conditioning is not functional, but all factory components remain in the car. The pulley and belt (provided) would need to be re-installed and the system converted to R134a refrigerant to be functional.

The engine compartment is as original and not detailed. The power brake vacuum unit shows surface rust and the top-side aluminum engine components are quite dull.

The trunk compartment is very solid, showing no signs of damage and retaining high gloss paint. A factory spare tire / wheel is provided along with the OEM jack. The original factory tool kit is housed under the trunk lid.

DRIVEABLILITY

The car starts easily, idles well, shifts smoothly rides comfortably and cruises nicely. There are no unusual noises. Everything is in working order except for the air conditioner. The car does not overheat, even on extremely hot days. There are no significant leaks/drips.

OTHER
– Original window stickers, purchase info and sales brochures
– Original owner's handbook, radio manual, service booklets
– Considerable maintenance records/receipts
– Haynes BMW 320i Repair Manual
– Current California registration (license 7BDN649) and clear California title
– Passed the California required safety inspection for working wipers, turn signals, lights, brakes, tires, etc.
– Clean CARFAX; no accidents
– One owner for first 32 years
– Passed CA smog testing one year ago by significant margins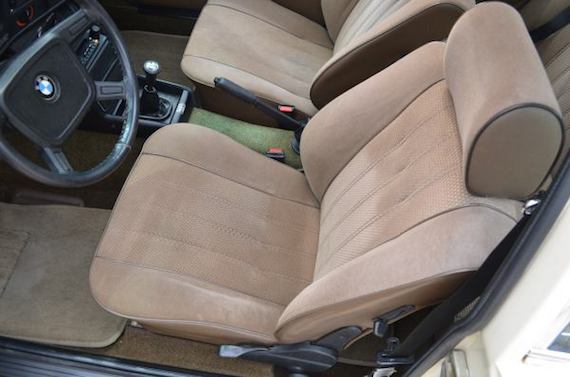 One of the more thorough descriptions I've seen in a while, which is in line with the condition of this car. It's certainly been driven, but whoever was putting those miles on it cared – A LOT. If the reserve can come off and someone can grab this for anything around $6-7k, I think it's a clean and fun buy.
-NR