We had this car posted up on the site back in June, but it is back, still with the same owner.
It's probably no secret by now that I'm 80's fanboy and modified e21's are a perfect fit in my mind, especially when restored to this degree. This car is so period correct in terms of upgrades and modifications, and being a Euro-spec 6 cylinder model it really stand out.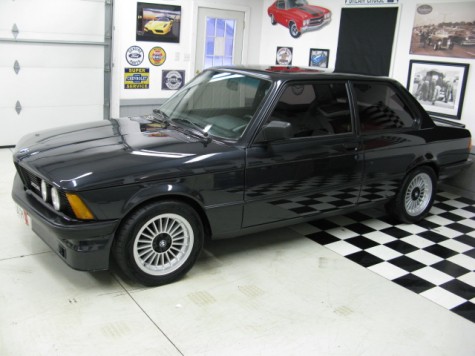 quote from seller's listing:
You are bidding on an extremely rare 1981 323i Euro. Very well documented, still retains much of the original paperwork when brought to the US including the EPA approvals and original German owners manuals. As we continue through the description and pics , you are seeing the results of over $15000 in restoration costs and while not factory stock, I think you'll agree, this is one unique "ultimate driving machine". The Euro model E21s differ quite a bit from the American spec versions: Larger, more powerful 6 Cylinder engine, fixed rear quarter windows, better suspension, slim bumpers, no side markers, different parking lights, better headlights, etc…) I've tried to cover as many particulars as I can in the following description but I'm sure I've neglected something so feel free to call.

Exterior: Vehicle was originally Brazil Brown, very high quality repaint with attention to detail. Current color is Cosmos Schwarz (Cosmos Black Metallic) . It would be very difficult upon inspection to determine that this was not the original color, vehicle was completely disassembled prior to paint.
* New OEM weather strip throughout
* New OEM rear quarter windows
* New OEM front windshield, Euro market green tinted glass
* New OEM front and rear bumper rub strips
* New OEM E30 style spoiler
* New Alpina style 15×6 wheels with Kumho Ecsta SX tires all around
* European H4/H1 Hella headlights

I've also included Euro style license plates, front and rear to help with the authentic look All exterior trim has received a "shadow-line" treatment as well, accented by professionally installed 30% window tint all around.

Mechanical: Stock European M20 2.3 liter 6 cylinder
* True Euro engine, no catalytic converters or unnecessary smog. All EPA/DOT paperwork included.
* All new vacuum lines, hoses and new air boot.
* New fuel lines and filters
* Bav Auto 8mm high temp plug wires
* New distributor cap and rotor
* Timing belt and water pump within the last 20000 miles
* 3.64 limited slip diff with redline fluids.
* New OEM BMW dual exhaust from manifold back.
* New axles and CV boots
* Front and rear Bilstein sports, front and rear H&R lowering springs
* K/MAC adjusted camber and caster plates
* All new bushings including front and rear sway bar bushings
* New tie rods and tie rods ends
* New steering knuckle and rag joint
* New calipers and vented rotors
* Korman Automotive rear strut-brace with integrated trunk-mount battery relocation
How cool is that interior? And the shadowline style trim? This car is very close to what I would build if I had a budget and talent for such things. Makes me feel like I'm 17 again and reading early European Car magazines!
dc
Note from Evan:
Dan and I both found this car and double posted, my comments are:
For those looking for something a little more wild than this fairly stock black beauty check out the 323i widebody posted and for sale on the site right now.
This car looks very nice.
All Euro with H4 head lights, better breathing M20 2.3 liter motor.
This 323i is just begging for someone to complete the murdered out look, give it some black rims and smoke those tail lights and orange corners. It has newer Cosmos Schwarz paint, that looks like a quality job, the original color was brown.
The lines are just classic, the little touches like the dual exhaust and the little trunk lip spoiler are perfect and it comes with a proper manual transmission. The houndstooth interior looks fantastic, it even carries through into the trunk and looks good.. The seller has $15000 in receipts an documents.
The car presents very well for the mileage. This looks like a real nice find.
Bidding is up to $6,300 with the reserve not met. Pretty healthy pricing for an 80s vehicle with 100,000 miles that, while special, wasn't exactly top of the range when new. It is unclear what the seller is looking for price-wise, don't expect this one to go cheap. I imagine it will attract the eyes of a few Bimmer fans. It has my attention.
~Evan