The 928 is certainly one of the most unique GT cars from the 80's. Some love the looks, others…not so much. Well, if you hate the 928, you may want to turn away now, because this Strosek Version 3 928 is certainly not for everyone.
In 1984 Vittorio Strosek broke off from German tuner Koenig and built his own vision on the Porsche's flagship 928. One of the first aftermarket tuners for the 928 Strosek filled a niche in the market with his wild designs. Along with the body kits, which are totally '80s Strosek also offered tuning packages for the 928 so it had the grunt to match the looks. Strosek offered 2 levels of tuning, a mild 310bhp cam and cylinder head upgrade for the reserved, and a 405bhp twin turbo version for the all out speed junkies.
While not clear how complete (or extreme) the Strosek conversion is on this barely used 928, one thing is for sure if you played Atari in your teens, this car is right up your alley.
Year: 1981
Model: 928 Strosek Version 3
Engine: 4.5 liter V8
Transmission: 5-speed manual
Mileage: 47,000
Price: N/A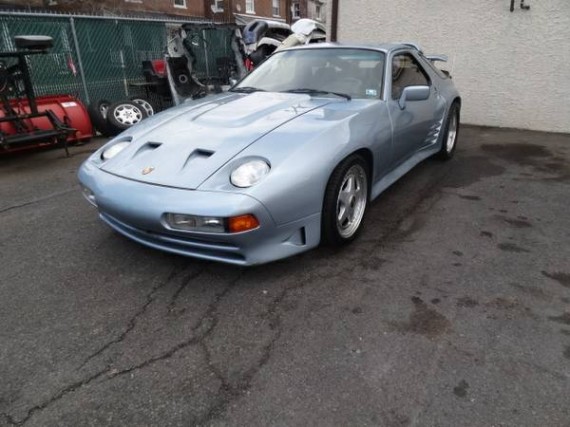 Up for sale 1981 Porsche 928 With only 47,000 Miles and CLEAN TITLE this vehicle has a body kit from STROSEK DHAUS AUTO SPORT. For more info please call (267) 664-1856
This car is certainly not for the faint of heart, but if you're a fan of '80s tuning it is exactly what the doctor ordered. This car looks like it came out of a collection, as the conversion is clean and complete right down to the OZ futura wheels. Strosek used the OZ wheels circa 1987, which leads me to believe that's when the Version 3 treatment was done.
We've run in to this before several times. What is something like this worth? Strosek certainly wasn't a household name like AMG or Gemballa, but they are rare none the less. A bone stock 928 of this age with only 47,000 miles should fetch in the $12,000 ballpark. If you add in the rarity and the modifications, this car should fetch somewhere around $17,000. If it's a twin turbo car, upwards of $20,000. The fact that it is not priced leads me to believe that the asking price is top dollar.
-Brian