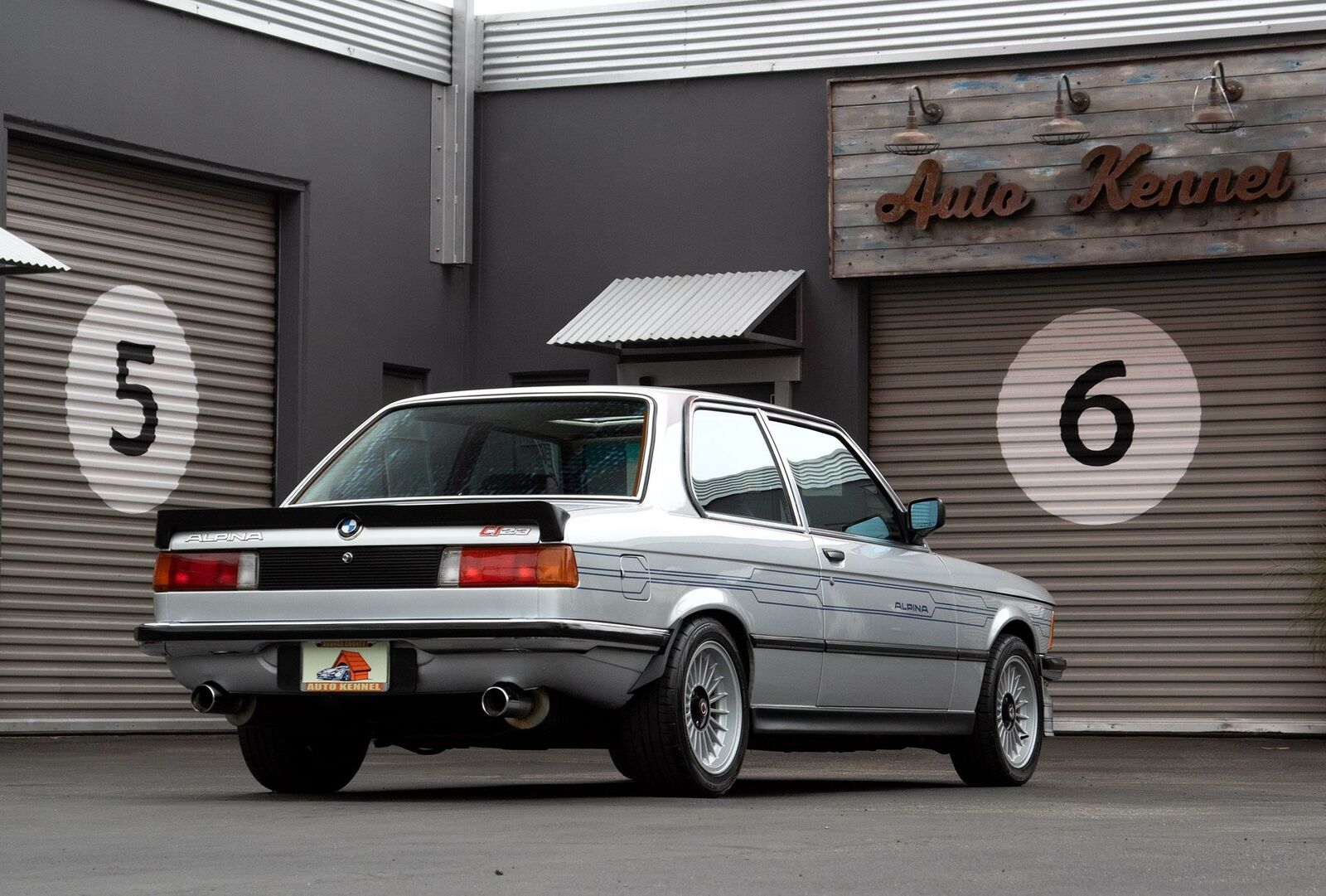 The E21 generally remains the affordable classic in the 1970s to 1980s BMW range, being undervalued when compared to many of the E10s and E30s. It has all the right ingredients for the BMW faithful, too – especially in little six European trim. The 323i looked like a scaled down 6-series and it effectively was, but that doesn't make it in any way unattractive. Alpina, too, had their had in this model, producing no less than seven variants in a short run. The most popular is the bad boy B6 2.8, but there was a lesser known M20 powered C1 2.3, too. With 170 horsepower and all the right Alpina details, it's begging for the attention that it deserves: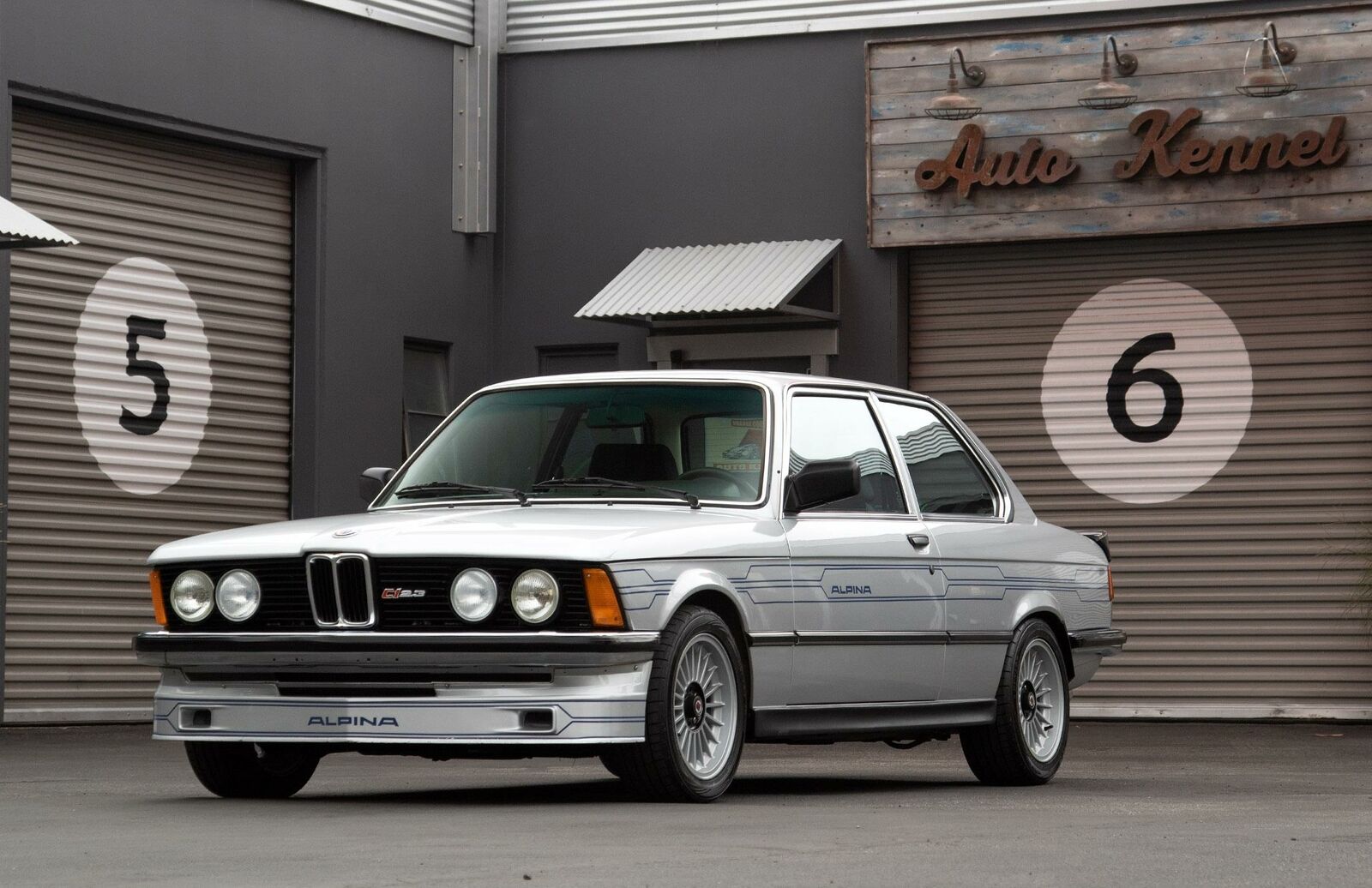 Year: 1982
Model: C1 2.3
VIN: WBAAH3103C745XXXX
Engine: 2.3 liter inline-6
Transmission: 5-speed manual
Mileage: 130,300 mi
Location: Costa Mesa, California
Price: $39,900 Buy It Now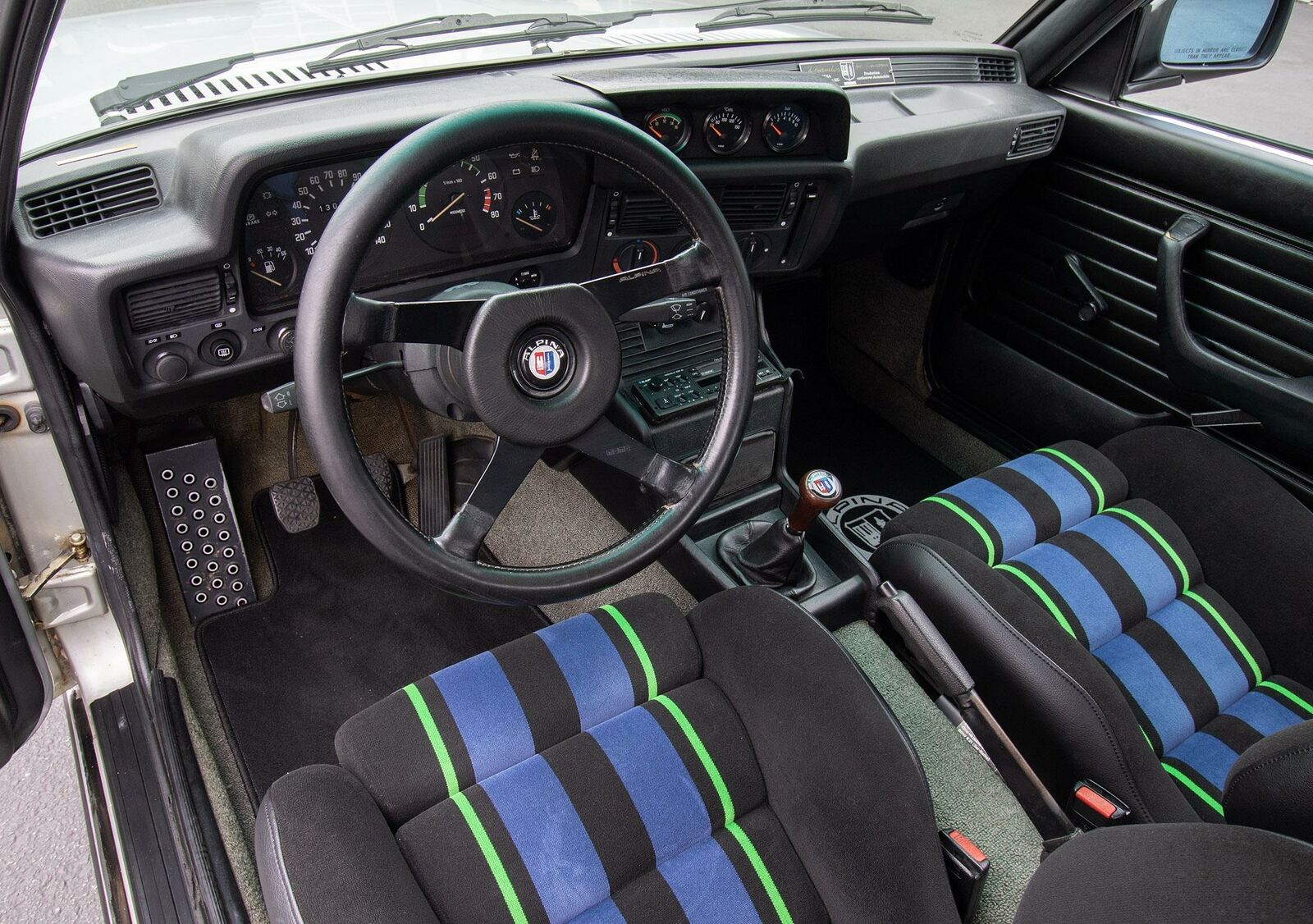 1982 BMW 323i / E21 Euro
Factory C1 2.3 Alpina Engine & Parts
Limited Slip Differential / Alpina Wheels
Documented History from New
Federalization/EPA Documents
California Car for 30-Years

Numbers Matching / Factory Alpina Verified Engine
130,400 Miles
30,000 Miles (approx.) on Top End Engine/Head Rebuild
Polaris Grey Metallic on Black with Alpina Inserts
5-Speed Manual Transmission
Clean and Clear California Title
Clean Carfax® Report / No Accidents
Original Import Documentation
BMWCCA Member Owned

This 323i was built on November 5th, 1981 and sold new to Hans-Peter Berkmann of Bavaria. He recently had purchased a 1981 C1 2.3 Alpina that was totaled 6-months later. So, he purchased this 323 on May 6th, 1982 from Autohaus Biller, the BMW dealer in Mittenwald, Germany (about an hour south of Munich). Shortly after purchase, he took the car back to Alpina in Buchloe and had them swap over all the parts from his damaged C1. This included the following factory Alpina parts:

323i-based 6-cylinder engine from Alpina
Limited-slip finned-cover differential
Front struts
Rear shocks
Front and rear springs
Front and rear sway bars
7Jx15? wheels & wheel caps
Rear rubber strakes (mud guards)
Front fiberglass spoiler
Rear rubber spoiler
Dash plaque (no. 3-2108)
4 floor mats
Dead pedal (foot rest)
Front grille emblem
L&R trunk emblems

Alpina also showed in their registry that the engine parts were installed in this new engine, which matches the current chassis and the engine is listed as a factory Alpina. Alpina further provided details on the engine, which is a 10.0:1 compression and produces 170hp.

Further factory Alpina parts that are on the car but we can't verify Jonathan installed them at Alpina or at a later date include:

Extra gauge cluster on dash
Close-ratio 5-speed transmission
Early mechanical fuel injection system
Manual (non-power) steering gearbox

Further unique features of these European built E21 include:

Front and rear bumpers smaller bumpers
Rear skirt-mounted license plate bracket
Manual windows
Power mirrors
Manual sunroof

Within the next couple of years, Jonathan Lewis of Cupertino, California was in the military and stationed in Germany. He ended up purchasing this 323i and importing it back to the U.S. on October 24th, 1984, with 25,415 miles. He imported his 323i through proper channels and underwent the strict federalization process. We have all the US Department of Transportation import documentation showing it legally imported and passing the EPA testing.

Jonathan kept the car for 4-years more before selling it in 1988 with around 38k miles. The next significant owner was Paul Enagonio of Los Angeles, California. He just missed buying this Alpina from Jonathan. However, he hounding the new owner for 6-months until that owner sold it to Paul on July 6th, 1989 with 39,137 miles. Although he ultimately titled it in first Kansas and then Louisiana over the next 23-years of his ownership, it's not clear if the car ever left Southern California. I believe it was registered out of state due to the increasingly difficulty with passing our strict smog test. During Paul's ownership, he serviced it regularly with respected BMW mechanics. The most significant repair he performed was when he had the cylinder head rebuilt/top end engine rebuild in 2001 ($2,500), which included a new camshaft as well.

In June of 2008, Paul sold the car to Walter McNally of Rutland, Vermont with 115,203 miles. Walter kept the car 5-years before selling it on June 8th, 2013 with 118,350 miles to Dieter Stenger of Auburn, California. Dieter had moved from Germany to the California about 10 years prior. He set out to learn more about the car's history as well as start a light refurbishment. He ended up connecting with the original owner from Germany who explained that he had purchased a C1 from Alpina in 1981 but ended up totaling it in a traffic accident about 6 months later. So, he purchased another 323 and had all the Alpina parts from the first one swapped over to the new 323. It appears that Alpina was involved in this swap as they have verified that the C1 engine is an Alpina engine and in their records. Apparently, they took all the parts from the other C1 engine and installed it on this engine as its stamped number also matches the VIN. The first owner had a German artist do some graphic paint work on the lower part of the car near the rockers and onto the rear fenders. Dieter decided to make it look more correct.

Dieter had part of the car repainted by a top local paint specialist and fresh Alpina decals installed. He also replaced some of the rubber trim and re-chromed the original bumpers. He had the correct Recaro front seats reupholstered with Alpina fabric, rear seats reupholstered, new sun visors, fresh door panels, and he sourced a correct Alpina steering wheel with matching shift knob. He also had some engine tuning and routine service performed. He had the original Alpina wheels refurbished as well as steering rack boots and tie rod ends. He went through quite a bit of effort to reinstall all the correct smog equipment including new Magnaflow catalytic converter, Lambda computer, EGR valve, hoses, and O2 sensor. He repaired the exhaust system as well. Lastly, a Blaupunkt Nashville radio was installed. Once completed, he took it to the 2013 BMWCCA Oktoberfest in Monterey where it was part of a special BMW Alpina display. He got to meet the founders of Alpina and they signed his dash plaque.

He sold the car to a long time BMW collector and friend of ours up in Sacramento, California in October of 2015 with 126k miles. This owner only kept the car for a couple of years and barely drove it when the current Los Angeles owner found the car while searching for an E21 Alpina to buy. The car wasn't for sale, but he convinced the owner to sell it to him on January 7th, 2017 with 126,665 miles.

For the past 4-years/4k-miles, this owner has had a local European sports car specialist go through the car to make sure it was ready to be enjoyed specifically on vintage tours like the Targa California and weekend driving in the local mountains. Highlights of services and upgrades performed include:

New Bilstein Sport front and rear shocks
Replace drive belts
Oil pan gasket
Check battery and charging system
Refinish side mirrors to correct Alpina finish
Install Dunlop tires
Refinish trunk area
Compression test (within spec)
Regular oil services and fluid flushes
Replace transmission mount
Tune up

This E21 is in excellent survivor condition. It has never been restored but lightly refurbished throughout the years. It's clear that this example was not driven in bad weather and always garaged. The chassis is in excellent shape with no signs of any prior damage or corrosion. The paint is in very good shape with some panels still being original paint (roof and trunk). There are a few minor nicks here and there, but nothing glaring and far less than you would expect for the age/miles. The glass is very good shape with no major chips or scratches. The windshield has been replaced but the rest of the glass appears to be original and wearing the proper factory stampings. The Alpina graphics were installed about 7-years ago and are in excellent shape. The original factory Alpina 15" wheels were restored about 7-years ago as well. They are in good shape with no significant curb rash. They are wearing Dunlop tires installed in 2017, which was about 4k miles ago. They have at least half-life remaining, if not more. The rear brakes are at about half-life and the front brakes appear to be at around 75% life remaining. All the exterior lights work including the correct Hella headlamps.

We have more details as well as over 150 photos on our website at AutoKennel. Either put our name in Google or click on link in our Ebay Store.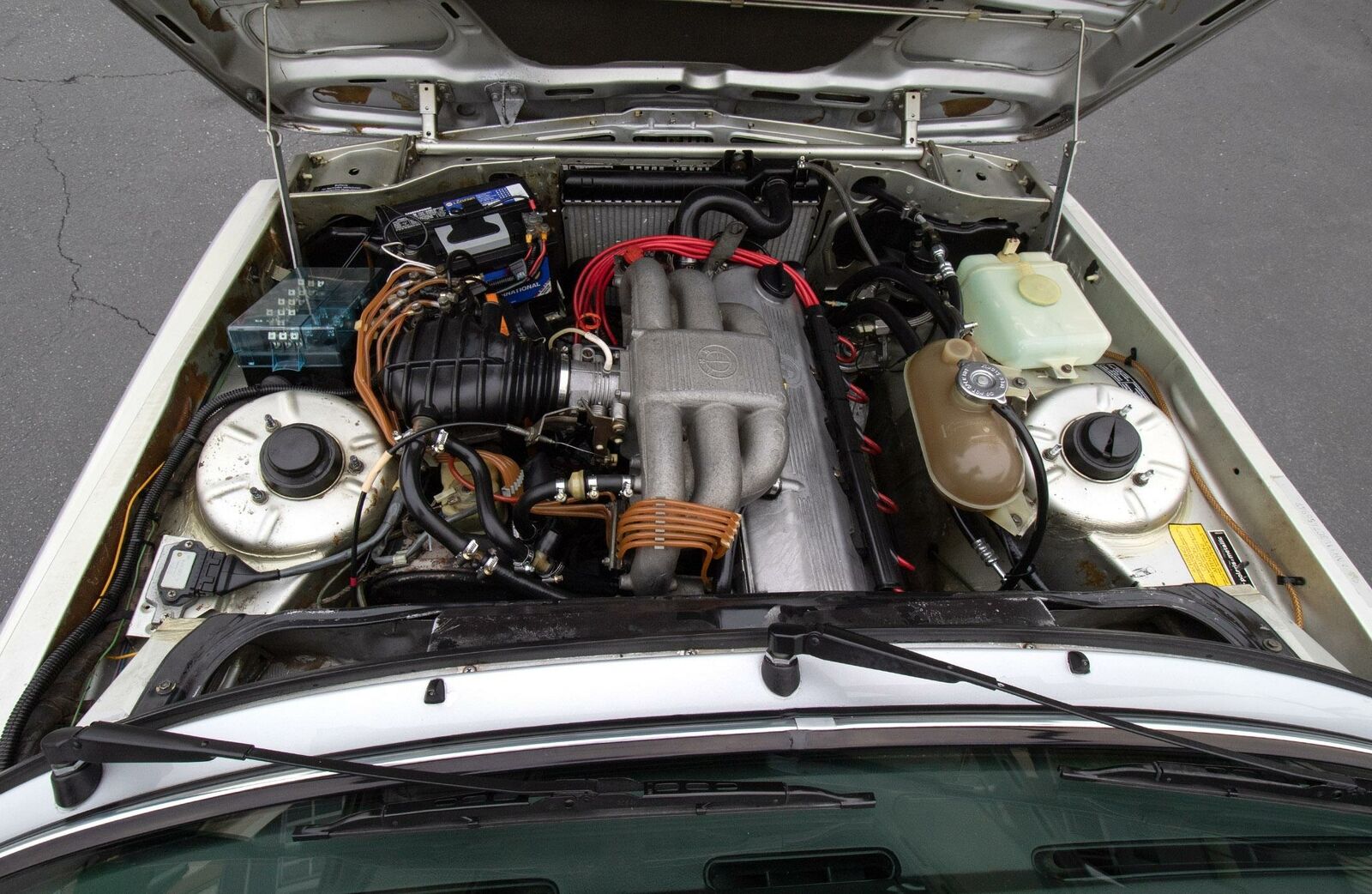 The C1 didn't hold the performance that the B6 2.8 E21 model did, but it did sit nicely in-between BMW's own 323i model and the B6. It received many of the same upgrades as the B6 such as suspension, bodywork and interior, but had its own unique 170 horsepower version of the 2.3 inline-6 instead of the 2.8 unit from the E12/E28. This example, 3 2108, does appear in the Alpina Archives and seems to have all the correct bits in place, and I have to say – the E21 looks great outfitted by Buchloe. This is a rare bit of kit that's just asking for some respect.
-Carter