With the introduction of the R107 Mercedes-Benz SL, there were some enthusiasts who lamented the transformation of the SL from a sporting roadster to a car that had a more boulevard cruiser attitude. Nevertheless, over a 19 year production run, the R107 was one of the most popular Mercedes-Benz models in history. All of the models sold in the US market were equipped with V8 engines and, except for a handful of early models, automatic transmissions. However, a few gray market six cylinder models made their way across the pond. Here is one of those smaller engined SLs for sale in California.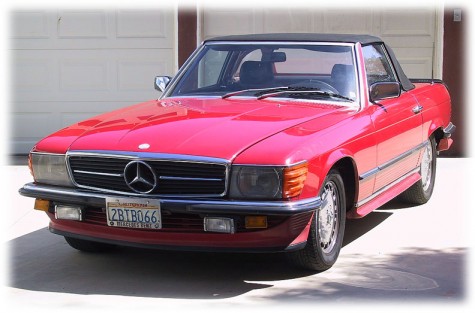 This is a very rare European edition 280SL roadster. This was never officially imported to the USA. Ebay's system can't handle European VINs so I had to put a string of zeroes in there. The real VIN is WDB10704210017210. Currently registered in California.

It's a DOHC six cylinder, fuel-injected, 5-speed ZF manual gearbox, small and elegant European bumpers, flush composite headlamps, etc. It's also been treated to a BBS rear spoiler, plus aerodynamic body kit (chin and rear spoilers, side skirts), easily removed if you prefer, and 15″ chrome Mercedes wheels.

The car runs perfectly, stays cool even with A/C on, no oil leaks, just purrs. The 5-speed gearbox shifts like butter, brakes are perfect, all electrical works including windows, gauges, clock, power antenna, etc., AC works and blows cold! Only 98M! Nice AM/FM/CD with iPod port. Interior is beautiful condition as is the German canvas top. The original matching hardtop is included as well. The body is straight but the paint has flaws (see left fender and trunk lid pics). Small bolt holes in trunklid where third brakelight was removed, covered. A few small dings. Left side orange corner lenses have some cracks. Chrome and trim are excellent.

A great fun car to drive – much quicker and faster than an American 380SL with auto trans. Gets thumbs-up everywhere it goes!
The price for this 280SL is right around the same neighborhood for a similar vintage 380SL with similar mileage. Personally, I always thought the V8 was a bit overkill for such a small car, but I'd prefer a later model 1986 through 1989 300SL. Sadly, those are more rare on these shores than their earlier six cylinder brethren. Given that the first R107 300SLs are now 25 years old and exempt from EPA and DOT regulations for importation, we could start seeing a few pop up on our shores. And perhaps on GCFSB.
-Paul