If you follow the 6 on the net you've probably seen this car before as it has been seen in various Bimmer forums. This E24 has had the works treatment. It started life as a 635csi automatic, but the owner wanted to attempt to bring the older car up to more current standards. The look is a million times better than BMW's own modern interpretation of the shark. The car has an engine and transmission from a 1995 M5, quad exhaust, amazing interior, shaved bumpers and body kit.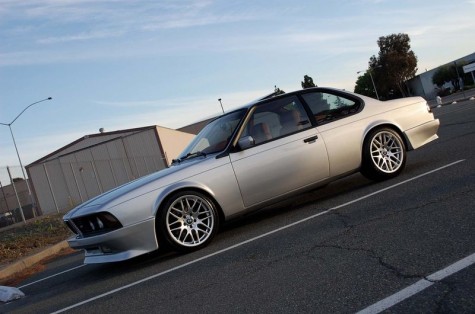 The seller is claiming $110,000 in receipts. That seems a bit high to me. Don't get me wrong, its clear that this was put together with no expense spared ($24,000 on the interior alone), but his shop guys must have been charging some hefty per hour rates. The seller has BMW connections so one would think he was getting full value for his upgrading dollar. A portion of that 100 large is partly do to the false starts the seller had with a couple shops on trying to get the engine work completed. I've swapped engines into places they didn't belong and I know garage hours can add up while you're sitting with a multimeter trying to get continuity to match up two incompatible harnesses. Unfortunately those types of troubleshooting labor receipts don't really add value to the vehicle.
The seller's full list of modifications is worth noting:
–  Rebuilt the 60K mile S38B36 engine from a 93 M5 with bigger camshaft and new high performance headgasket for durablity.
–  Used the M5 clutch with Kevlar surface facing the flywheel among with stronger springs for better performance on the pressure plate.
–  Used original BMW Clutch bearing for E34 M5
–  All front Suspension including: Lower and upper control arms, tie rod ends, struts, hub bearings, brake rotors & calipers are new with BMW M5 Spec.s
–  Rear shocks and springs are from E32 BMW 735i with new Pitman arms (dog bones) and new rear subframe bushings and mount.
–  Transmission is 5 speed also from 1993 BMW M5
–  Rear differential is 3.46 LSD from Z3 MCoupe with E92 M3 BMW specified Synthetic differential fluid.
–  Drive shaft is brand new from BMW from E24 M6
–  Brand new Windshield and all 4 side glasses (2 front and 2 quarter rear glass), I still have the old ones with minor scratches from 1988
–  New Shadowline trims around the sides, front Windshield and Back Glass
–  New Seals around all Windows and even sunroof, no exceptions
–  New Rear axels
–  $24,000 Custom leather interior (Porsche Terracotta leather interior, dash and trunk with matching Alcantara headliner) with ventilated Recaro Orthoped seats
– New Alternator, Air Condition compressor and it's brackets.
–  New rotors and pads
–  Brand new Coil-overs specified and designed by Ground control with the correct ratios and fully adjustable angles specific to the beast for balance with Koni shocks.
–  Erebuni Fiber Glass Front and rear Aprons and bumper cover molded to the car the right way by master craftsman
–  Complete restoration of the body with new fenders and new rear quarter panels and a complete restoration and color change to Titanium Silver metallic (354 BMW Code)
–  New European Spec Headlights, High beams and Fog lights with brand new front corner lights and rear tail lights lightly smoked to match the Terracotta interior accents.
–  Brand new door locks and powder coated door handles
–  Dyno Mat was used along the whole interior and exterior for ride comfort and interior noise reduction
–  Custom Exhaust with Catelytic converter and 3″ pipes with borla Exhaust for great flow and smooth exhaust note
–  18″ Staggered set up with 225-40-18 Z rated tires with 8″ offset in front and 245-35-18 Z rated tires with 9″ offset in the back
It looks like there is 8,000 miles on the engine since the conversion, so maybe 68,000 total and maybe 150,000 on the chassis, its hard to say. Mileage really doesn't matter on a car like this because one would hope everything has been gone over, rebuilt, or replaced.
This car was up for sale with a Buy-It-Now of $250,000 and an opening bid of $65,000. It is up now with an ask of $30,000. I don't know about this. Customizers know you don't get all your money you put into a car back out, unless your name is Boyd Coddington or something, and even then it doesn't always work out. The type of folks that can drop $30,000 on a 1988 6 series also are the type of folks that probably enjoy building their own custom creation. So who knows if this is going to get any nibbles. It does look good. The only thing I might add is flaring out the rear fenders a touch more for wider meats to give it a bit more of an aggressive stance.  What do you think the market value on this is?
~Evan