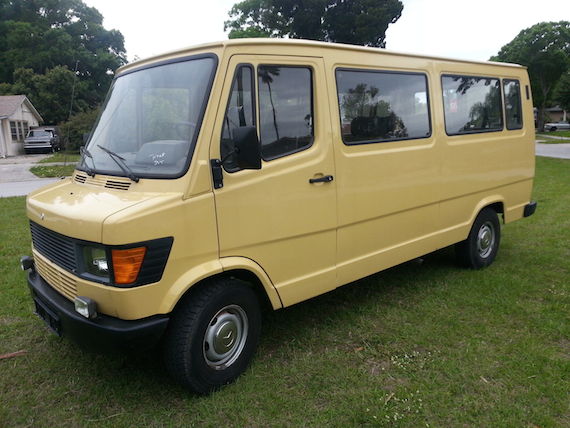 Another day, another musing regarding a potential future RV conversion for Nate. This one brings it a little closer to home, however. I'm a rowing coach, and a few years ago my former coach eschewed the Ford Excursions used as team vans and bought diesel Mercedes-Benz Sprinters. With the ability for 6'5″ dudes to stand up, serious A/C for hot races, and diesel efficiency, they are a great choice. It just so happens the brand of boats we race are German and come exclusively in a pale yellow – see where I'm going with this? I want to buy this van and turn it into my Race Headquarters, tastefully logo'd up and ready to analyze data, rewatch footage, and catch a nap. My coworker said she'd buy my Toyota truck for whatever I paid for this proto-Sprinter, and right now that's looking like a great deal on both ends.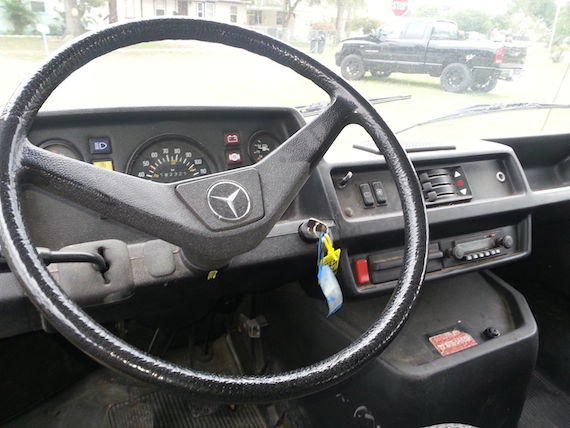 Year: 1983
Model: 309D Van
Engine: 3.0 liter inline-5 diesel
Transmission: 5-speed manual
Mileage: 113,000 mi
Price: Reserve auction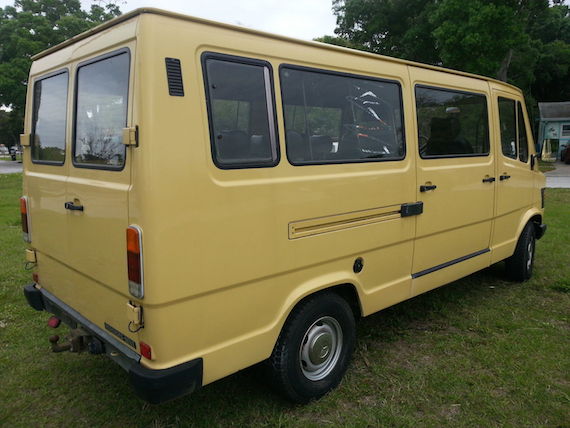 A very rare and sought after Mercedes pre sprinter 309D lefthand drive van with only 180,000 km (113000miles), with a manual 5-speed tranny and power steering, very rare configuration. Has the strong 5 cylinder 3.0 motor so this truck is very suitable for highway use also. Can be used as a cargo,or converted to an RV. No AC. Does great on diesel fuel and no computers that can break :-). This van can haul 8 passengers and a driver. Driver seat has airride and also the original blaupunkt radio is there and working, cool Hella fog lights. Almost new tires. Very rustarm vehicle with a lot of life left and doesn't need anything,except a new owner, clean and clear florida title. I always have Mercedes vans 1989 and older, also in RV configuration but a clean one like this is extremely rare.

I also import VW vans and other brands but mostly 4×4 diesels like Mercedes G, Land Rover, Nissan, Mitsubishi, Land Cruiser, etc. I specialize in 89 and older. No financing so make sure you talked with the wife and counted your money, feel free to call me anytime 727 259 3021 Paul. $1,000 deposit within 1 hour of auction ends, balance to be paid within 3 days, storage free for as long as you need and yes, I will assist with nationwide transport. And yes, I will pick you up from Tampa airport if you opt to drive one the vehicles home.

My brother buys the vehicles for me in Westeren Europe, he is a active police officer/border patrol agent who works for me in his free time so I don't have to worry when I need to send money overseas 🙂 or that I get lemons or basket cases :-). My retired sister does the buying for me of the vehicles I buy in Spain and France, since she lives there and speaks the languages and again no worries that my money is gone when I send it overseas:-) I do not assist with buying and shipping overseas vehicles to USA for third parties,neither do I assist with the import part and paperwork of it. The drivelines are old school Mercedes and parts are commonly available, I have the sources for new and used parts. All my vehicles are sold as is, where is, no warranties implied. If I think of more, I'll post it later.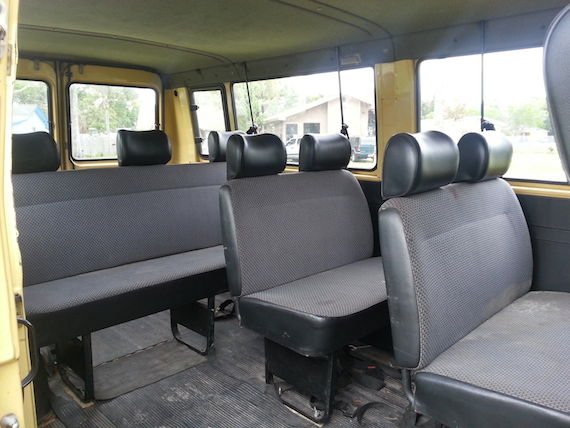 Bidding has been pretty anemic thus far, so I'm skeptical as to if it will reach it's unknown reserve. If I could get it for less than $7k, maybe I could stop boring the people who come here to read about super-Porsches and live the VanLife dream!
-NR