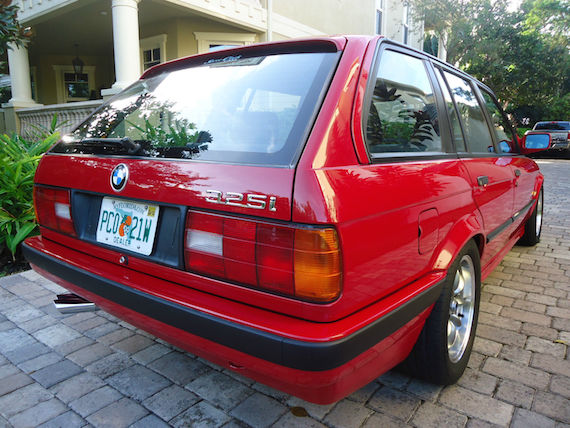 One of the most popular automotive forbidden fruits for US car enthusiasts is the BMW E30 3 series Touring. Now over 25 years old and eligible for importation, it seems that a steady stream of these small estate cars are arriving on these shores. For E30 fans who may have given up their beloved rides years ago with the pressures of family and a changing lifestyle, this car solves many of those space needs. There was even a four-wheel drive variant available for those who may need added traction, but we have yet to come across one in the US. Imported from England last year, this right-hand drive 1988 325i Touring for sale in Florida is an original car with some tasteful modifications.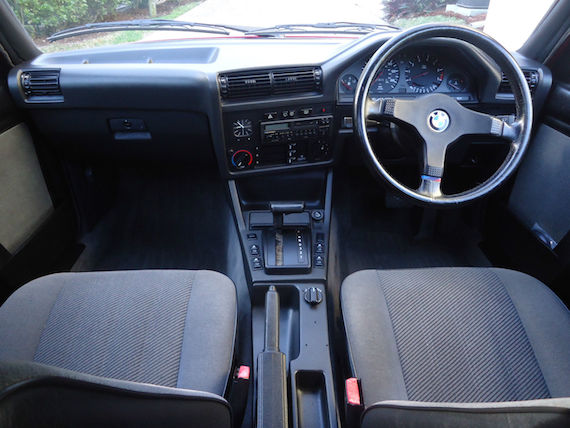 Year: 1988
Model: 325i Touring
Engine: 2.5 liter inline-6
Transmission: 4-speed automatic
Mileage: 117,000 mi
Price: No reserve auction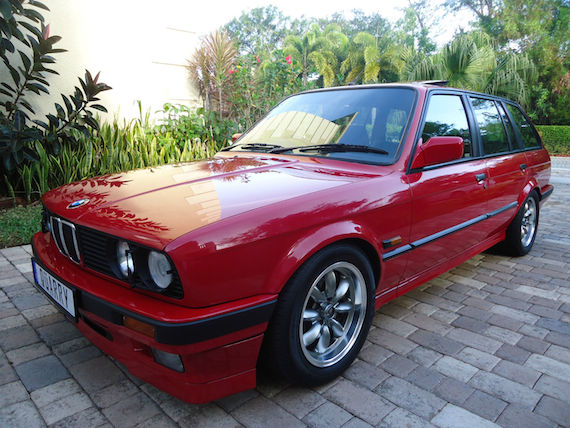 For sale European Right Hand Drive BMW 325i Wagon

Here is a very rare and nice BMW E30 325i wagon, fitted with switchable automatic transmission, electric front and rear windows, electric sun roof, cloth seats with rear head rests and excellent condition. The wagon is finished off with a set of 15″ Rota RB alloy wheel rims with 205/55/15 Tires front and 225/50/15 rears, iS front lower lip spoiler and M -Tech 1 sttering wheel

I bought this very nice BMW E30 325i wagon from England last year after viewing several poor examples and imported it over to Florida. It has been registered/titled with Florida DMV and I have title in hand. It would be the same to title this car in your own state as it would with any Florida Titled car, however being from Europe it is not fitted with a catalytic convertor or airbags, so you may need to check rules for smog test in your own state before bidding.

The car has only covered 117,000 miles. I have been through the car and recently fitted New cross drilled rotors, New brake pads, new rear muffler and straps, new lowering springs, new belts including timing belt, full service replacing oil and filters. Car runs great, its fitted with factory 2.5 M20 Engine and mated to a switchable automatic transmission, allowing to switch between Sport, Economy and manual 123. Car is not fitted with air con which is usual due to the european mild climate, however it would not be to difficult to add at a later date.

Inside the car is in excellent condition, dashboard is perfect with no cracks or damage. New sued black headliner fitted last month, grey/black cloth seats in very good shape with rare rear head rests, folding rear seats making the car very practical and roomy, there is a cargo area rear retractable blind to cover the trunk area. Carpets are in good order with no rips or tears. Fitted with an OEM M tech 1 sport steering wheel (none airbag), European analogue clock, all switch gear is working and in great condition, electric front and rear windows & sun roof in good working order. Still has its Original factory Blaupunkt radio.

Outside the Zinnoberrot paint looks to be mainly original and is overall very good with no major dents or scratches, however this is a 25 year old car, so you should expect the odd ding/mark. The sun roof panel is in great shape without the usual rust issue's, same to be said with the rear wheel arches, strut towers, windshield scuttle and floors doors & tailgate all very solid without any sign of rot. The roof spoiler and lower side skirts have been color coded to compliment the front iS lip spoiler which give the car a great look. Front fog lamps are very nice and crack free. Both front and rear plastic bumpers are euro type without side markers and again crack free. Front head lights are fitted with city lights and very rare wash wipe, (although w/wipe needs fixing, usually a strip down clean and rebuild will fix that). The wagon is sat on a set of NEW rota RB 15″ alloy wheel rims with New front 205/55/15 tires and decent 225/50/15 rear tires. New lowering springs Finnish the great look of this wagon.

On the road the wagon runs great, engine runs smooth and performs very well, pulling strong with no untoward noise or fuss. Gear change is smooth and the new cross drilled brakes stop the car nicely with good pedal feel. The suspension is smooth and composed, with no knocks or rattles. One rear wheel bearing has a slight whine, but its not bad and doe's not warrant changing yet. Is easy to see why the E30 is such a sought after car and has become a great classic every day driver. It's a simple and dependable car thats great fun to drive without all the fuss and gadgets that some modern cars including newer BMW's sometimes detract from the pleasure of actually driving a fun car.

More pictures are available on request. If you have any questions please ask before the auction ends not after. Please only bid if you intend to buy, any inspection is welcome and should be done before the auction ends.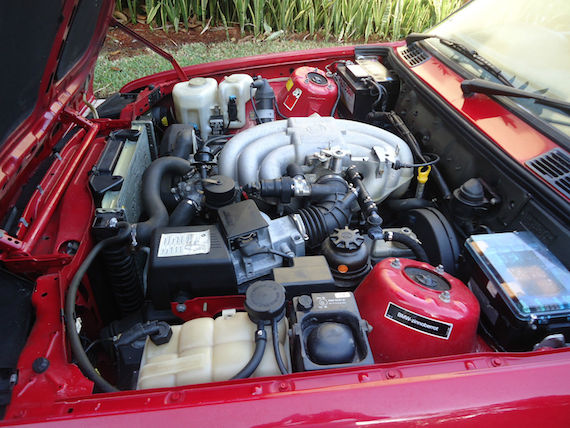 While most folks would prefer a 325i with a manual gearbox, the more hauling/family oriented Touring model might benefit by being a two pedal vehicle. Personally, I'd probably hold out for a 5-speed manual, but there's no denying how nice this particular E30 is. I'm envious of the wheels, as well, as I'm a sucker for Minilite/Panasport/Rota wheels. These would prove a killer addition to my R53 Cooper S. Right-hand drive might be a detriment for some in the colonies, but who knows? Could this be the ultimate postal vehicle?
-Paul