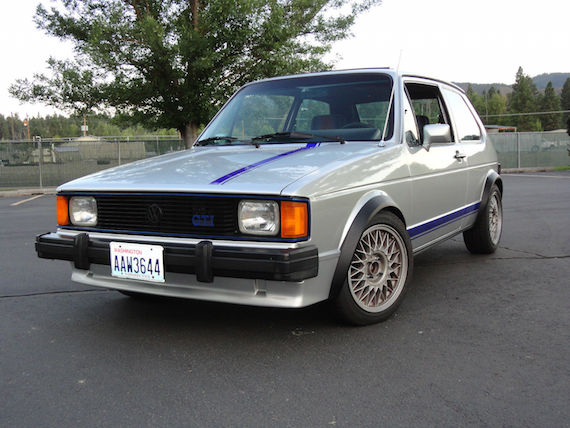 When I think about simplifying my life, one of my largest hurdles is what would I ever do with the E28 M5? Acquiring it realized a major life goal, and I still love it every day, but as life goes on will I always have the means to give it the (financial) love it deserves? When I imagine a world where I could do without its sound, rarity, story, looks… where was I? Oh, right. If I could let go of the things that are unique to the M5, a Mk1 GTI is where I'd head. Yes, it would still be an 80s German toy, which is not exactly "simple" to most, but it would provide legendary driving enjoyment without requiring regular valve adjustments and insanely priced out-of-production parts.
While GTIs have been steadily gaining in value, for the moment they're still within reason. This extremely clean example received a new paint job last year, matching classic silver with some serious blue accents that provide an interesting counterpoint to the typical red striping. The hood stripe doesn't quite do it for me, but I absolutely love how rally'd-out it looks from behind with the painted rear window surround and "Rabbit" mudflaps. It has a few needs that should be attended to sooner than later – but this GTI is an ideal candidate for some inexpensive home-wrenching and some massively rewarding driving.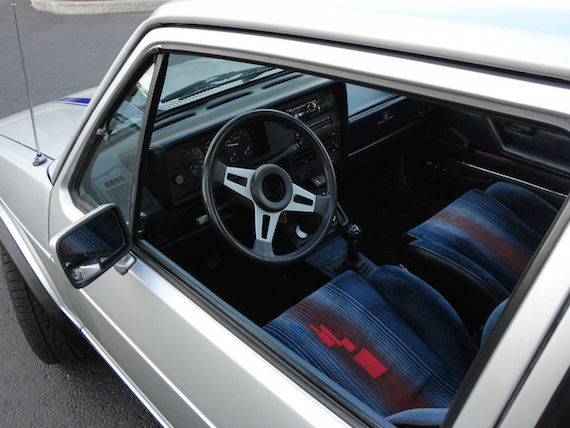 Year: 1983
Model: Volkswagen GTI
Engine: 1.8 liter inline-4
Transmission: 5-speed manual
Mileage: 122,380 mi
Price: No reserve auction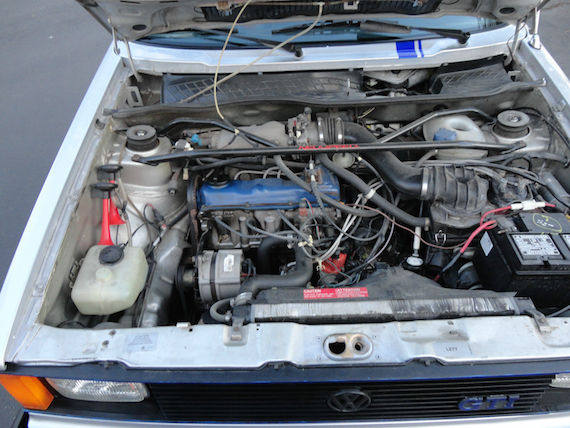 '83 MK1 USA built GTI. Painted a little over a year ago factory L97A silver with paint blue candy GTI stripes and hatch glass surround.To my knowledge, the car has always been a Pacific Northwest car, starting it's life in Seattle. I purchased the car a few years ago in Seattle and was told it was originally sold in the area when new.

This car has the original GTI 1.8 liter and the close ratio gear box. The interior is original with the driver seat showing some wear. The passenger seat is in nice shape as well as the rear seat. Headliner is in usable condition. The dashboard is in great shape with no cracks.

This GTI has a few mild upgrades: lowering springs, KYB struts and shocks, MK1Scirocco steering wheel, aftermarket muffler and Corrado front disc brakes (14″ wheels will not fit). This items can easily be swapped out to original if needed. Other than these items, the car is fairly original.

I had sanded the car's original paint and was happy to find no rust issues. I had the glass out of the car including the windshield and no rust was found around these areas. Sometime in its life the rocker seam (behind the front wheel) looks like it was jacked on and is not perfect.

The engine and transmission are original and run and shift well with no issues. I had driven this car daily and had no issues. There are a few items the should be address: The lower plastic timing cover is broken and would need to be replaced (i do have the upper metal cover). The exhaust has a slight leak at the manifold donut when the engine is cold. The cam cover could use a new gasket. When i purchased the car, the A/C compressor had already been removed. The outer CV axles will need new boots. All the dash lights, gages, exterior lights and interior lights work. The sunroof works effortlessly.

Please feel free to contact me with any questions.

Thanks for looking.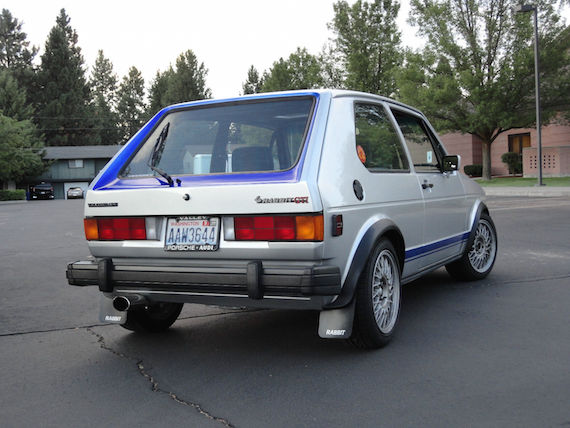 122k miles is pretty fresh for a Mk1 GTI (or any 32 year-old car, for that matter), and everything about this example reflects what made it so amazing when it came out. Climbing behind the wheel, a GTI begs you to stay off the brakes for that corner and turn in a little harder. Any time I walked up behind this thing, I'd want to find my curviest back route or a smooth dirt road and just play. The starting bid of $4,500 seems more than reasonable, and even with its issues I can see the low mileage and pretty paint help it reach upwards towards $6-7k. Not exactly the $3k performance steal of a few years ago, but still a legend that's simple and affordable to both purchase and maintain.
-NR