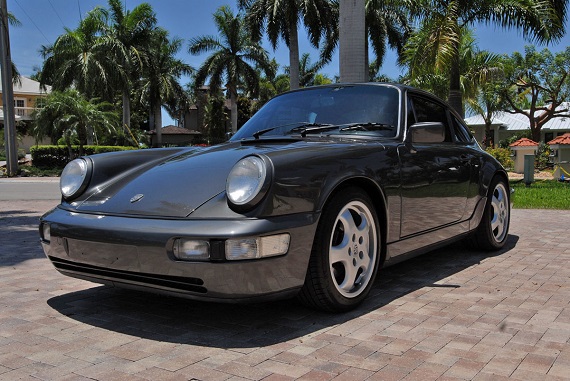 The Grey 1990 Porsche 911 Carrera 2 Coupe we featured in early July has come back up for auction. This time the starting bid has been lowered from $49,500 to $39,500, but it is up as a reserve auction rather than with no reserve. The seller probably will not have budged much on price, but hopefully we'll at least see some bids this time around. Whether it will meet the seller's reserve, we will have to see.
The below post originally appeared on our site July 8, 2015: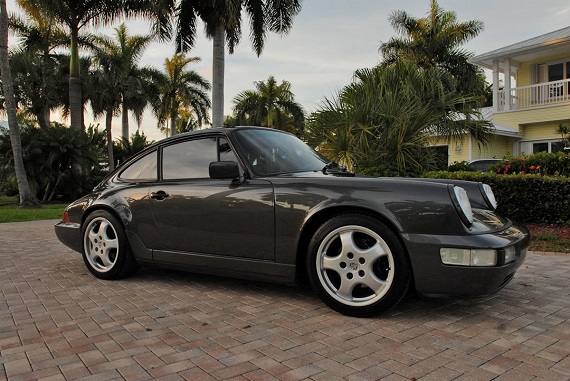 There is a 964 I frequently see around my neighborhood and each time I come across it I come to appreciate the design more and more. They are rarely seen cars around these parts so this is one of the few I have the opportunity to see on the road. The 964 has a presence about it that I do not feel from other 911s. The classic 911 that preceded it, and I should be clear that I love the classic 911, shows its age to a certain degree and its slightly less muscular form doesn't captivate the senses quite as well. On the other side, the 993 almost is too elegant. When you see one it looks expensive even today. There was a point where I considered the 964 to be neither here nor there; it had moved on from the classic design, but it had not yet taken on the sleek and curvy nature of the 993. I still see the 964 as existing in that intermediate space, but I have now begun to appreciate the way in which it strikes a balance between the earlier and later designs. What once I saw as flaws, now appear as significant features. The 964 we see here, a Grey 1990 Porsche 911 Carrera 2 Coupe located in Florida with 86,500 miles on it, reflects that sense of presence very well.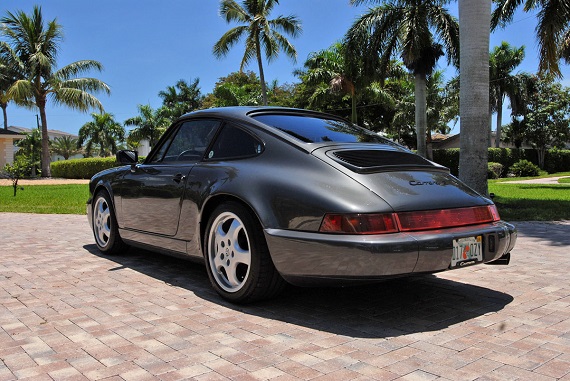 Year: 1990
Model: 911 Carrera 2
Engine: 3.6 liter flat-6
Transmission: 5-speed manual
Mileage: 86,500 mi
Price: Auction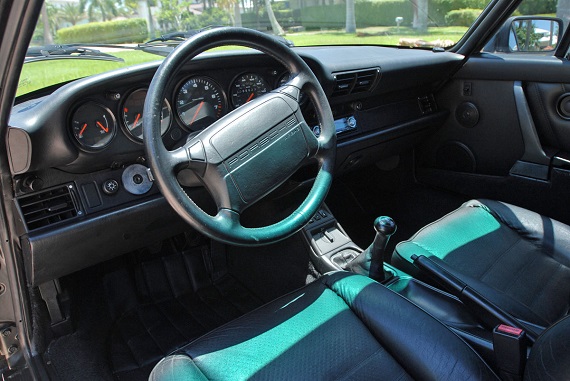 Up for auction is our 1990 964. Well maintained and has lived in Florida for the past ten years. Runs strong and is in
excellent mechanical condition. Motor was recently removed from car and the following completed:

– New Sachs clutch kit/slave cylinder/release bearing fork/needle bearing/clutch fork shaft seal
– New engine covers
– New crankshaft seal
– New flywheel pilot bearing and seal
– New oil bridge chain tensioner
– New manifold gaskets
– New valve covers and gaskets
– New crankcase breather cover gasket
– New brake discs and pads
– New o-rings for oil return tubes
– New oxygen sensor
– New fuel filter
– New spark plugs and wires
– New distributor caps, rotors
– New alternator, power steering and air conditioning belts
– Shift linkage cleaned, bushings replaced and lubricated.
– Other misc. bolts, fasteners, etc.. that needed to be replaced – everything was gone through and throughly
cleaned also.
Note: Motor has a very small oil leak – we are talking a few drops in a week – not coming from case. We believe
it may be one of the head gaskets but did not want to pull the entire motor apart. Other than that, this motor
is strong and mechanically sound – full disclosure.

Additional service recently completed:
– New outer CV joints, rear
– Transmission, motor oil, brake fluids changed as well as coolant flushed and replaced.
– New Zimmerman brake discs and Texstar pads/dampers

Only upgrades on the car are a GHL exhaust system and Bilstein coilover suspension
Tires are Michelin PS2 with approx. 50% tread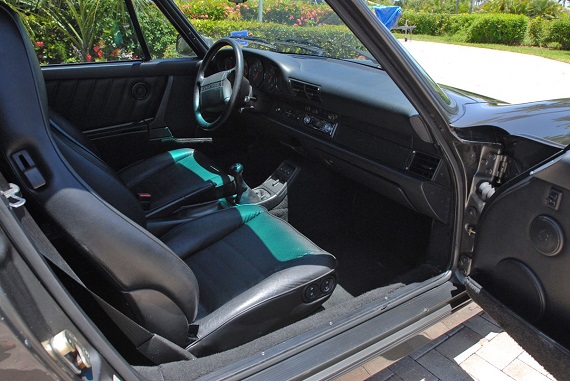 Full disclosure: a week or so ago I came across a Slate Grey 964 and it knocked me out. It looked absolutely fantastic and I really looked forward to featuring it. Sadly, it sold before I ever even had a chance to write it up and since then I've been looking for another. Typically I am not a huge fan of grey cars. Slate Grey long has stood as an exception and on the 964 it seems to work particularly well. For the car here, we aren't offered the paint code so I'm not entirely sure which shade of Grey this is, but it's close enough to remind me of that Slate Grey example. It isn't quite as fantastic, but still looks great. The Slate Grey 964 was listed at, and presumably sold for, just under $45K. It seemed like a reasonable price and the quick sale bore that out. That gives us a decent sense of where this one should be priced and as such it looks a bit on the high end. We've slowly started to see values rise for the 964 Carrera 2 so the time to strike is soon. You can be assured that almost any 911 enthusiast will be very happy to chance upon your car on the street.
-Rob