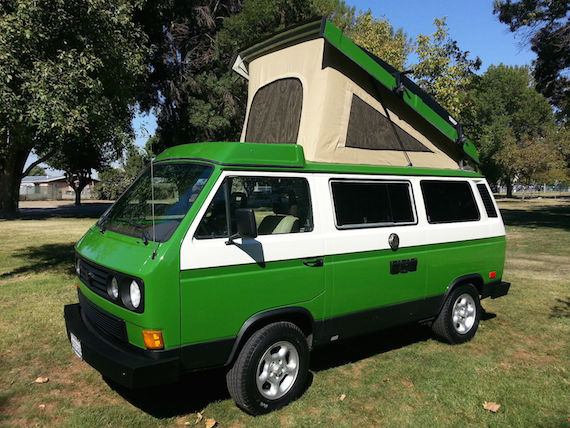 On Friday, I wrote up a couple of affordable camper Vanagon options for us normal people, as some of the crazy, GoWestified examples cost more than the median yearly income in America. Well, let's pretend the recovery has truly hit the 99%, because today we're checking out one of those crazy but also-awesome Vanagons that has undergone the full treatment. It has a Subaru engine with over 50% more horsepower than the stock wasserboxer and sports a redone interior, exterior, and running gear, resulting in a van that is truly better than new. The color choices may drive some away, but where I'd give up the color and wheels, I really dig the bedlinered lower section, LED upgrades, and South African grill. I have friends living the "VanLife" right now, and every day I contemplate breaking out on my own adventure. If you're in need of a few months of exploring roads and the depths of your self, you'd be hard-pressed to find a better vehicle than this green machine.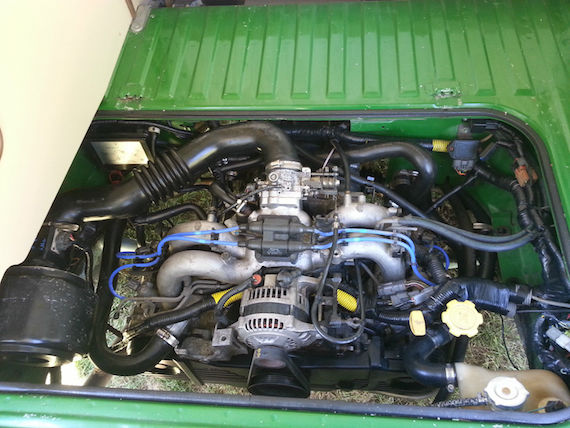 Year: 1983
Model: Vanagon Westfalia
Engine: Subaru 2.2 liter flat-4
Transmission: 4-speed manual
Mileage: 108k mi on chassis, 15k mi on engine
Price: $40,000 OBO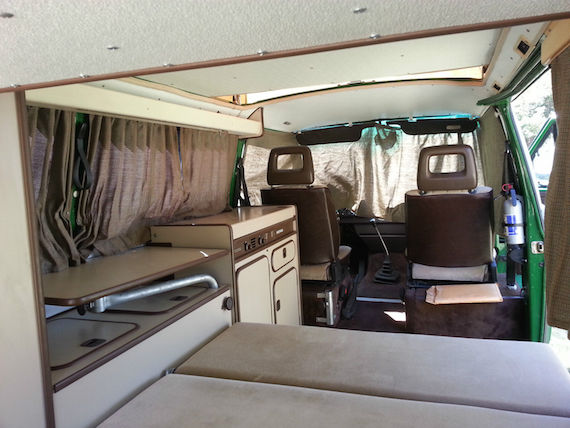 I remember the days of having the stock motor and barely making it up a steep hill doing 45 mph with big rigs passing me… Then came the day of stepping into one of these Subaru powered wagons… With a smile on my face I am now in the fast lane passing cars doing 70 to 80 mph up hill. "vroom vroom"

Quote from Kennedy Engineering
The Subaru engine with 140 horsepower (verses vw 80 horsepower) has proved to be an excellent choice because it fits the compartment like it belongs there and it provides an awesome increase in horsepower. The Subaru Legacy 2.2 liter displacement is only slightly larger than the waterboxer but it has most of the modern high performance technology including a counterbalanced crank, four- valve design, port injection and a hot wire air flow meter.

Basics:
4 speed manual transmission
106k on the old odometer (it broke and I replaced it with one that had 108k. It worked for a month then the odometer stopped working again. This is a common problem)
Rare model with Air Conditioning (plumbing is there but not hooked up)
Fridge (works on propane or electric)
Dual propane stove with upgraded propane tank that you can easily get refilled now
Sink with fresh water container and gray water container
Cabinets and closet with mirror
Sleeps 4 with all brand new upholstery
Brand new upholstered Front Swivel Seats
Rear Table
Front Table (bracket is there but post and table is missing)
New Pop Top 3 window tent
Horn working
wipers working
all light and blinkers working

Mechanical:

Professionally Rebuilt California smog legal Subaru 2.2L with less than 15,000 miles (colorado component rebuilders, Inc)
2.2 L Subaru engines are non interference engines. (so if the timing belt ever breaks your engine is perfectly fine)
Fresh rebuilt manual transmission with less than 200 miles
Current smog and registration
California Legal Kennedy engineering package for Subaru 2.2 conversion with obd1 check engine light wired to the dash.
Kennedy wiring diagram

Cosmetics:

New Go Westy "no flop" mirrors
New rear view mirror
New detachable face stereo with Auxiliary hookup and 4 speaker system
New Custom Fiberglass headliners, rear side panels, rear sliding door panel, and custom seat backs.
New custom closet and shelving baseboards
Fresh stock classic 2 stage green and custom white paint with 7 coats of clear
Lower upgraded rubberized bed liner on the lower portion of the van for protection
Windows removed for paint with new Go Westy seal kit all around
New wing window seals, new window rubber, and felt
Fresh lower Go Westy Raptor rubber guard around the bottom to protect the van
Brand new windshield and seal

Upgrades:

Go Westy fire extinguisher kit
Van Cafe 15 inch Rhein rims and tires package (offers better handling)
Go Westy front bumper
Go Westy rear bumper with 2 inch hitch
U haul trailer wiring
Go Westy swing away arm, tray, and ladder rack
Thule racks and sky box
New Dual cup holders
New Go westy dual battery and wiring kit
Dash mat
LED lighting above the sink and stove with on off switch
Outdoor Cree LED spot light hooked up to the second battery with on off switch
New antenna
New Go Westy highest quality 3 window tent
New Go Westy pop top lift assist struts. (allows you to lift the top when loaded with your gear)
New 5% limo tint (windows were tinted when they were removed)
New Go Westy South African High output 4 head light kit
Headlight protection kit (not installed)
DMV Just paid for the whole year and smog is current
New door handle seals
New side marker lenses
New stainless steel brake lines, all new pads, and wheel cyliders
New Inverter installed
New high powered rechargeable flashlight
New Faucet upgrade

Receipts from previous owner:

Rear brake spring kit from go westy
Rear wheel bearings
Fuel pump relay
Half shaft seals
Throttle cable, coil, plugs, and wires
Brake light switch
Complete engine rebuild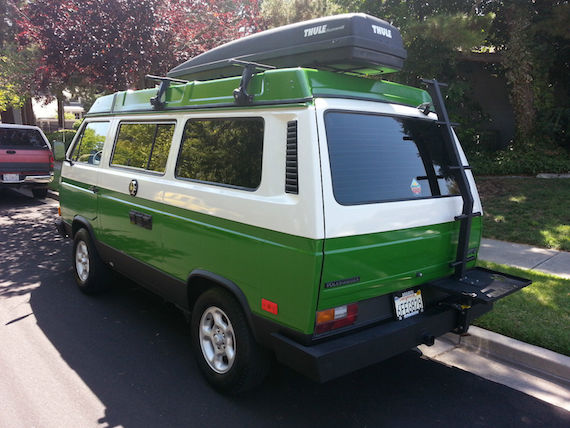 Finding the perfect craft for self-discovery doesn't often come easily nor cheaply. Sure, you could buy one of the vans from my Inexpensive Vanagon Campers post and have money left over to call the tow truck over… and over… and over while you learn every weakpoint and jury-riggable Vanagon element – or you could drop the cash up front and have a go-anywhere, do-anything camper that will be unstoppable as you cast a green streak on your way towards personal fulfillment.
Back in reality, I'd try to find a happy medium, but there's no question that this van is well put-together and ready for the road. The prices on GoWesty'd Vanagons are so far past reason that the seller will probably get their $40k from someone who wants to skip a few "preparation" steps on their personal-exploration path.
-NR