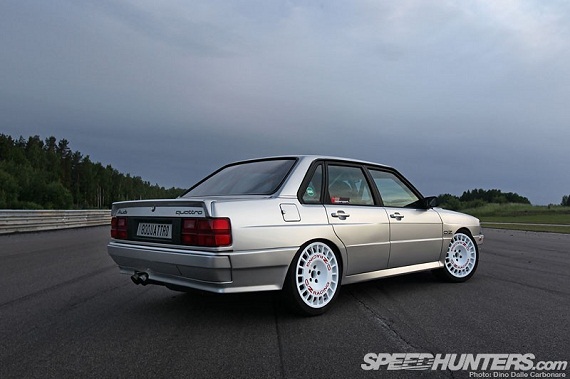 You're not going to buy this car. Let's be honest, even if you wanted to spend a lot on a wildly modified Audi 4000, it's on the wrong side of the pond. And then there's the definition of "a lot" – in this case, the best part of $60,000. Crazy, right? Well, not so fast – arguably, this is one of the most famous and best executed modified Audi 80s in the world. But not only does it look racy; the looks are backed up by a 2.5 20 valve inline-5 turbocharged motor running a host of upgrades through a custom application V8 quattro 6-speed. The result? Going on 800 horsepower! Ridiculous for a standard 80 perhaps, but under the grafted Quattro flares and WRC OZ Rally wheels lie a host of RS2 and Group B works suspension upgrades. Compared to what's under the hood, if anything the exterior suddenly seems quite sedate: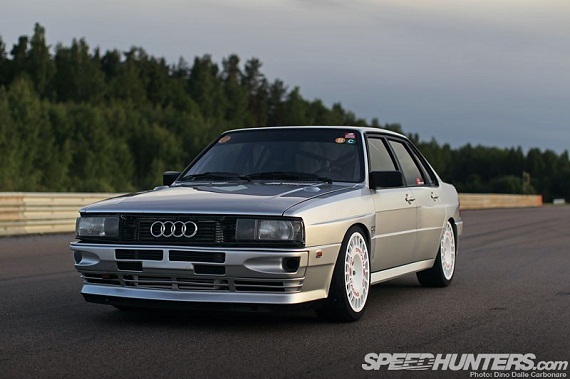 Year: 1984
Model: 80 quattro
Engine: 2.5 liter turbocharged inline-5
Transmission: 6-speed manual
Mileage: "320" mi
Price: Kr. 349,500 ($48,261 today) or E. 45,000 ($56,815 today)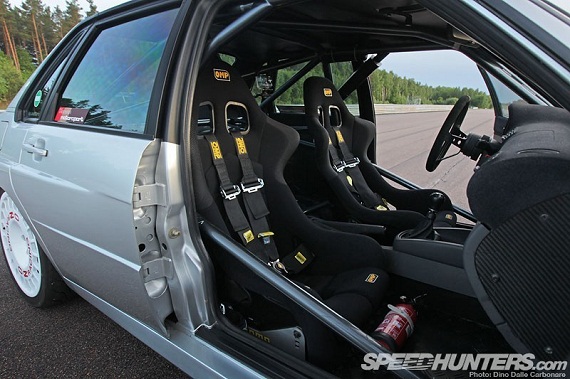 Sales Form
Used vehicles for sale
The vehicle is in
Norway
Mileage
500 km
Year
1984
Body
Sedan
Variant
Quattro Extreme
Fee category
Saloon
1st time reg.
01.10.1983

Displacement
2.5 l
Effect
800 hp
Fuel
Gasoline
Gearbox
Manual 6 speed
Wheel Drive
wheel drive Quattro
Colour
Silver
Number of seats
2

Description

Do you want something no one else has? The car race license in 2014 and was produced by Anders Ringstad Products in 2014 with 800 hp and 900 nm. This can be financed for 5 years with 35% cash portion.

Engine
2.5L I5 20VT from Transporter T4, 034 Motorsports Engine mounts, Hansen Motorsport custom rods, fully ported headers by EBB Flow Tech, Hansen Motorsport header T4 / Tial, Hansen Motorsport Precision 62/65 turbo, Precision WG, Tial 50mm blow off valve, custom full 3.5? exhaust system, free flow or single muffler (v-band), Hansen Motorsport exhaust / intake cams, compression dropping head gasket, Turboxs boost controller, Hansen Motorsport lightweight hydraulic lifters, custom cam cover, ARP head and main bearing studs, 034 Motorsports EFI Stage II C fully sequential set-up, Aan pulley, VAG 60-2 trigger sensor, custom wiring harness, 034 Motorsports injectors, 034 Motorsports high output coils, custom length plug wires, Innovate LC-1 wideband, Audi 1.8T inlet temp sensor, 034 Motorsports billet fuel rail, Aeromotive Eliminator fuel pump, Aeromotive 100 micron fuel filter, FuelAB high performance fuel pressure regulator, JAZ 10 gallons fuel cell, custom fuel cell bracket, custom battery bracket, custom wiring (mostly hidden inside the chassis) custom intercooler, custom breather system, custom radiator, custom fan for radiator, custom oil cooler, custom fan for oil cooler, custom modified RS2 inlet manifold, custom intercooler plumbing, custom power steering pump bracket, custom front engine mount, custom coolant rail, custom oil dipstick

Driveline
Sachs Racing Clutch, Leander Bros / Hansen Motorsport aluminum flywheel, custom transmission brackets to move transmission back 3″, 034 Motorsports Transmission mounts, stock Audi V8 CMG transmission, 034 Motorsports differential mounts, 034 Motorsports rear diff mount, Audi stock Audi S2 coupe rear diff, stock Audi RS2 Driveshafts, stock Audi 80 Quattro rear Driveshafts, 01E short shift, custom driveshaft, shortened 3″, custom shift linkage two accommodate moved transmission, custom carbon fiber exhaust shield for transmission, custom transmission oil cooler set-up

Suspension / Brakes
Custom front cross member, Audi Motorsport Group B uprights front and rear, Audi Motorsport Group B rear subframe with toe in / out parallel geometry, Audi Motorsport Group B front and rear control arms with bracing, Audi Motorsport Group B full spherical / home joint chassis , Audi Motorsport Group B short steering rack, 1.8 turns lock two lock, Audi Motorsport Group B steering arms with spherical joints, Audi Motorsport Group B spindles with wheels studs, custom yellow polyurethane bushings for the inner steering arms, Audi Rs 8 pot brakes 380 MM front, custom brake brackets for Audi RS2 rear calipers, custom brake bells and discs front, custom brake booster from Audi V8, custom brake line system with bias control, Audi Motorsport Group B rear brake discs and bells

Wheels / Tyres
Custom painted OZ Rally 8J x 18? ET35 (Ford Transit White), Michelin 225 / 40-18

Exterior
Audi UR Quattro flared fenders modified, custom doors, Audi UR Quattro custom front bumper, Audi UR Quattro custom rear bumper, Audi 80 Quattro custom hood, Audi 90 Quattro trundled and rear panels, Audi UR Quattro side skirts, Audi V8 taillights modified, custom head lights, custom grills

Interior / Chassis
Full Audi Motorsport group B spec chassis, cut out the inner fenders in the engine bay, custom brace bars for front cross member, custom brace bar for suspension, top and lower, custom suspension towers raised 2? (lowering car and keeping busy), custom subframe two lower engine 2 ?, custom engine mount position to move engine rearwards 3 ?, custom exhaust system tunnel through the firewall and under the car on passenger side, custom 16-point roll cage, custom double floor to protect from heat, custom Audi A3 dashboard with center console, custom RS2 instruments in A3 dashboard, custom modified Audi A3 steering column, custom modified Audi RS2 pedal box, custom hydraulic handbrake, OMP WRC composite seats x 2, OMP 6 point 4 ? seatbelts x 12, OMP steering wheel

Links: Articles on car

http://www.silverquattro.com/index.php?option=com_content&view=article&id=17&Itemid=21

http://www.speedhunters.com/2013/07/the-quattro-warrior-audi-80-like-no-other/

http://www.ebbt.no/760-hp-850-nm-audi-5-cyl-road car-extreme-toppbygg/

www.hansenmotorsport.no

For international buyers, the price is 45,000 Euro call for more info +47 930 500 30.

And you goblins on intermedia calling every night I'm still not interested in advertising elsewhere.
Equipment

Sunroof

ANTI SLIP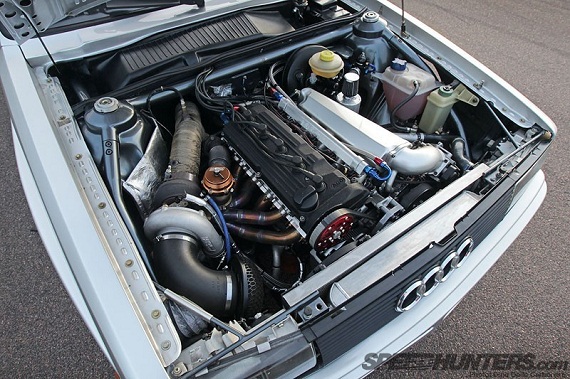 Thanks to a great spot by our reader John, we get to examine this exemplary example of 1980s Audi goodness. There is so much custom on this car, it's hard to identify any original pieces anymore. Perhaps some of the glass is original and untouched; that's about it. Everything else has been thoroughly gone through and meticulously upgraded. Look through the pictures at the integration of the cage, for example – the fit and finish on this car is close to or exceeds factory race cars. Then there's the outside, with the custom applied Quattro flares and bumpers. It's extraordinarily well executed; even though I don't really like the additional sculpted scoops on the front bumper, the venting through the corner lights is clever. It is simply eye candy. And is the pricing for this perfection all that outrageous? I sincerely doubt you could build a car to this level for less money. Then take the comps for this example; I guess you could take that money and buy an E30 M3 – you might even be able to find a really nice last year RR 20V Quattro for that amount. But would the performance or effect be anywhere remotely close to what this car achieved? I think not. You're not going to buy this car – but you can certainly appreciate how incredible it is.
It's just stunning.
-Carter