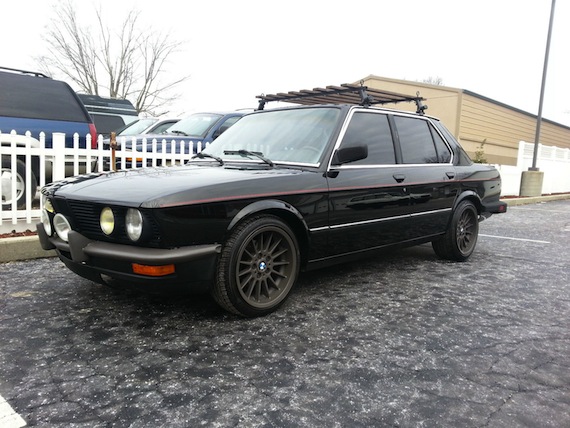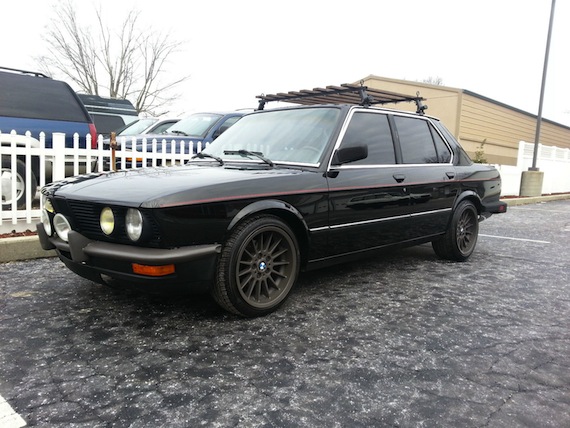 I very much like BMW's Style 32s, especially as an OEM+ retrofit on E28s. Today's 533i is pretty far on the looks-over-function side of the scale, but it does it pretty well when it's not grinding on the ground. With rally lights and roof rack rounding out the hipster look, it's dedicated to style but seems like the owner has taken time to make it a good runner too. If I were a couple years younger and a few Bay Area towns hipper, I'd be very into this 5er.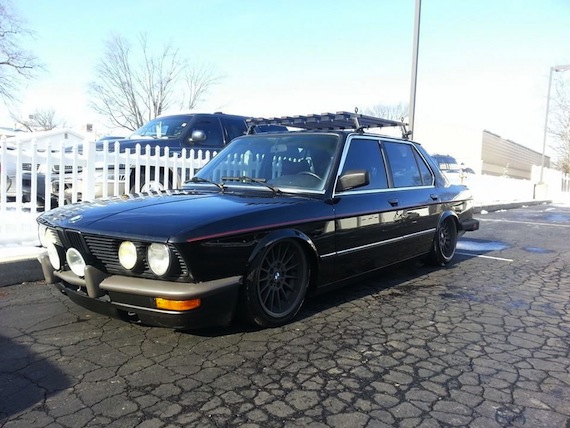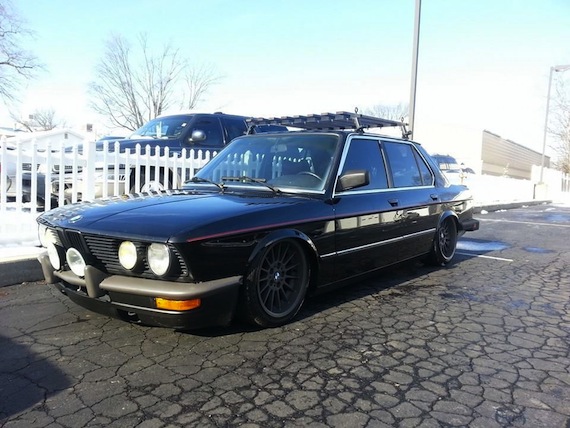 Year: 1984
Model: 533i
Engine: 3.2 liter inline-6
Transmission: 5-speed manual
Mileage: 192,424 mi
Price: $7,000 Buy It Now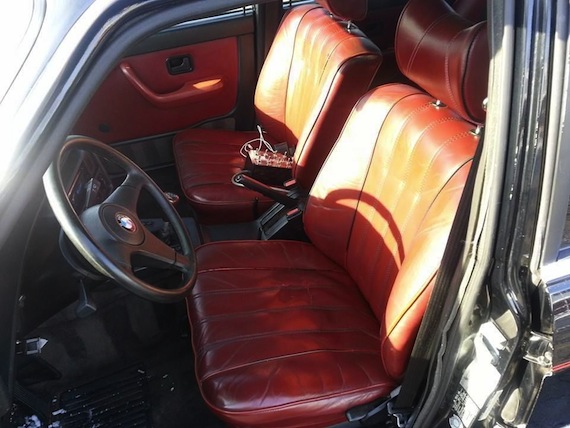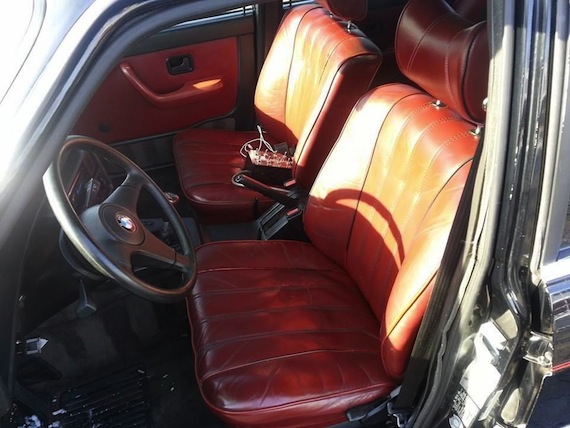 1984 BMW e28 533i
5 speed manual
Black over Red

Air ride Air lift company universal air struts. everything on the air ride is brand new.
8 smc 3/8 valves 5 gallon aluminum tank, pressure switch. all new airline and wiring.
Compressor and wiring mounted in spare tire well. Trunk dynamated along with
the back seat and floor area. Trunk has Hard wood flooring and was raised up
3/4 inch to allow for the wiring and air lines to be mounted. It all comes out
with ease to service the compressors or wiring.
10 switch ride control with 2 dual needle gauges.
Has extra air line for gauges about 60 ft,
Has FBSS individual control over all four corners pancake and seesaw. It gets up and down very quick rides great, No shimmies shakes

Alpina wheels

Euro headlights and grills.
Mercedes yellow fogs, Hella 700 driving lights. Jaguar front bumper molded and
sectioned to fit tight against the front valance.

IS front valance smoothed and all holes filled. Turn signals relocated to below bumper (not sure what they
are off of but they fit the curve of the front nicely). Rolled fenders. Roof rack rain gutter mount with steel cross bars and tie downs mounted to it, Oak slats stained and sealed in in a redwood color. Interior Cardinal red, No rips or holes manual seats. Dash has common cracks in it. All gauges and buttons work as they should. Motor is solid as a rock 533 has the hotter cams and the lightweight flywheel no smoke, leaks or noises.

A list of things that have been replaced. – Suspension
Bushings and Control Arms – Clutch Master Cylinder – Clutch Slave Cylinder –
Clutch Kit – Injectors – Fuel Pressure Regulator – Throttle Position Sensor –
All 6 Fuel Injectors – O2 Sensor – Plugs, Wires, Cap, & Rotor – Battery –
K&N Air Filter – Transmission Guibo – Billy Boat Cat-Back Stainless Exhaust
System – V-Belts – ECU – Fuses – Fuel Filter – All fluids changed in the driveline
with Redline synthetics, I have been using Shell Rotella T 15w-40 for motor oil
Fresh style 32 wheels staggered 17×8 up front with 205/45/17 tires with about
2000 miles on them 17×9 out back with 215/45/17 with around 15000 miles on them.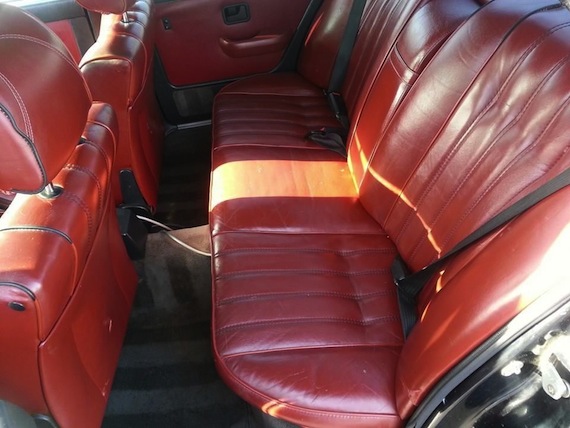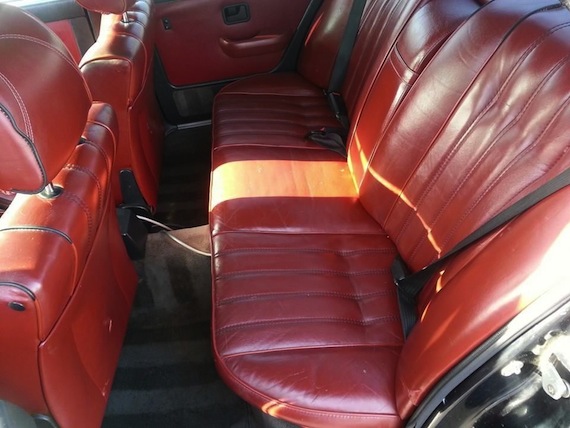 We usually sing the praises of original examples, but I like the way this one has been modified. It will turn heads and is probably still a fun cruiser, though the seller loses a little credibility by calling the wheels Alpina (it'd be even better if they were). $7,000 seems a little optimistic but it would certainly be more than that to recreate.
-NR