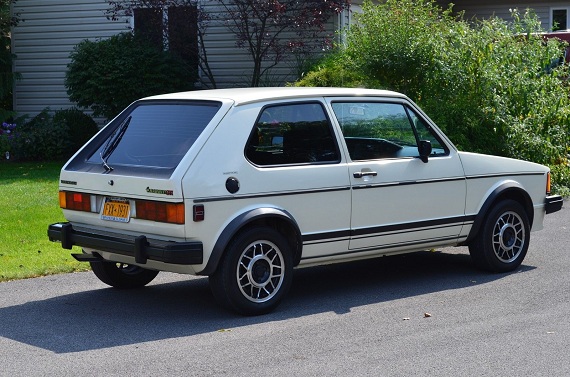 It's not often that lightning strikes twice, but today we get to look at another well preserved first generation GTi. Last week I highlighted an example with a bit more patina but well presented; today's car is another one that we've written up that defies belief. There's a reason that these cars are so well regarded by the automotive press and automotive fans; they're amazing cars that make you smile. They punch far outside of their weight class – a do-everything automobile, most people that have owned them (this author included) drove them with aplomb – clipping apexes and lifting wheels, nearly daily redline-runs and antagonizing every "sports" car you could find. That likely explains why so few remain in the condition of this car: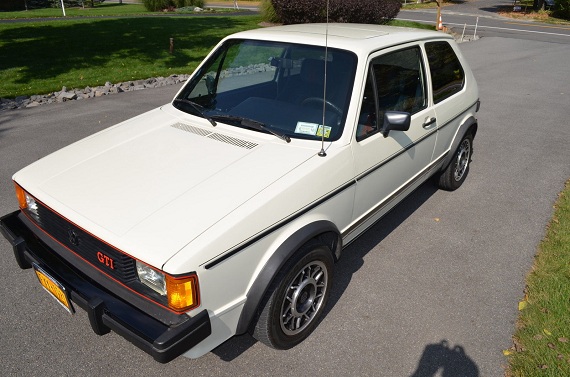 Year: 1984
Model: GTi
Engine: 1.8 liter inline-4
Transmission: 5-speed manual
Mileage: 104,200 mi
Price: No Reserve Auction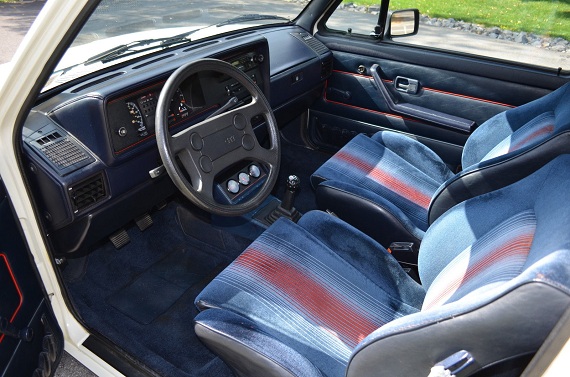 I'm the third owner, bought 2 1/2 years ago at 103120 miles. The second owner, who worked at the shop which had always serviced the car, purchased it in 2006 from the original owner at 96833 miles. Was a California car until I bought it and shipped it to New York, has always been garage kept and still is. Maintenance by the previous owner includes struts and mounts replaced with BOGE units(oem) in 2006, new rear brakes, shoes, cylinders, bearings, windshield and headliner in 2008, timing belt, tensioner and valve cover gasket in 2010, new clutch cable and left rear axle in 2011. Also had new distributor, wires, fuel pump and filter, ball joints, starter, new exhaust pipe and muffler and comes with the stock pipe as a spare. All I've had to do is change the oil and I put a new battery in a few weeks ago.

The left front fender was hit in a parking lot sometime before 2006 and replaced with new and paint blended to the door, the rest of the paint is original and in good shape. One of the tail lenses is cracked but comes with a brand new set of correct(and hard to find) Hella lenses.The interior is in excellent shape considering the age and how these interiors usually hold up, has had a dash mat since new and is included. Everything works, air conditioning blows cold, sunroof works, even the clock works. Also comes with original window sticker, delivery sheet, build sheets, owners manual, warranty book and original radio.

This car's not perfect or a restored showpiece, but is a very original, very clean 30 year old car, and in that light I think it must be one of the nicer original ones left. I've tried to show it accurately with the pictures and video, if you would like to see it, have it inspected, or have any questions please contact me.

Sold as is/where is without any warranty, I will coordinate with any shipping you arrange and pay for.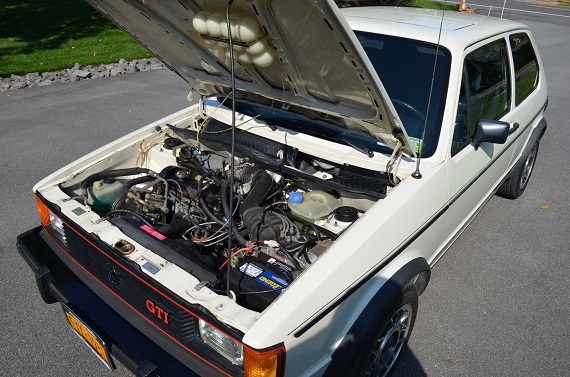 I'd have to agree with the seller – it's not perfect, but it's so well presented I think that might give it more charm. The color combination is slightly more common than last weeks silver over blue, but the interior on this car defies reality compared to most. It looks nearly perfect; there's some wear on the bolster but far, far less than we're used to seeing. With maintenance performed, working air conditioning, and records and a great color combination and condition, it's no surprise that bidding has been quite active and pushed this car up to $8,000 with two days to go. It's also no surprise that these cars are demanding the premium they deserve finally; you can scoff that a $10,000 Mk.1 is money wasted, but this car is a legend in its own time – a legend which will grow, and trust me – if you have the opportunity to take part, you won't regret owning this car ever. Frankly, I'm gobsmacked that such an example still exists, and I don't believe you could easily restore a lesser example to this quality for much less money!
-Carter