As with many German cars of this era finding a Euro spec vehicle often gets you a better looking and higher power version of the car. This 190E is no exception with an extra unrestricted 20 horses being pumped out of the Cosworth four. The Euro spec 16 valve engine puts down 190 horsepower.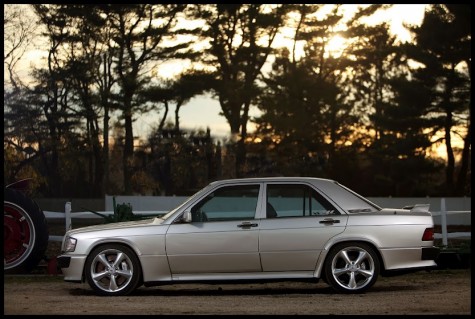 This car has some miles on it, 165,000, but that should mean a chance to get into the Cosworth market at a more affordable price. The car looks to be well maintained and comes with a nice stack of receipts showing a $4,000 rebuild on the motor within the past two years. A call into the shop that did the build might yield a bit more info about the car's condition.
This looks like a solid driver. The seller says the dog leg 5 speed still shifts smoothly and that most of the accessories still work as they should. The car has a few quirks, such as the A/C being removed. It has been repainted, but, has a few defects. The owner has added some modifications such as front brakes off of a C55. There are some extra painted bits, the Euro spec glass headlights, and clear corners. The car also has painted eyelids, which I think look good on some cars, on this 190E, I think I'd like it better without. Some aftermarket generic, but decent looking, 5 spokes complete the look.
I like that the seller says that a buyer can confidently drive this car home, even a long distance.
Bidding is up to $4,600 with no reserve.
~Evan