The 1980s were a boon time for gray market importers. This period left us with a lot of Mercedes-Benz models in the US that were not normally sold here. Such is the case with this 1985 280SE sedan. This model featured the M110 inline six, which was the final year for this engine in the S class, a powerplant which debuted in the 1974 R107SL.
This particular 280SE presents well with its low mileage, slimmer bumpers, flush headlights and tasteful velour interior.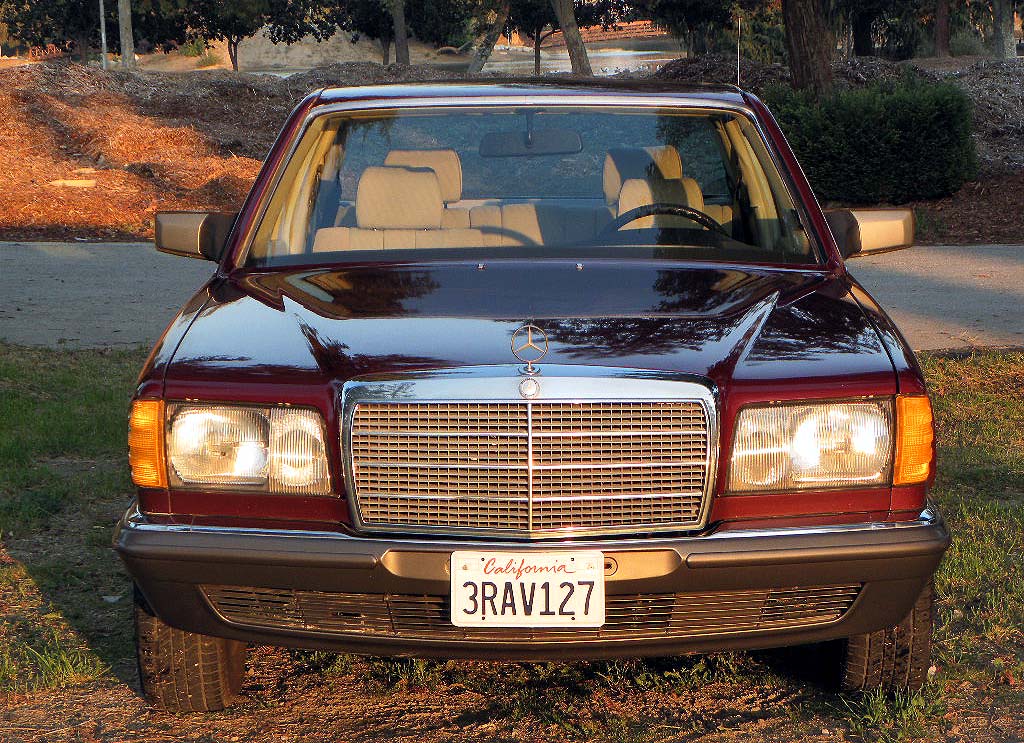 Presenting today: an exceptional 1985 Mercedes-Benz 280SE W126. This car has NUMEROUS outstanding attributes so we will start with some obvious ones… First, the 69,940 mileage total guarantees decades of use remains with the car. Second, the obviously garage-kept condition means that this car is FRESH. Panel fit, paint quality and chrome condition are above excellent. This car is a European delivery car, so it has the smaller integrated bumper system. Please note the original covered glass headlights: a superior lighting system that was usually removed during the importation process has been retained here. The paint has a truly deep luster, even better in person. The body condition shows a long-term high level of care, with an absolute minimum of chips or other minor imperfections.

Lighting, lenses and other body fittings are as good as the day this car rolled out of the factory. Tire and rim condition are near perfect and ready to roll. The transmission shifts perfectly through the gears, The brakes, suspension and steering are in top operating condition. Road handling remains exemplary. We bring our Mercedes-Benz cars to a Factory Trained Technician for evaluation, and he came up with first off a clean report, and also some interesting observations.

This car is equipped with the Twin Cam M110 six cylinder engine. 1985 is the last year of production for this engine and it's 185 horsepower rating is the highest for this engine series, allowing the car to achieve a genuine 130 mph top speed. For comparison sake, the efficiency of this engine, due to the pent-roof or near Hemi combustion chamber, exceeds the output of V-8 engines with a full liter more displacement. A very similar valve arrangement can be found in the 911 Porsche engine, which accounts for the high performance characteristics of both engine families.

The long term previous owner was also a petite person, and thus the seats have NO sagging or other wear abnormalities. The dash is in near perfect condition. The console, carpeting, door panels and headliner along with the wood and instrumentation are almost pristine. European market cars came with a velour interior, that has comfort levels UNATTAINABLE with leather or MB-Tex coverings used in USA market cars. The feel is best described as perfection in seating. Carpeting is as new. All interior fittings (wood, door panels etc) retain a near unused condition. All mechanical, electrical and climate control systems are in proper working order. All windows operate and function properly. The air condition works like it should and blows strong cold air.
The problem with many cars from the 1970s and 1980s is that the color combinations can be rather loud and/or dated. I'm a big fan of this burgundy over tan combination; tasteful for the period. When I was shopping around for my first car about 15 years ago, I test drove a gray market 1981 500SE sedan. It was metallic green in color and I was amazed how solid the car felt with 80,000 miles on the clock. It was as if I stepped into a new car. Ultimately, I selected a 1988 BMW 325is over the S class, but that driving experience has stayed with me all these years. These W126 S classes are quickly gaining stature with collectors. Examples like these are getting harder to find, and with a little less than a week left in the auction, I'm curious to see where the bidding will end.
-Paul