Chris emailed me this week to let us know that his 2008 M3 is for sale. Normally we favor older cars for the blog but this is a well thought out e92 with an impressive list of enhancements.
From the seller's listing:
I am selling my 2008 m3 coupe since I'm buying a new boat and will be downsizing to one car. I purchased this car new in 2008 from Vista BMW in Fort Lauderdale FL. The car has been a weekend car since I purchased it. I use another vehicle for work. This car is in perfect condition with no dings, scratches or imperfections. It has never been wrecked, painted, or abused in any way. It has only been washed by me and detailed by a very high end detailer who uses only Swissvax products. It was detailed one month ago at which time it was clayed, sealed, waxed, and full interior treatment. This cost $500. The car was just serviced with an alignment, balance, and oil change 1 month ago. The car has never been driven on a track or raced. Factory warranty until June-2012. The factory installed options include:

– Full Leather interior (including lower dash)
– Technology Package (navigation, electronic damper control, etc.)
– Premium Package
– Satellite Radio
– HD Radio

The car is fully loaded except for the cold weather package. Now to the fun part. I have installed very tasteful and high end parts that make this car drive and sound amazing! (I have all of the documents surrounding these modifications which were done at 10,000 miles)

— Dinan Stage 1 suspension with full custom Alignment ($1500 with installation)
— Ground Control adjustable front sway bar end links ($300)
– Active Autowerke Full Exhaust with X-pipe from header back and euro spec high-flow cats ($5000 with installation)
– Active Autowerke Air Filter ($150)
– Active Autowerke Short Shifter ($500)
– Active Autowerke Pulley Kit ($500)
– RAC RG 63 Champion Motorsport Forged Racing Wheels – 19×9 fronts with 255/35/19 Michelin PS2/19×10 rears with 275/35/19 Michelin PS2 ( these wheels were made custom for only the BMW e92 M3 by a local M3 racer and enthusiast and are 8000 ton forged press) (The tires and wheels cost $6500).
– Hawk HPS Brake Pads (They stop far better than stock and produce no dust)
– Challenge Stainless Steal Brake Lines
– Motul Brake Fluid
– Hardwires for Passport 9500ix with smart console professionally installed in ashtray
– BMW Performance Black front Grill & side gills
The e92 M3 is a potent car as is, but I have to say this list of upgrades fits with exactly what I'd dream of doing if I owned one. To have all those products already installed is a big plus in my mind — no need to negotiate those upgrades with missus, they're already installed!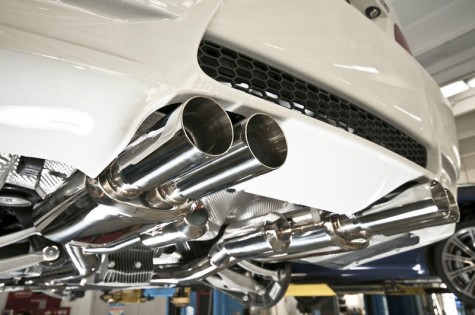 This exhaust in particular is equally impressive looking and sounding. Here's the best clip I could find online with the x-pipe and exhaust (not the seller's car):
Good luck with the sale Chris! If you have a great German car for sale, drop me an email so we can add it to the site.
dc