"They don't make 'em like they used to" is an overused term in society. However, if it ever applied to one durable good, it would be the Mercedes-Benz W123. These Benzes need no introduction on GCFSB, and here's a quite desirable estate version and a final model year version at that.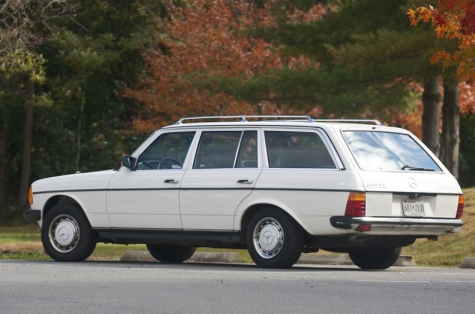 Up for sale is your opportunity to own a very rare European 1985 300TD wagon (VIN# 1231901F054663) with a 4-speed manual transmission. This Classic White (737G) on shadow blue one-owner wagon belonged to a diplomat and was obsessively maintained and cared for all its life. Every component is in good working order, every feature works (door locks, air conditioning, self-leveling suspension), and the car is mechanically sound (engine, transmission and clutch, tires, brakes, suspension, etc.). How cool would it be to own a European spec car that was not marketed and sold in the United States in 1985? This wagon was never federalized (although it comes with a clean and transferable Maryland title). Nothing has been altered or changed on the car and it is original and stock, with the exception of the right fender which was replaced due to a volleyball-sized dent near the front. The repainted fender is an exceptional color match and although not original, is much more attractive than the original, dented fender.
You will be the envy of all your Mercedes Benz friends and enthusiasts as your car has features that were never available on US market cars which include:

– OM617 5-cylinder naturally aspirated diesel engine with no emission controls
– European spec mechanical Bosch injection pump for high output
– European spec gearing and differential for high output
– Manual 4-speed transmission
– Manual climate control
– Manual windows
– Manual antenna and unique European Becker cassette stereo system
– Cloth interior in very good shape for its age and seat springs are in excellent condition
– Factory installed fire extinguisher under driver's seat
– European spec front and rear bumpers
– European headlights with built in "City Lights" and vacuum height adjusters
– Rear fog light
– Hazard triangle
– Paint coordinated Mercedes Star hubcaps
In addition, you will be the talk of the town because your wagon has additional rare options which include:

– Second row headrests at all 3 positions
– Third row jump seat
– Luggage/roof rack
– Manual sunroof

While you cruise around town shifting gears or testing out the German engineered steering and suspension as you corner into a turn with your newer Michelin MXV 14 inch tires, you will be staying cool with your original R-12 air conditioning. No problem directing air flow to where it needs to be because the manual climate control system is much more reliable (and it has dual zone so driver and passenger can ride in comfort). And when the sun goes down and you want to drive by starlight, open the manual sunroof and continue on your journey. Visibility is great on the darkest of roads with European headlights and fog lights with height adjusters.

Need to haul a large item? Not a problem. Fold down second and third rows and you have a cavernous cargo area that can swallow large loads. Filled up the cargo area? Not a problem. Strap the rest of your load to the roof rack.

The odometer reads 257k kilometers (160k miles) and the speedometer also reads in kilometers. With proper care and maintenance the vehicle will continue to give you enjoyment and fulfill its purpose indefinitely. There are some minor scratches, and some rust (pictured) – all of which are repairable. This car was a driver, not a garage queen (even though when it wasn't being driven, it was garaged). The scrapes and scratches come with a 26 year old, car but all are repairable. There are three blemishes that will need to be addressed, which are:

– Rust at the right rear door jamb in the seam above the rocker panel
– Rust spot at the rear hatch near the glass
– Bleach stain in the cargo area

None of these blemishes along with normal wear and tear are fatal, and can easily be addressed, treated, and fixed to get the car the way you envision it to be. Without them, and if the car were entirely original, given its condition and model, it would be a very high-dollar car. Because of these minor flaws, I concede that it's not a $15k-plus car, but still believe it to be well above average. The paint is original (with the exception of the right fender, as noted) and shines. The interior is in very nice shape for its age with no color fade, very nice dashboard, and good seat springs.

Opportunity is knocking. This is your chance to seize it and own a very rare and desirable car. 1985 is also the last year of the W123 chassis and the OM617 5-cylinder diesel and is considered by many to be the best and most desirable year of the production series.
With just a couple days left, I'm surprised this auction hasn't garnered more interest, given it's one diplomat owner status. Granted, there are some few flaws and the rust that has eaten through the bottom of the door sill is cause for some concern. However, if this was anything other than a W123 Mercedes-Benz, I think I would be more cautious. For a car that can survive the harshest of environments and which has seen many examples cover hundreds of thousands of miles without breaking a sweat, I doubt a little rust will stand in its way of covering another 160,000 miles.
-Paul