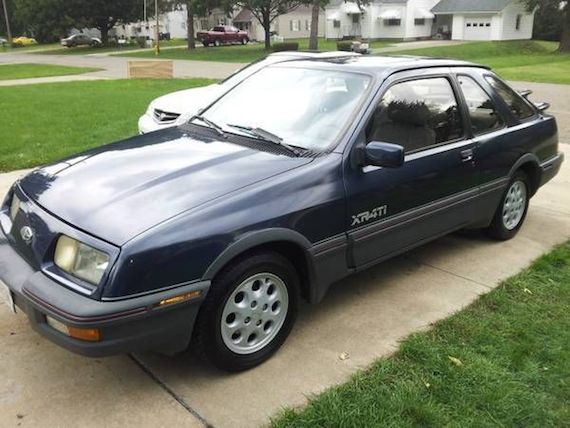 It's always interesting to see automakers test the US waters and offer intriguing models outside of the bread and butter lineup. Such was the case with Merkur, Ford's attempt at capturing a bit of the Euro car buying public in the 1980s. Sold through Lincoln/Mercury dealers, two vehicles were on offer under this badge: the five-door Scorpio and the three-door XR4Ti we see here. Based on the Ford Sierra, this car had a 2.3 liter turbocharged four cylinder under the hood similar to the Mustang SVO's powerplant. Combining decent power with hatchback practicality wasn't enough to garner significant sales and after a few short years in the US, the brand was pulled from dealers. There are still a few of these captive imports running around today, like this XR4Ti for sale in Ohio that had an overhaul in 1999.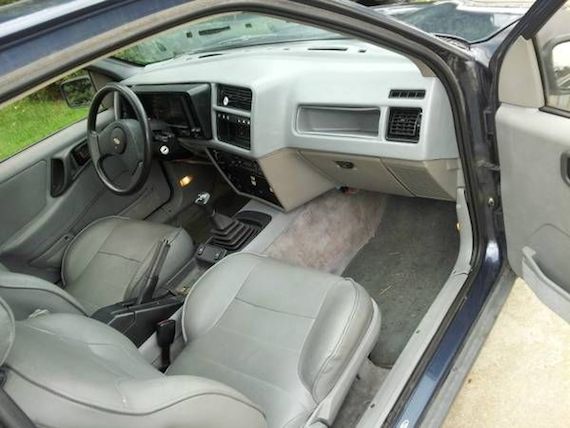 Year: 1985
Model: XR4Ti
Engine: 2.3 liter turbocharged inline-4
Transmission: 5-speed manual
Mileage: 161,000 mi
Price: Reserve auction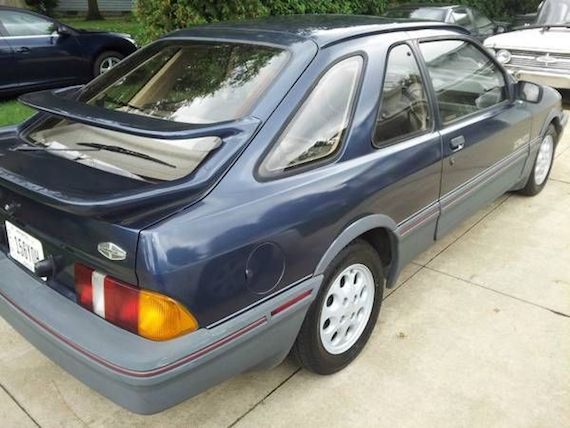 1985 XR4Ti 2.3 Turbocharged 5 speed. ***Near new car!!***

Mineral Blue with grey leather.

I have service records from Liberty Ford in Vermillion Ohio extensively mechanically restoring this car. One receipt alone is for 12960 dollars!! This receipts shows a full engine rebuild, new struts, rear end, turbo, and about 4 pages worth of other replacement parts. There are other receipts as well. The work done to this car makes it one of a kind. The work was done in 1999 with 148k on the odometer. The car now shows 162k and counting. Its like having a 27 year old car that is really only 14 years old and has 14k miles on it mechanically.

The paint is still very shiny and presents well, some minor wear and tear from age and user like dings, scraches. The paint on the spoiler does have some clear delaminating around the edges and the spoiler is also cracked by the windshield wiper arm. The wheels are refinished and look like new with new tires with only a few hundred miles on them.

In July 2013, the tires, calipers, rotors, pads, the AC receiver dryer, and expansion valve, blower motor rebuilt, and clutch quadrant were all replaced by the previous owner. The interior is in very good shape with reupholstered leather seats and a hard cover on the dash. There is wear and tear from age and use, some sun damage to plastics, headliner worn some, monor staining here and there, overall cleans up very well.

Its starts up and runs/shifts great, no noise from the rear end or transmission. This is a turn key ready to drive home car! AC blows very cold and heat is very hot! Heated seat option still works great also!

Rare, rear wheel drive European Ford, very much like a European Mustang. Quick, great handling, fun car that can be driven every day or kept as an investment. Great car!! Just drove on a trip to Michigan for work over 400 miles. Runs and drives excellent, would not hesitate to drive anywhere, any distance!! Excellent gas mileage also.

Bought for my daughter, but as a new driver she is having trouble with a manual and we want to get her an automatic. Consider partial trades of work truck, beaters, ATV, Motorcycles, non running, plus cash. Drive your beater to me and drive this classic turbo home!

Some things I am also interested in:

71-73 Vega Hatchback, Citation X-11, 1988 Fiero GT, Chevy LUV, Monza Mirage or Spyder, Corvair, 82 or 86 Mustang GT, 87-92 Mustang 5.0, other interesting trades considered.

Buyer responsible for shipping or pickup. I will deliver for 1.00 a mile round trip to you or to a shipping terminal for you, but please ask about price and availablity first. Any delivery costs must be paid up front along with the deposit. Good luck bidding!

Tom

An eBayer asked about a drivetrain vibration this car had, below is my answer.

"The special drive shaft set up was rebuilt and crossmember and trans bushings/mounts were replaced by the previous owner along with new tires, I believe thats everything he said he replaced/fixed. It runs pretty smooth, but there still a slight vibration over about 72 mph. I drove 400 miles on all highway speeds on a trip to Michigan and it was great up to that speed and not horrible after that. The previous owner said the only thing he did not swap was the rear u-joint, so mabye that would help clean it up. Thanks."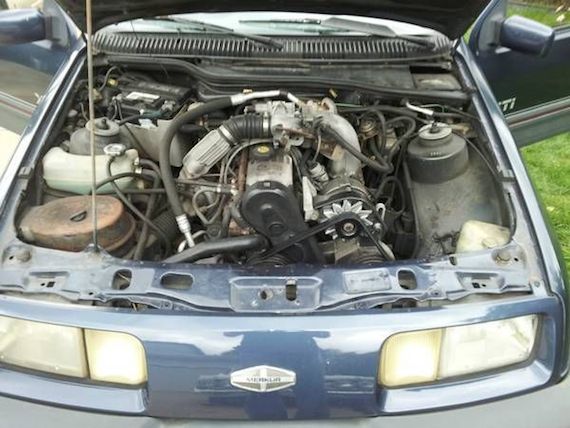 One thing that always strikes me in the US is the excuses I hear for not learning how to drive a manual transmission. When I was learning how to drive, there was no automatic in the house and the refrain from my father was simple "you can learn to drive a manual or not drive at all." If it were my kid and I bought a neat ride like this as basic transportation, well, this would be it. I wouldn't be trading vehicles. Unless you were missing a leg or had other physical ailments, there's really not much of an excuse to not master three pedals.
OK, off of my soapbox. It's quite an impressive amount of money that's been invested in this Merkur over the years, but at the end of the day, what do you have? A Ford that is not so rare on the other side of the pond. There's been a fair amount of bidding activity on this one, but I would be surprised to see this car crest $4,500 or so, as that puts it into territory occupied by Audi Quattros and E30s of the day. Still a neat piece to reflect back on and wonder what might have been had more people taken an interest.
-Paul