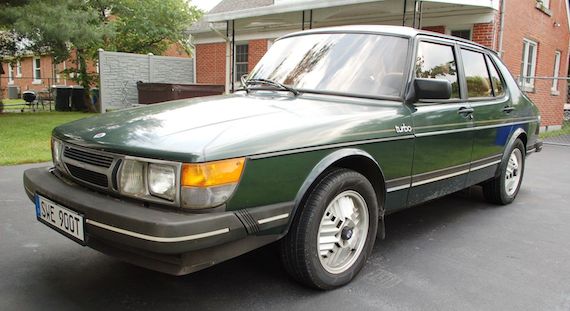 "Hey, Saab is Swedish, not German."
Yes, yes, we've heard this line many times before, but we here at GCFSB appreciate the machinery from our Nordic neighbors, especially when it comes to a vintage icon like the Saab 900 Turbo. The 900 Turbo was the car that put Saab square in the crosshairs of many a yuppie in the 1980s. For those who thought a Mercedes-Benz or BMW was just a bit too mainstream, the 900 Turbo was unique enough to satisfy the anorak of car enthusiasts. It was also one of the first mainstream production cars to feature a turbocharged engine, years before other manufacturers discovered this technology as a way to maximize economy without sacrificing performance.
This 900 Turbo for sale in Kentucky is a low mileage example that sat for a number of years before being rescued by Saab enthusiast.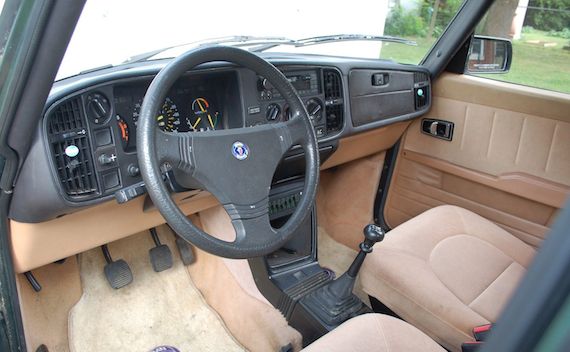 Year: 1985
Model: 900 Turbo
Engine: 2.0 liter turbocharged inline-4
Transmission: 5-speed manual
Mileage: 39,891 mi
Price: No reserve auction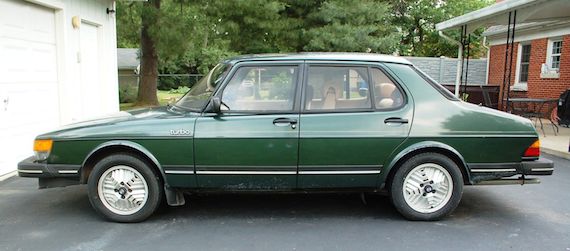 1985 Saab 900T 39,891 original miles

I am selling my 1985 Saab 900T. I purchased this car from the original owner that parked it for most of it's life. They stopped driving quite a few years ago when it started to have issues from sitting for long periods of time. I have owned five Saab 900's, all pre 1994 and a couple 99's. I have a love for these cars and this one is in the best condition I have seen and certainly the lowest miles.

This 900T drives and rides beautifully, like you would expect a car with such low miles. I have no reason to believe the mileage isn't legitimate. I had my doubts when I bought the car but everything I have seen confirms the mileage including the Vehicle History Report. It just hasn't been driven which comes with its own bag of issues.

This car is tight and very quick, surprising so. Everything is where it is suppose to be including tool kit, and is in original unaltered condition. Certainly you can drive this home if you wish. There is no rust anywhere. I have a great deal of original paperwork, maintenance records and manual, including original Saab dealer organizer.

I have owned this car for two years and has been my daily driver for the past several months once I completed the following list of projects: I installed a new set of Yokohama tires on Saab Inca wheels. I replaced the original rims but they come with the car if you want them. I'm an Inca fan…

New front brake calipers, originals were stuck. New emergency brake cables. Again frozen from sitting too long. Complete tune up, plugs, wires, cap, rotor, (all Bosch), all filters replaced, all fluids changed, radiator flushed and filled. There was some door wiring that needed replaced, all done with correct color and gauge of wire. If you have owned an older Saab, this is not unusual, just a pain to repair correctly. Replaced the AC compressor and converted to R22. AC works as it should and blows cold…

The interior is in excellent condition except of course the headliner didn't survive. I installed new headliner material and rear side panels in original color. I did not cover the sun roof because I like the black look and new headliner material often inhibits the operation after installation from my experience. The rear deck had decayed beyond repair so I made a new deck and covered in appropriate material with original speaker grills.

The dash was severely cracked, all Saab 900 owners experiences this at some point. I installed a new one piece cover which gives a very nice original look. A non cracked dash is very rare and will eventually crack if you find one…

Of course the most important part, the radio… new speakers all the way around. This car has the original Clarion radio with equalizer amp and retracting antenna. Not a Bose but sounds good for its vintage. Another fix that is typical for this car is the rear tail light circuit board wiring which needs to be corrected because of a poor original design. This was done correctly.

Everything functions properly, windows, mirrors, electric locks including trunk, all lights, and signals… with the exception of the cruise control. I haven't diagnosed what is wrong but I know there are several possibilities that are well documented in Saab lore; I just haven't made it a priority.

I have been very diligent on the mechanical aspects. I wanted it to be a reliable daily driver and that is what it is. I run only 93 octane through it and the turbo certainly responds best with good fuel. I would suggest you do the same.

The paint on the hood and roof shows its age as well as their use as a place to store stuff. The hood had something splashed on it that ate the paint in spots. (look at the pictures). The roof clear coat is pealing. Again this was not a priority but you can choose to have it made pretty or keep its original patina…

I purposely have not detailed the car. It has been washed and swept a couple times but I believe a complete detail washes away tell tale signs of leakage and abuse. This is what this car will look like after a few months of daily driving but it will certainly shine if you take the time to detail.

I have an original rear Saab spoiler for this car that sits on the rear deck lid. They are rare for the four door and I haven't installed simply because I can't bring myself to drill into the trunk. You can decide to do this if you like.

The National Saab Convention is in my home town this year and certainly have plans to show it with a "For Sale" sign but I wanted to start making it available on eBay. So if you plan to attend, you can pick up at the Marriot and drive home in style.

I am not a dealer, nor a professional eBay'r. I enjoy many kinds of projects and early Saabs is one of my favorites. I have done my best to describe this car and hope I have supplied enough photos. I can certainly try to accommodate additional photos. Review my feedback and bid with confidence. I will monitor sale often and respond to questions quickly. If you would like to see the car before bidding, I am available after 5pm on most weeknights and all weekend.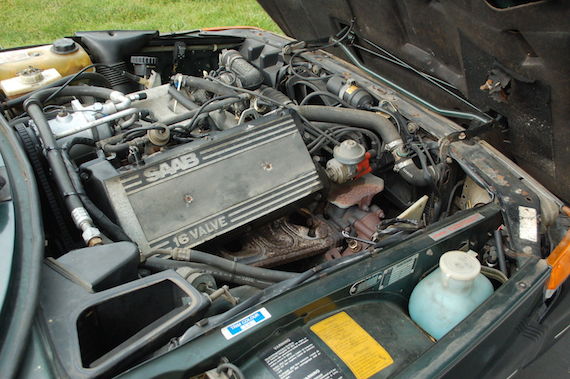 This 900 Turbo is far from perfect. I'm always skeptical of cars that sit around for a while, but this one has had a few things addressed. Also, the fact that the owner has owned quite a few Saabs makes me a little less weary, as familiarity with any marque would generally tip you off as to what to look out for. Sort the cruise control and address the paintwork and this Saab would be a very nice driver. I find myself having a bit of nostalgia for Saabs these days, given the company is no longer with us in the US. This car definitely brings me back to my youth, seeing 900s like this one in showrooms. These cars were always a bit of a mystery to me then, but now I appreciate them for their engineering and unique nature. At no reserve, I'd suspect this 900 Turbo might pull somewhere in the $4,000 to $6,000 range if the right buyer comes along.
-Paul