Warning!
This post is in our archives. Links in this post may have been updated to point to similar cars available to bid on eBay.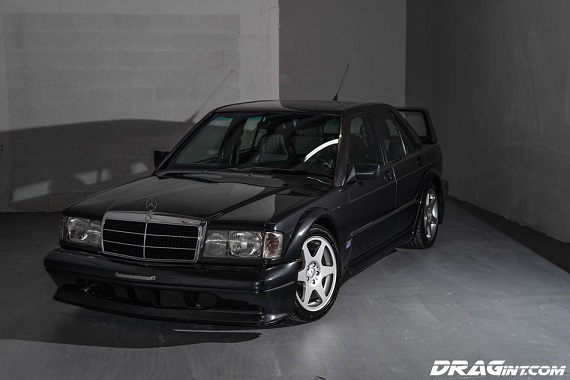 Let's get the elephant in the room out of the way: this 1990 Mercedes-Benz 190E's asking price is $700,000. No, I'm not joking. For that amount, you could purchase many things; planes, sailboats, vacation homes – all on top of your normal home. You could send many disadvantaged youth through secondary education, or you could feed most of Darfur through the rest of the year. But you're not into those things, you're into cars – so what makes this Batmobile-inspired W201 so special? Like the M3 and V8 quattro, it was a DTM star, and like all of the Evolution models they were not imported to the United States. That makes them covetous for marque fans, cars that adorned true racing fan's walls and imaginations in the late 80s and early 90s, and gives you instant credibility at any European event you turn up to. Well before "Evo" became synonymous with Mitsubishi's physics-defying Lancer, Evo meant that BMW, Audi or Mercedes-Benz were attempting to homologate some aero tweaks and a hotter motor to win in the DTM race series. Along with the M3 and Quattro, these were the cars that spawned an entire generation of go-faster flares, vents and wings that can still be seen evolving on the WRX and, aptly named, Lancer Evolution. But while the M3 is a known quantity and the market star of the three big DTM cars from the early 1990s, to me the Mercedes-Benz was the one that really nailed the look with their road going version. The Evolution II looked the business; more aero and extreme than the M3, more special looking than the V8 quattro's Evo kit, it stood apart from the crowd. All of them were special, but somehow the Evolution II was a bit more special: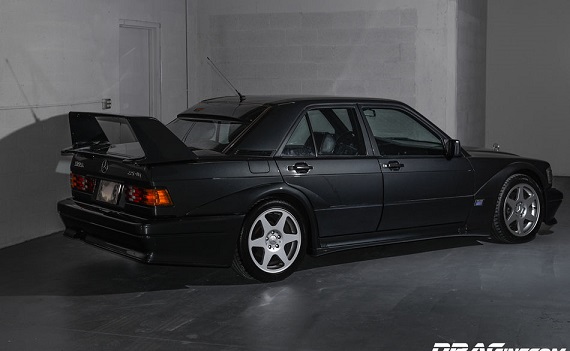 Year: 1990
Model: 190E 2.5-16 Evolution II
Engine: 2.5 liter inline-4
Transmission: 5-speed manual
Mileage: 80,000 mi
Price: $700,000 Buy It Now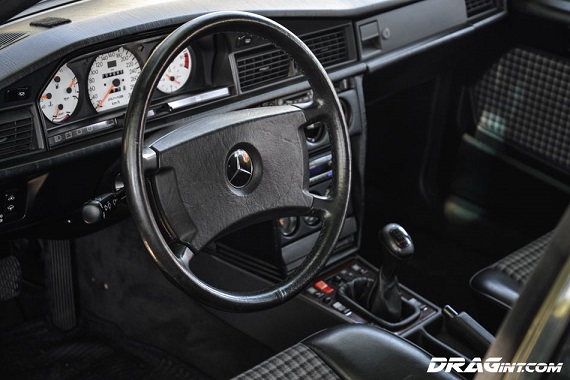 Thank you for viewing my listing – This vehicle is available for viewing at our facility!

Trust Drag International for the Rarest Sports Cars as well as Parts and Service to keep your ride running flawlessly!

Click Here to View My Other Cars and Parts for Sale!

We have for sale a 1990 Mercedes Benz 190E Evolution 2 – #146 of 500. Never originally available in the USA, this is precisely the first time that this rare automobile is being offered for sale completely legal for ownership and on-road use! This is an extremely rare opportunity to own one of the most iconic homologation specials ever produced by the masters at Mercedes Benz. A true thoroughbred, the 190E Evo 2 swept the 1992 German Touring Car Championship and was the epitome of engineering and speed at the time. It is widely considered the first Supercar to have been born a sedan! With Aerodynamics designed and tested by German Scientist and an Engine further tweaked by Cosworth, the Evo 2 was the culmination of Mercedes Benz expertise for the purpose of motorsports domination.

Produced May 30, 1990, this vehicle was imported at exactly 25 Years of age – Box 1 Designation on the HS-7 Import Declaration (Import Declaration Form is presented below). Also because EBAY does not recognize this exotic vehicles VIN # – the listing was created with a year of 1980.

Please do not hesitate to contact us with serious offers and inquiries!

Introduced at the Geneva Motor Show in March of 1990, the 190E Evo 2 was created to satisfy DTM sanctions requiring a production version of all competing race vehicles. Over the years Mercedes Benz had gathered a vast amount of data on their touring race cars and had pushed development beyond the capacities of the standard vehicle. The popularity of touring cars was at an all time high and the DTM racing program was realizing world wide success reminiscent of Group B Rallying days. In order to further increase performance, drastic changes needed to be made to all aspects of the vehicle – and these changes would have to appear on the homologation production version.

The motorsports division, now known as AMG, was given unlimited resources in order to build a champion race car. The result was extensive modifications of Chassis, Aerodynamics and Engine Power that was aimed strictly at competition victory. Wind Tunnel testing helped to create the impressive aerodynamics package that would alter nearly every body panel of the vehicle! With a focus on function, this car looks brutally honest as its intentions are quite visible: downforce and stability. The Engine, previously developed by Mercedes Benz, was modified additionally by the experts at Cosworth to create more power as well as retain reliability. Unheard of at the time, this 2.5L 4 Cylinder created 235HP with a sound and rush that was unique and intoxicating. In race trim, the 2.5L would develop nearly 400HP. A close ratio 5 speed transmission was developed with a revised shift pattern keeping the most used gears inline. Another motorsports derived part, this unique 5 speed transmission was known as the dogleg gearbox. The ride height of the race vehicle was extremely low and for the production car to maintain useability Mercedes employed a height adjustable hydraulic suspension system that would allow the car to traverse the back roads just as easily as it did the race track. Creature comforts were offered as options all the while these vehicles were the most expensive offering from Benz at the time.

Only available in Blue Black Metallic – this vehicle literally represents the birth of the Factory AMG Division and is the original Black Series High Performance production vehicle!

Our 190E Evo 2 #146 retains ALL of the original Aerodynamic and Performance parts including the adjustable front splitter, adustable rear deck lid extension spoiler and adjustable rear wing. The wheels, fender arches, twin pipe exhaust system with perforated exhaust tip and rear window spoiler are also all original Evo 2 upgrades. This car has been impeccably loved and maintained throughout its life

Specs:
Original and Authentic 1990 190E Evolution II – Verified by Mercedes Benz Classic Center USA
Produced May 30, 1990 – This is # 146 of 500 Created
80,000 Miles with excellent operating running gear, chassis and electronics
Original Blue Black Metallic Paint – Code 199
Additional Factory Options of interest Include:
Original Leather and Gradient Pattern Cloth Sport Interior – Code 271A
Electric Sliding Roof – Code 412
Air Conditioning – Code 580
WD Green Glass – Code 591
Outside Temp Indicator – Code 240
Rear Head Rest – Code 430
Upgrade Radio MB Exquisit with Rear Loud Speaker – Code 511 + 812
Seat Heater – Code 873

Exterior:
Our 190E Evo 2 has a pristine exterior showing only minor rock blemishes on the lower front spoiler. It is complete and completely stock. The aerodynamics package is in excellent condition with all adjustable components in proper working order. Our #146 also has an electric sliding roof not typically optioned on these cars.

Suspension / Brakes:
Our 190E Evo 2 retains its hydraulically controlled SLS height adjustable suspension with in-cabin leveling switch. It is in perfect operating order and gives this performance car the smoothest and most confidence inspiring drives we have ever experienced! The original EVO 2 upgraded braking system with 300mm 4 Piston front calipers has also been properly maintained and performs flawlessly. Continental performance tires in the original 245/40/17 sizing are installed on the rare factory Evo 2 wheels for quiet cruising yet tenacious grip.

Engine / Drivetrain:
Evo 2 #146 starts, idles and drives perfectly. The engine revs vigorously to its 7700 RPM Redline. It operates properly in varying conditions as intended and blows cold air conditioning. The drivetrain and engine are in excellent condition showing signs of proper scheduled maintenance. The SLS suspension pump, lines and reservoir system are also functioning properly.

Interior:
The interior of this car is in immaculate condition for a vehicle of this age and mileage. The gear shift shows natural wear lending an authentic patina to this touring car. 146 of 500 is scripted atop the shifter indicating the cars limited production. A rare option on the Evo 2, our car has the contrasting leather and gradient cloth seats offering increased holding befitting of this super sedan. The seats are bolstered heavily in the front as well as the rear! This is truly a super car with 4 seats. The Green Glass is clean clear with no signs of having ever been tinted. The interior smells and presents as nearly new.

All in all, this car is amazing. Pictures do not do justice to the presence this car has and the history that the Evo 2 represents. This is an iconic machine being offered for the first time in the USA completely legal and without any usage or mileage restrictions!

Visit DRAGint.com to read more about this Evo 2 and our facility.

Visit Mercedes Benz USA Classic Center to read about the 25th anniversary of the 190 E Evolution 2.

Below please find pictures of 190E Evolution 2 #146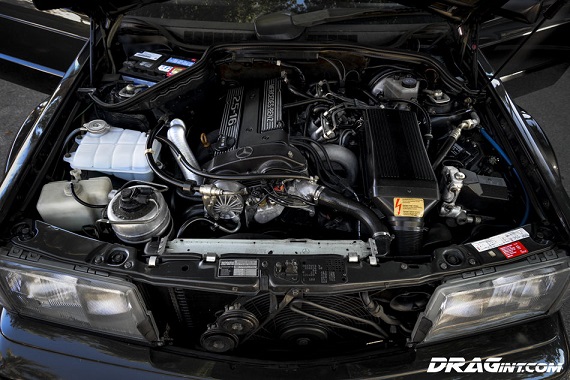 I love this car. It is, to me, the best looking modern Mercedes-Benz sedan, and might even challenge the 600 as the best looking Mercedes-Benz sedan produced period. Now, that said, would I pay $700,000 for one? No, not on your life. Even if I was filthy rich, it would still seem to be an inexcusable waste of money. You could, for example, own for that $700,000 the nicest of the Evolution M3s, completely restore a V8 quattro to Evo spec, buy an RS2, perhaps throw in one of the equally covetous last air-cooled 911 Turbo models, buy a home and a very nice garage, and still have money to play with. Heck, I'd be willing to bet that you could buy a lesser 190E 2.3-16V, send it to Mercedes-Benz in Germany with a "please make this an Evo II" note attached and a blank check and still come out ahead. But if the price is in dreamland, so are the looks of this car. I really love the V8 quattro, and Evolution equipped cars are even better – and more rare than either the M3 or 190E. I will always enjoy looking at M3s, even if I complain that many of them are overpriced and overpresented in the market for what they are. But there is just something about the 190E 2.5-16 Evolution II that captured the best aspects of it all; the birth of AMG and the end of the DTM era so many of us enjoyed, with the build quality and old-school add-lightness simplistic factor of the W201. Sprinkle with one of the most storied names in the motor industry, Cosworth, and the recipe was perfect. Though the new C-Class AMG 99.8 Double Black Diamond Edition may have well in excess of double the horsepower of this model, to me this is the definitive small Benz and the highpoint of their design. These winged-wonders carry me through my daydreams, and while I will never own a 190E 2.5-16 Evolution II – or likely ever have $700,000 at my disposal, for that matter, it certainly is nice to dream about.
-Carter