When Volkswagen debuted the VR6 motor in 1991, it was initially available in the Passat and Corrado. With the introduction of the MkIII Golf in 1993, this new narrow angle six cylinder found its way into one of the world's most popular hatchback. Almost overnight, a legend was born. With exception of the forgotten Mazda MX-3 and its 1.8 liter V6, few small cars could match the refinement and power offered up by the Golf and its VR6 powerplant. The motoring press began to hail it as a cut price BMW. Over 20 years later, enthusiasts have shown the versatility of this motor via applications in earlier chassis. One of the most popular transplant projects is to take a MkII GTI and mate it to this motor. My cousin embarked on this very project with a 1992 GTI and has had many miles of endless fun. This MKII is the more pedestrian, earlier square headlight four door Golf. It comes to us from a reader in Nebraska and while it has a few cosmetic issues and suffered an accident, but the all-important VR6 engine swap is in effect.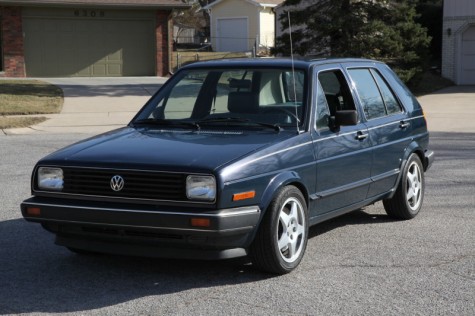 1985 Volkswagen Golf 4 door, 5-speed, OBS2 VR6 engine swap. Functioning heat and air conditioning. Cruise control components are there, but it not working. Only thing left to replace is speed sensor.

Car: 1985 VW Golf 4 door built right here in America. The car has been in one small wreck in it's life. The rear must have been hit because the rear paint is a little darker. The hatch has the worst paint but NO rust or damage. The rest of the car is original paint.

Engine: 1998 Mk3 Jetta VR6 full OBD2. Yes you can scan it with VCDS. Odometer says 79,000, take that for what it worth. Mods include: Autotech chip, brospeed header (ported), ABD Mk3 intake rewelded to fit perfect in the mk2 chassis. BFI motor mounts cut down to clear the hood. I did not cut the hood like some other people! Mason Tech crackpipe, 42 Draft Design block off for the SAI system (deleted everything AND all electronics). Check engine light is on for the SAI. I dont have vag-com to clear it/ignore it.

Drivetain: Corrado VR transmission (best VR trans), Corrado axles, Corrado G60 hydro clutch setup.

Suspension: Mk3 front subframe (plus suspension). Corrado VR crossmember and rear beam. Brand new Koni suspension with HOR springs. A-arms have poly bushings.

Steering: Factory Mk2 manual steering with brand new tierod ends for the plus suspension.

Brakes: Full 5 lug swap from the 1998 Gti VR6 Driver Edition Mk3. Master cylinder is Corrado. Obviously rear disc with new cables. It's also a Corrado rear beam.

Gas Tank: Mk3 VR to include the pump

Wiring:
Engine is Mk3 CE2
engine bay is Mk2 CE2
cluster is Mk3 CE2
A/C is Corrado VR6 CE2
Rear is factory that I made a plug/play connector.

Stereo: Alpine Media Head unit. Decent speakers

Wheels/Tires: Factory Corrado Speedline Rims with Ziex 912s

HERE IS LINK TO BUILD THREAD: http://forums.vwvortex.com/showthrea…ause-I-want-to

Blast to drive!!! I bought a Subaru and just dont drive this Golf anymore. Always get in the Subaru. $5500 Firm. Might be flexible if you bring your own wheels. Or i have Steelies but not sure of the tire condition.

My phone number is 402-953-2671 ( voicemail box )
While a nice paint job would finish off this package, one could keep it as is and go for more of the sleeper look, as I've never seen one of these engines in an early MkII, let alone a four door. I'm also a sucker for those Corrado Speedline wheels, no matter what they seem to find their way onto. Overall, not a bad example of a question few enthusiasts seem to have asked themselves.
-Paul