I seem to be on a sport wagon kick. This 540iT is the prettiest of the recent lot.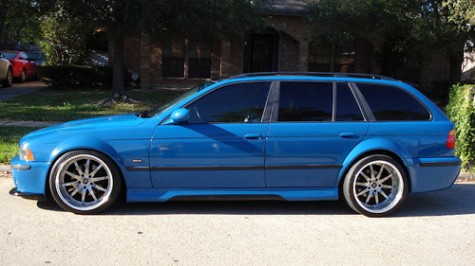 The car has traveled 131,901 miles and some where along the way it had some cosmetic surgery. While the driveline is all still stock, unlike the other two wagons I recently posted, this one has alot of flair on the outside.
The car had its white paint replaced with the ubiquitous, for the BMW guy looking for attention, Laguna Seca blue. Then a BMW M5 widebody kit with wide wheel arches was added. A Remus exhaust and some deep dish rims wrapped in meaty 285/30 19s out back give this car a much sportier feel. KW coil overs help it in the turns.
Inside the car has new buckets and a sprinkling of carbon fiber look wrap. The seller says there are a few electrical gremlins inside and an intermittent check engine light.
As the seller says it would be nice to swap in a full M5 driveline, but this is a looker that still will have decent performance. Bonus points go to the owner for the Hybrid emblem on the hatch lid. If it did have an M5 powerplant that badge would perhaps be more suitable.
The ask price is $18,000. There won't be any bidders at that price, but when the seller can start lopping off several thousand I'm sure this car will get attention.
~Evan