A few VW vans have gone through our family, and I'd like to go through a few more. After an exhaustless Bus and a cheap-but-campable Vanagon, it's no secret that I want one of those $80k Syncro-Westy-Subaru frankenbeasts to explore the world in. But why do what's been done before? Today we bring you a VW LT35, essentially the Vanagon's big brother which is probably a more common sight in Europe but never here in North America. It's in fantastic condition and has some excellent features like a rear diff, spotlights, and dual sliding doors. The interior is ready for any conversion you want, a campmobile in my case! This would be an amazing and unique VW van while still being eminently functional.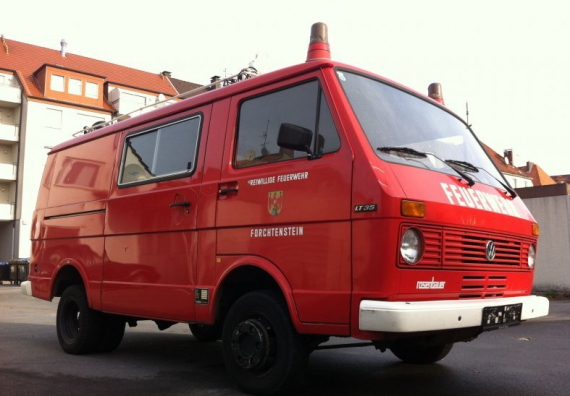 This is the rarest of the rare a 1985 VW LT35 firetruck with differential lock in super solid condition. It has original 22,244 kilometers (about 13,900 miles) on it. VIN WV2 ZZZ 29 ZFHO12926. It comes with the super rare option of two sliding doors and differential lock for the rear axle. This van was build by vw and then delivered to rosenbauer ( a company for fire engineering works). This huge beast is overall in outstanding condition. I picked this up a while ago over in austria where it was used by a very small firedepartment. it was well looked after all its life and was actually mostly moved to keep it in good working order. It was never parked outside. It was kept in a heated garage.

It still has the blue signals on the roof (all working), I just had to tape them up to move it on the road legally (in the pics you can see the brown tape wraped around them) it also has two huge search lights mounted on the roof. There are two seats in the front and a full lenght benchseat in the rear facing backwards (you can open that and you have a big storage underneath).
this thing runs and drives perfect, it fires right up, there is no play in the steering and the brakes also work perfect (no wonder with that milage and service). It comes in its original paint and looks amazing.On the underside you can still see the factory wax clear code, which faded brown over the years. I've never seen one in this condition before and will probably never do again.

The only part which does not look too good is the exhaust there is some rust on it, but that is only the very last part of the tube.the muffler and everything before the very end is in good condition (see the pictures). There is a little piece cracked off left part of the rear bumper as shown in the pics. It weighs 2,1 tons and drives pretty good with its 90hp 6 cylinder. The first gear is a rolling gear and is super short, for the use on the road you use the second gear right away. On the floor on the right side of the drivers seat is a arm which allows you to put in the differential lock (only on loose or slippery ground). I have been using this to transport firewood once in a while and it is just too nice for that.

In the pics you do not really see how big this beast is. it always looks funny when there is a vanagon next to it. If you need to see anything what is not shown in the pics let me know and i will send more pics of whatever you would like to see. The car is located in Bielefeld, Germany and is ready for the export. The shipping is included in sales price to New York, NY, Long Beach CA, Oakland CA, or Houston, TX. I can also arrange delivery to your place, but that is optional.
I'd love to have this thing continue to look as crazy as it does but have it be a completely functional van. Bids are at $7,500 with reserve not met, and I have absolutely no idea what the market is for a rare German firevan. Buying cars from overseas always has two huge caveats: how do you inspect it, and how do you get it? The prior is still a question here, but the latter is taken care of with free shipping included in the final price. That's huge. Personally, if it stayed under $15k it'd be worth it.
-NR