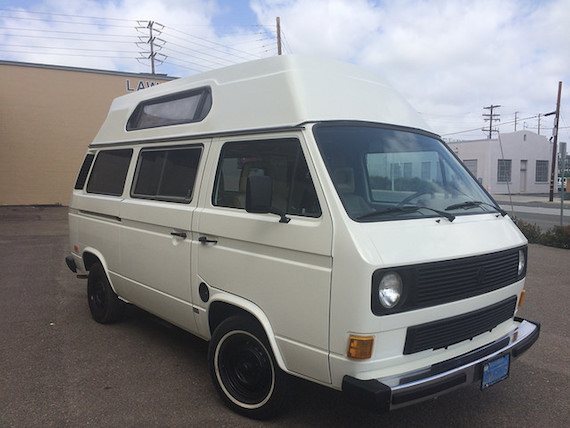 This Vanagon does my favorite kind of bait-and-switch. At first glance, the unwavering white paint/black trim looks at best plain. White wall tires on steel wheels exaggerate its age, giving the overall impression of yet another old beater camper van. This impression matched with the $26,750 asking price furrowed my brow immediately, but elicited a rewarding closer look. Checking out the details on this High Top, you see that the plain white paint is actually a recent and well-done respray. Inside, we find a nearly perfect interior with a new wood-laminate floor to match the cabinets. All camping items work including the propane stove and heater, water pump with filter, refrigerator, and external ports. It has 184k miles but still returns 20+ mpg and appears to have received the maintenance and care to keep it going for another couple hundred thousand. The 6'7″ standing height means even my 6'5″ brother could be comfortable, though the fold out bed might not either of us very well. It's an under-the-radar Adventurewagen that is perfectly eccentric as is.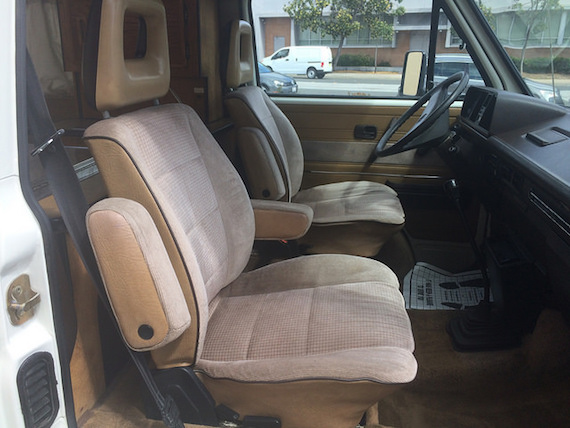 Year: 1985
Model: T3 Vanagon Adventurewagen
Engine: 1.9 liter flat-4
Transmission: 4-speed manual
Mileage: 184,095 mi
Price: $26,750 OBO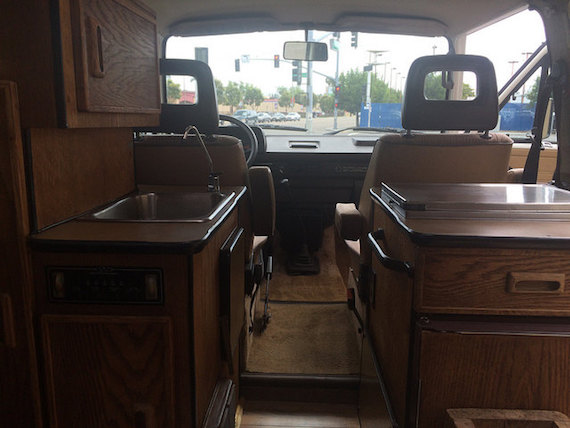 Upgrade to a limited edition classic Adventurewagen – for that feeling of instant freedom anytime, anywhere!

The Adventurewagen is a 4-season RV – the high top shell is fully insulated against cold and heat, as well as the sides and doors – no more freezing or getting damp in bad weather, like with the tent-style Westies…no more having to put the tent top up to be set up or to be able to stand up. Just pull up and park!

This awesome van is a knockout beauty that can take you anywhere in style and turn heads wherever you go! From venturing into the backcounty on dirt roads to stealth urban camping on quiet streets, you can take her anywhere and be confident and comfortable no matter what the weather…

Plus you can park her easily in any space and get up to 20+ mpg – the perfect vehicle for all year round adventure-wagening!!

Amenities:

Open the side sliding door and step up – there is 6'7″ of standing headroom inside – anyone can stand up comfortably in the interior and move about – almost like a little apartment!

Handcrafted teak and Koa wood cabinetry throughout the bus interior – gorgeous looking and gives a feeling of warmth that the newer plastic interiors just can't match

New Westfalia curtains plus GoWesty brand wraparound front window curtain with snaps for privacy and complete use of the space – also new matching tie backs with snaps

Tons of storage above drivers area, in side cabinet and under rear seat, under and sides of sink, spice rack space, and utensil drawer.

RV Opening Windows with Screens

Opening Sky Light vent window above living area

5-person vehicle with fold out double bed on bottom and slide out double bed on top (could sleep 2 adults and 2 small children) – all the cushions have been upgraded with new foam for the next owner – extra mattress topper also included

Laminate Wood Floor newly installed

Newly custom painted March 2016 – This Adventurewagen has always been a SoCal vehicle and has undercoating beneath as well

New Window Seals throughout – window have custom tinting to keep sun heat to a minimum

2-Burner Stove propane stove with stainless steel cover, placed safely by slider door for adequate ventilation.

12,000 BTU furnace heater powered by a 3.4 gallon propane tank – the heater is controlled by a sliding thermostat and can give full house heat in the coldest weather, if desired.

Water pump for sink with Everpure drinking water filter

13 gallon aluminum clad water tank with air pressurized system, stainless steel sink, as well as separate 13 gallon waste/gray water/holding tank.

12v / 110v refrigerator, runs on either system using deep cycle battery (newly replaced as of 4/25) – the vehicle has a starting battery and a deep cycle battery with a splitter, to not drain the starting battery

110V cord with three prong plug, and circuit breaker, for hooking up in a traditional RV park setting

Exterior fill ports that are covered with a locking door

Dining table placed in front of bench seat – can be pulled out when needed and put away when not in use

Reading lights and bright overhead lights – all lights are LED low power for energy conservation

New Pioneer Stereo with USB, Aux and Tuner plus new speakers

Upgraded light truck tires with chrome rings and hubcabs – tires are relatively new with good tread

Mechanical:

1.9 Liter Water cooled Engine – great compression, no leaking of oil, coolant or vacuum – runs at 70 mph on the freeway

Complete Tuneup with New Hall Sensor in the distributor

Rear Suspension Rebuilt from the Transmission out to the wheels
New CV Joints – both wheel side and transmission side were taken apart, new bearings put in, re-greased and sealed again
New Wheel Bearings Front and Back
Newly rebuilt Brakes front and back – brakes are tight and responsive

Newly flushed coolant system re-filled with correct blue non-corrosive coolant fluid

Newly replaced vacuum hoses and fuel hoses/connectors

New Behr Air Conditioning system that cools the van interior from the front and back

Clean title and registration – just had smog check done and passed with flying colors

This vehicle is ready to take out on the road immediately and will give many years of comfortable RVing with a small footprint – have an unforgettably awesome summer in this restored beauty!

Cash/Money order only – no checks, no trades

Feel free to send an Ebay message for more information.

Asking 26,750/B.O.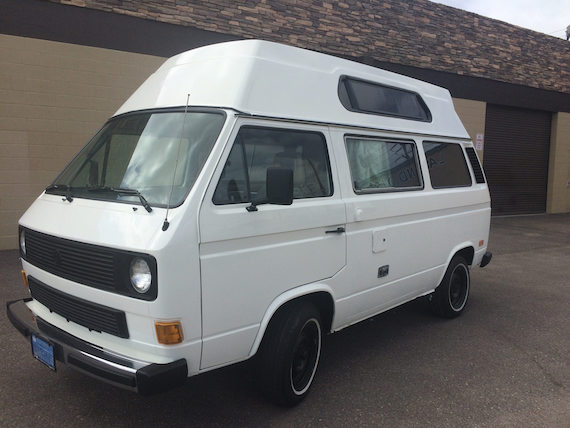 I keep trying to think of GoWesty/Mercedes rims that would make this look better, but the basic steelies really drive home the "nothing to see here" aesthetic. The originality and care certainly make a case for the high asking price, but I still think it may be too rich for this Adventurewagen. There are plenty of nice high tops out there for closer to $20k. There's a lot to be said for starting out your life with a van with everything working, however, so hopefully someone will appreciate this diamond hiding in plain sight and keep its adventurous life going.
-NR