Warning!
This post is in our archives. Links in this post may have been updated to point to similar cars available to bid on eBay.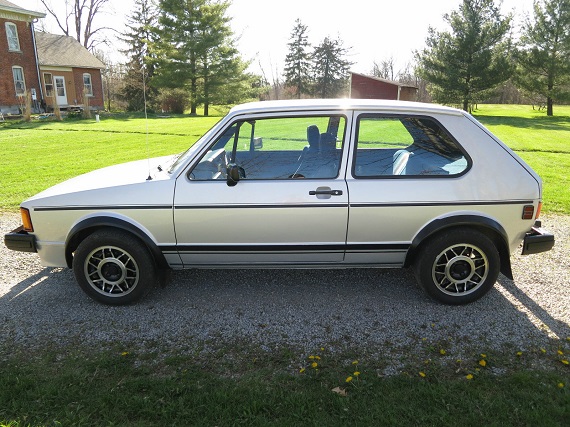 I'm going to take a slightly different tack from Nate's post yesterday on his equally immaculate Royal Red GTi. I owned an A1 GTi once. It was one of the worst automotive decisions I've ever made. Back in 1998, I bought a non-running, rusty and very tired black over blue 1984 example for $300. I had every intention of "restoring" it to back good condition, but I was 21 and a poor college student and it was 14. But it wasn't the age (or the mileage, Indiana), it was how it had been treated in that 14 years. After all, my current Passat is 14 years old and while it's not perfect, it's pretty damn nice. Heck, my M3 is 13 years old and basically looks and drives new. No, age was much harder on the cars of the early 1980s; plastics weren't as durable as they are now, nor was paint. Metal was more rust prone and the electronics were no where near as reliable even though there were so far fewer in the car. To back my GTi up, you could simply look through the crease in the bodywork between the taillights and the rear floor where there was no longer metal. Every single bushing was gone, and what was left vibrated like an unattended paint shaker at Home Depot set to high. The paint was ruined – the car had clearly been hit at some point, so the passenger door and fender were a different shade of black than the rest of the car, which could more be described as dark gray spread very thinly over light gray primer. One time it started itself, which was a bit scary. Another time, it refused to start because the starter had removed itself from the transmission, but only enough to jam the gear into the flywheel. Then one fateful night one a ride home from a late shift at work, the fuse box lit on fire, consuming the functionality of all electrics save the high beams. I had sunk a few thousand dollars into keeping that car running and improving it over the year and a half I drove it. Ultimately I sold it for parts – for $300.
I won't over romanticize my life with a GTi. I was not sad to see it go. I don't wish I had it back – in fact, it may be the only car I owned that I never long to sit in again. Indeed, I even have more connection to a few parts cars that I bought but never drove. But, I will say that it did provide me with some entertaining stories. And when it ran right (there were at least two times), it was really a joy to be behind the wheel. There were glimpses of its former glory; you could get in, start it up and immediately be driving at 11/10ths everywhere you went. 40 m.p.h. has only felt near as exhilarating on my bicycle. And the shape was beautiful in such a strange, boxy way. Like Nate, I certainly wouldn't mind owning a GTi (again), but it would have to be one closer to perfect. It would have to be more like this Diamond Silver Metallic 1983, amazingly one of the two lower mileage near perfect time pieces that have popped up on eBay this week: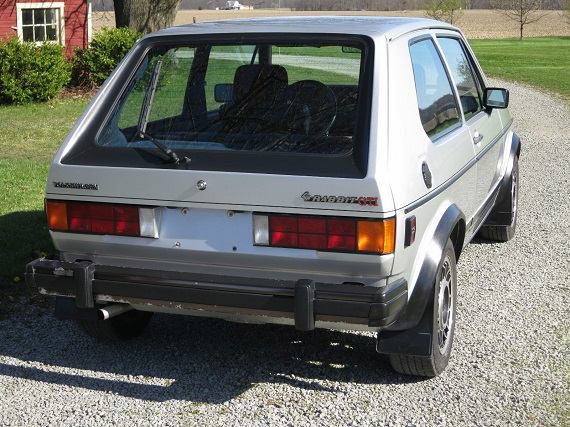 Year: 1983
Model: GTi
Engine: 1.8 liter inline-4
Transmission: 5-speed manual
Mileage: 63,361 mi
Price: No Reserve Auction
This is my Volkswagen 1983 Rabbit MK1 GTI which I am very sadly parting with due to changes in my life. It is all original with no modifications or restorations. It is one of the very few MK1 GTI's still around in excellent condition. ONLY 63,361 actual miles It was manufactured in November of 1982, which makes it one of the first of the first generation of US made GTI's.

The original owner was a 73 year old gentleman bachelor who treated it like his only child. I bought it 7 years ago when I was 48, so both owners/drivers were middle aged non-smokers who never raced or hot-rodded it. It has been covered and garaged all its life when not in use. It's been a very pampered car. The body is approximately 99% rust free. I have the original sales receipt, many of the service records, 2 sets of keys, owners manual, Haynes repair book, part of a can of original paint for touch-up. (see pic below)
It has:
* 5 speed manual transmission
* 1.8L engine 4 cyl.
* optional upgraded factory original VW AM/FM cassette radio
* Oil has been changed religiously every 3K miles
* Had new brakes a year ago, new brake hoses this year
* New CV boots, joints, axle last year
* Been totally checked out by VW mechanic
* All hoses/vacuum hoses checked for leaks by VW mechanic "Pristine" (Air Cooled Engines Plus, Tiffin OH)
* New exhaust
* New Bosch injectors
* New Bosch/Audi fuel filter
* New Bosch plug wires/ distributor cap
* No A/C or sunroof
* Tires have 12K miles on them
* No cracks on dashboard (see pic below)
* No rips, tears, fading, or worn spots in the upholstery
* Original Rabbit floor mats
* All heater/defrost/blinkers/lights/vents work
* The steering is still tight and very responsive. It's a real joy to drive
* Never been in an accident of any kind
* The headliner, which comes detached with age, was very tastefully tacked up with matching blue button pins by the original owner (see pic below)
* Has the shift-up light, which still works. (only available in the first half of '83)
* Was rust proofed at time of purchase
* A year ago, I put a coating of Rust Bullet on area below bottom trim pieces on both sides, under plastic wheel well covers, and in bottom of back parallel to tailpipe to take care of a couple surface rust spots and to protect it from further rust in those vulnerable areas. (It has been driven in winter by both owners sparingly and only when necessary)
* Undercarriage is in very good condition, but does has some rust. Nothing serious.
Imperfections
– There are a few grease stains on carpet on passenger side. There when I bought it (see pic below)
– Plastic trim piece from dash to ceiling on passenger side cracked and repaired (see pic below)
– Vent handle on passenger side present but broken on inside.
– Black rope trim around passenger door unglued at lower left corner (see pic below)
– Small hole in cloth side liner in hatch area on driver side (see pic below)
– Crack in plastic trim piece beside VIN number beside windshield
– Passenger side view mirror no longer adjustable from inside. Cable inside door is broken. Tucked up with black Plasticine; manually adjusted. I do have another mirror assembly from a junk yard if the new owner wants it.
– Two small surface rust spots under logos on back hatch (see pics below)
– Mechanically:
* Cold starts are very reliable.
– Hot starts in warm weather tend to idle low and need a little extra gas for a few seconds to smooth out. Mechanic says it's a typical CIS issue. Owner's manual says this could be a symptom of ethanol in the fuel.
– Depending on what kind of gasoline is being used, it has a tendency to jump/surge for about the first 5-10 miles before smoothing out. After smoothing out, it runs flawlessly. E0 (non-ethanol) makes it jump less. I use Shell super premium (93) when I can't get E0. (next to impossible in Ohio) The mechanic thinks this intermittent surging is most likely from something sticking in the fuel Accumulator and should probably be replaced sometime in the future

Overall, this is an awesome car and I think the new owner will be quite happy with it. I have really enjoyed having it and will miss it. Good luck to everyone! Click here for walk-around and start up

Detailed Pictures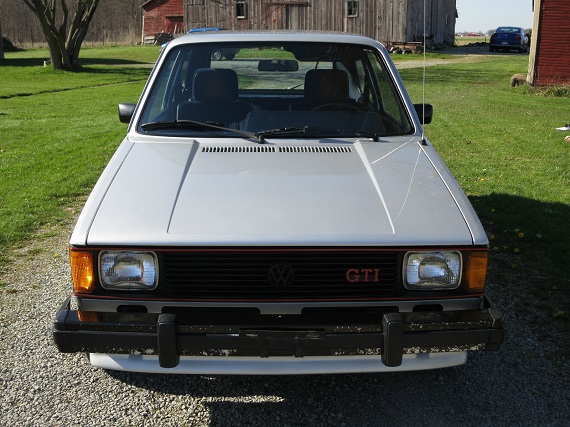 What a treat to have a string of sealed-beam Audi/Volkswagen cars in this shape! Nate and I had an exchange earlier in the week about these two cars, both amazed that two would pop up at the same time. Mind you, it's not quite as impressive as the two Callaway turbocharged low-mileage examples that stunned the market back in 2013, both trading hands within the span of about a month for high teens. Neither of these two GTis will hit those numbers, but the new normal for these cars is certainly higher than most enthusiasts would wish. With active bidding, this car currently sits at $7,500 with a day and a half to go. When I compare that amount to the Surinam Red Audi Coupe from this morning, I can't help but prefer the Audi even if the GTi is more of a legend. Is it a nice car? Undoubtedly. Is it five times nicer and more desirable than the Audi, though? The Audi is more rare, as quick, nicer to drive, more comfortable, better optioned, overall better looking in my eyes, and better built than the Volkswagen, but the GTi is a market darling right now and that makes contemplating ownership again difficult. I'm glad I owned a GTi along the way, but I don't think I'll ever drive one again.
-Carter