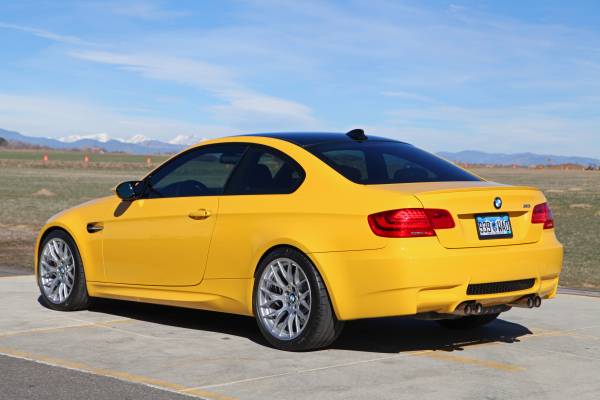 Hardly out of production, journalists and enthusiasts alike are already calling the last of the naturally aspirated M3s a classic in the making. Some have even gone so far as to call the E9x M3 the best M product BMW has produced. Certainly it was a screamer, with butch good looks to back up the impressive power chops on tap from the S65 V8. As always, I'm drawn to the more unusual colors offered through BMW's Individual program and today's example is a pretty interesting one. Apparently, dissatisfied with the yellow-toned options from BMW's own color catalogue, the buyer of this particular M3 asked BMW to head to the Black Forest and it came back with Speed Yellow from Zuffenhausen. A vibrant tone more piercing than Dakar but not as orange as Atacama, does this E92 light up your sky?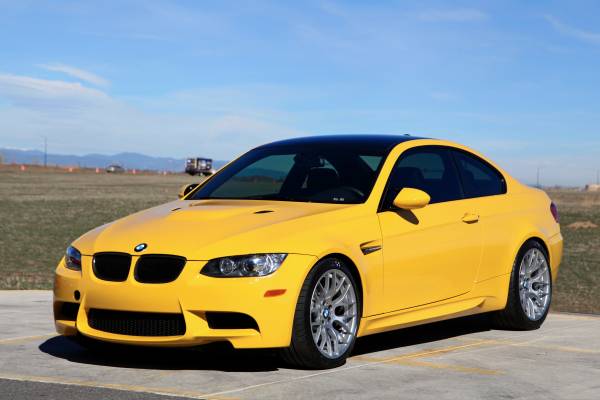 Year: 2013
Model: M3
Engine: 4.0 liter V8
Transmission: 6-speed manual
Mileage: 4,900 mi
Price: $68,000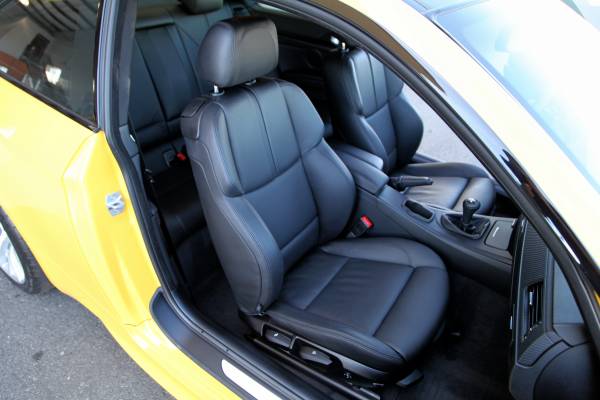 2013 BMW M3 ZCP
Speed Yellow Exterior (490) (1 of 3 BMW Individual Speed Yellow E92 M3s)
Black Novillo Leather Interior (NCSW)
4,900 Miles
S65 V8 Engine
6-Speed Manual
ZCP Competition Package (7MA)
10 mm lower ride height
Revised Electronic Dampener Control (EDC)
19″ Forged Style 359 Competition Wheels
Michelin Pilot Super Sport Tires
M Performance Exhaust
Carbon Leather Interior Trim
Comfort Access
Heated Manual Leather Seats
Carbon Fiber Black Kidney Grills (OEM Kidney Grills Included)
Black Chrome M3 Side Gills (OEM Side Gills Included)
Adaptive Xenon Headlights
Carbon Fiber Roof
M Dynamic Mode DSC w/ M Differential Lock
Fold Down Rear Seats
3M Crystalline Window Tint 50%
Complete SunTek PPF Clear Bra Protection (Full Hood, Fender, Front Bumper, Headlights, Headlights, Mirrors, Side Rockers, Rear Bumper)
BMW Aluminum Pedals
BMW M3 Carpet Floor Mats
BMW Rubber All-Season Floor Mats
BMW Trunk Cargo Net
BMW Enthusiast Owned and Maintained
European Delivered
Factory Warranty
Clean Carfax

Summary

We are selling this 2013 Speed Yellow Individual ZCP E92 M3 on consignment for a fellow BMW enthusiast and BMW Car Club of America member. It was special ordered through BMW Individual and received via European delivery from BMW Welt in Munich. It is one of only three BMW Individual Speed Yellow E92 M3s in North America. It is properly equipped with a 6-speed manual transmission, ZCP Competition Package, M Performance exhaust, and a host of other desirable options. When you buy any pre-owned BMW you are buying the previous owner's stewardship. Proper ownership is key, especially with an M car. The seller is a long time BMW enthusiast and BMW CCA member who also holds a NASA GTS racing license. The other cars in her stable were an E39 M5, E90 335Xi, and NASA GTS E36 M3 race car, which served touring, daily driving, and track duty respectively. The Speed Yellow M3 was the halo model of her collection, being enjoyed sparingly and making a statement everywhere it went. It has always lived in a climate-controlled facility and has never been tracked or exposed to inclement weather. It has been protected by extensive SunTek PPF clear bra and 3M Crystalline window tint. It has always been dealer serviced and retains the factory BMW warranty. Its condition is flawless and still smells new inside. This is one of the most pristine and well-cared-for E92 M3s in the country, an extreme outlier in the available market population. We would like to find a home for it where it will be well cared for, appreciated and enjoyed.

Background

The E92 generation M3 (2008-2013 model years, the 2 designates a coupe) marks the end of an era for the BMW M3. It was the last M3 that followed the high revving, high compression, normally aspirated, individual throttle body recipe that started with the iconic original E30 M3. If you are an M car fanatic of the old school, this is a big deal. The E92 M3 is the most highly evolved and potent example of that recipe. It is even the last two-door M3 (the coupe form being replaced by the M4 for the F80 generation). It's not that the E92's successor F80 M3/M4 isn't fantastic–it is. The F80 is more rigid, has better low-end torque, and more technology–it even has a carbon fiber driveshaft, but it just isn't as special. It really isn't. After the initial novelty wears off, you realize that something is missing. It lacks the theater, the drama, and the passion that can only be created through that old school M car recipe. There is a lineage and a connection to the legacy of what defined the M3 for a generation that you just don't feel in the F80 M3/M4.

Put another way, the E92 M3 is a fire breathing monster that shrieks to a redline of well over 8,000 rpm while inhaling through no less than eight snarling throttle bodies and whaling through an exhaust unimpeded by turbochargers. The F80 M3/M4 makes up for this deficiency by playing exhaust and engine noise through cabin speakers, but it's not the same. The E92 M3 delivers those noises and that experience organically to its driver. It is the M3 with the volume turned up to eleven. And because it's an M3, it still offers wonderful daily drivability, comfort, luxury, and practicality. Car and Driver, Motor Trend, and Edmunds called the E92 M3 the finest, single best, and most complete car on the market. Even the sanctimonious Jeremy Clarkson said it was the best car and there is no point in thinking otherwise. The thing is, nothing is constant but change, and as technology inevitably marches along we must accept a future where all M cars will be turbocharged and will have names based on their number of doors. They will be brilliant and we will learn to love them, but if you are like me, you will always love the E92 and its predecessors even more.

Yellow

The E92 M3 we are offering is more than just a pristine example, it is yellow–Speed Yellow. If you are still reading, then that is a good thing. Details are important to the seller and when she ordered this M3 it had to be perfect. It was replacing a Jerez Black E92 M3 and she wanted something special. Laguna Seca blue was a serious contender, but at the time that hue was more reminiscent of the E46 generation M3. Yellow was another favorite. Phoenix Yellow was another E46 color (and now an F80 color), Dakar Yellow was too pale, and Acatama Yellow was too orange. Speed Yellow (which BMW borrowed from the Porsche catalogue) was perfect. She paid the $5000 BMW Individual premium and took a chance that it would look as good in person. When she arrived at the factory in Munich and first saw the M3 in person it did. I would agree–in a word it is striking. Against a backdrop of white, black, and silver BMWs, Speed Yellow announces to the world that this is an M3, and a special one at that. For the last years of E92 production BMW offered many unique colors, including flat "frozen" colors that proved to be maintenance intensive and the notable Fire Orange of the Lime Rock Park Edition. According to BMW North America this example is one of only three Speed Yellow E92 M3s in the U.S., making it exceptionally rare, even among the exclusive colors.

The Build

BMW M cars are sums greater than their parts, especially the M3. Each bit has been fastidiously engineered by M GmbH to enhance its specific performance area, transforming the already brilliant 3 series into an M. Add the Competition Package (option code 7MA, abbreviated ZCP) and the M3 is subtlety transformed again. The biggest visual difference is the wheels. Style 359 19 x 9″ front and 19 x 10″ rear wheels are one of BMW's best and most aggressive designs. They are forged and nearly four pounds lighter with an 18% larger contact patch per wheel than regular Style 220 M3 wheels. From the driver's seat the larger contact patch and the suspension are what you notice most. It's not just reduced body roll from the 10 mm drop, it's the electronic dampener control (EDC) tuning in sport mode–it's firm The DSC and M Dynamic Mode, and have been revised accordingly. Suspension tuning is highly subjective, but revised dampening, reduced rotational mass, and increased grip are things that any performance driver can feel. Speaking of grip, Michelin Pilot Super Sport tires offer astounding grip–cat claws on Astroturf levels of grip! This is further improved by the seller's own tuning. She aligned the maximum front negative camber possible from the factory setup, reducing factory understeer resulting in a more neutral yet still predicable composure.

The M Performance exhaust is the exhaust every M3 should have come with. It is constructed of inconel mufflers and titanium exhaust tips with laser engraved M logos. It is 40% lighter than the stock exhaust and the sound is glorious. BMW M struck a perfect balance between an aggressive sound that amplifies the intensity of the S65 engine, yet doesn't drone or overpower the intake noise that equally contributes to the symphony. It is quiet and unobtrusive when you want it to be, then roars when it's time to be loud. Full throttle between 3000 and 6000 RPMs is the best exhaust note, above that it's all intake!

Inside this M3 is spec'd to an enthusiast's taste, with a constant attention to weight. It has everything you need and nothing you don't. A 6-speed manual gearbox is the most important option. The DCT shifts faster and a vast improvement over previous automated-manual BMW transmissions, but it weighs 55 pounds more and the there is no replacement for shifting your own gears. Time has always proven that manually equipped M3's earn higher premiums too. Rowing through your own gears is the best way to get the complete M3 experience. The added driver involvement only heightens the drama and theater of that old school M3 recipe. Heated manual seats with full bolster adjustment are 22 pounds lighter than power seats. OEM aluminum pedals add bling. The dash is uncluttered with navigation and other technology options, which inevitably become obsolete and add weight.

Condition

This M3 is perfect. It has always lived indoors and been driven sparingly, only in fair weather. The exterior is protected by professionally installed SunTek PPF self-healing clear bra on nearly every wear prone surface. The entire hood is covered in a single sheet–no seams like you get with the commonly used narrow sheets. The front bumper cover, lights, front fenders, mirrors, rear bumper cover, and rockers. SunTek PPF heals with hot water, so scratches and imperfections can be removed easily. The windows have been covered with 3M Crystalline ceramic tint, 50% VLT. The carbon fiber roof clear coat is brilliant and translucent; it sparkles like fresh snowflakes at dawn. The wheels have absolutely no blemishes or curb rash.

The interior is equally pristine. It still smells like the day it was delivered. There are no odors, tears, scuffs, or stains. It has never been smoked in. The leather steering wheel, shifter, and seats are soft and supple with zero bolster wear. The carpets have been protected by factory floor mats, two sets are included, carpeted and rubber. The factory cargo trunk net is also included.

All maintenance has been done more frequently than the factory intervals. The 1,200-mile engine break-in was done strictly per BMW instructions. Oil changes have been done annually. Gebhart BMW installed the M Performance exhaust (which came off the seller's previous E92 M3 and has about 25,000 miles on it). SCR Performance did the alignment, which puts the front wheels at about -.5 degrees of camber–the maximum stock setting. This diminishes factory understeer significantly, but keeps excessive tire wear to a minimum. It has never had any mechanical issues, thrown any codes, or gone into limp mode.

Outline all Maintenance Records

VIN Decode

Vehicle Identification Number: WBSKG9C59DJ593513
Type: KG93
Model: M3 – USA
Development Code: E92 (M3)
Chassis: COUPE
Steering: LL
Doors: 2
Engine: S65
Displacement: 4.00
Power: 309 (414 Horsepower)
Drivetrain: Heck
Transmission: Mech
Color: Sonderlackierung – 490
Upholstery: Leder Novillo/schwarz — NCSW
Production Plant: REGENSBURG
Production Date: 10-19-2012

Optional Equipment

1CA Selection Cop Relevant Vehicles
1CC Automatic Start/stop Function
2MD M Drive
2VB Tyre Pressure Indicator
223 Dynamic Damper Control
302 Alarm System
322 Comfort Access System
4AE Armrest Front Retractable
4MY Int.tr.fin. Black Ltr. Carbon Structure
423 Floor Mats, Velour
428 Warning Triangle
441 Smokers Package
490 Seat Back Width Adjustment
494 Seat Heating F Driver/front Passenger
521 Rain Sensor
563 Lights Package
6AA Bmw Teleservices
6AB Control Teleservices
6FL Usb-/audio Interface
6VC Control Combox
639 Complete Prep. Cellular Phone Usa/cdn
676 Hifi Loudspeaker System
693 Satellite Tuner Preparation
697 Area-code 1
7MA Competition Package
760 Individual High-gloss Satin Chrome Shadow Line Trim
8SC Country Spec. Release Of Teleservice
8SP Cop Control
8TN Daytime Driving Lights Selectable B
9AB Ext. Skin Prot., Delet. Spec. Chec
925 Shipping Protection Package

Standard Equipment

431 Interior Rr Vw Mirror W Aut Anti-d
5DS Luggage-compartment Emerg. Release
522 Xenon Light
524 Adaptive Headlights
534 Automatic Air Conditioning
540 Cruise Control
645 Radio Control Us
663 Radio Bmw Professional
775 Individual Roof-lining Anthracite
845 Acoustic Belt Warning
853 Language Version English
876 Radio Frequency 315 Mhz

Conclusion

This is one of the most pristine and well-cared-for E92 M3s in the country. Nearly new examples are rapidly becoming difficult to find. We are asking a nearly new price tag, but if you wanted a new M3/M4 you stopped reading a long time ago. This M3 is for someone who values what the E92 is–the last and most potent example of the recipe that defined the M3 since the iconic original. We would like to find a home for it where it will be well cared for, appreciated and enjoyed. Thanks for reading!

Glen Shelly is a low volume auto brokerage focused only on the highest quality vehicles. We are two airline pilots, mechanics, and auto enthusiasts who bring a high level of professionalism and attention to detail to the automobile business. Our philosophy is to keep our inventory small so that we can focus on thorough mechanical and cosmetic preparation of the vehicles we select. We have over 20 years of experience restoring and repairing automobiles and are intimately familiar with our cars. We do the inspections, service, detailing, and corrective maintenance using only OEM parts and service manuals. We offer an informed and low-pressure sales environment resulting in a premium buying experience. Find out more about us at www.Glenshelly.com.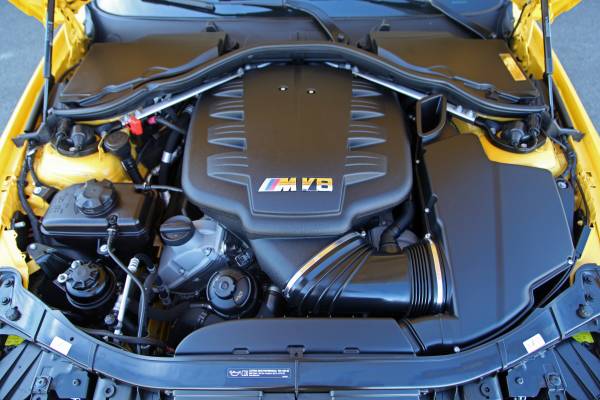 I'll save you some time looking; if you're less imaginative, you can pop on down to your local BMW dealer and place an order for a 2016 M4. The current base price? $65,700. The asking price on this individual toned E92 is more expensive than a brand new car despite the used title. Now, that said, there are some expensive options in place and with only 4,900 miles on the clock this is basically a new car. Option out an M4 similarly and you'll quickly find the bill is far north of the asking price here. The M4 may outrun and outgun any M3 out of the box in terms of raw speed and computing power, but the question here is whether one you can buy at your dealer is more desirable than what is a classic in the making. I'm sure that there will be many who fall on both sides of the fence. Personally, I can see both sides of the coin; I think I prefer the slightly more simple recipe of the E92 versus the F3x, and keep the miles off this example and it will certainly be a collector car in the future. Now, the secondary question – would I want Speed Yellow? To that one, I have to say I'm up in the air – it's a really neat color and this one looks spectacular but I don't think for me it has the wow factor of the metallic yellows on offer from BMW, and I think Fire Orange is somehow a better match for the lines on the E92. However, this is certainly one very neat M3 that will make the next owner and potential collector happy.
-Carter