To say that the Audi 5000 has an interesting story is an understatement. When introduced to the US market in 1983 it was the top of the market in aerodynamics, achieving some of the lowest drag coefficients to date. With flush mounted glass, tight body gaps, and simple (yet slippery) body panels, it appeared as though the car of the future was here. With the legendary 2.2l turbo 5, Quattro AWD, and great styling, the future looked bright.
This all came to a screeching halt when Audi issued a series of recalls on the 5000 citing instances of "sudden unintended acceleration". Owners were complaining that the car would accelerate, even under breaking, which resulted in a 60 Minutes segment, and several law suits for wrongful injury and even death.
Audi later eliminated the 5000 name plate all together, with the C4 generation leaving it only as a fond memory for Audi nerds all over.
This 1986 5000 CSQ for sale in Brooklyn, NY sent to us by one of our readers is a great example of why these cars are so beloved.
1986 Audi 5000 CS Turbo Quattro on eBay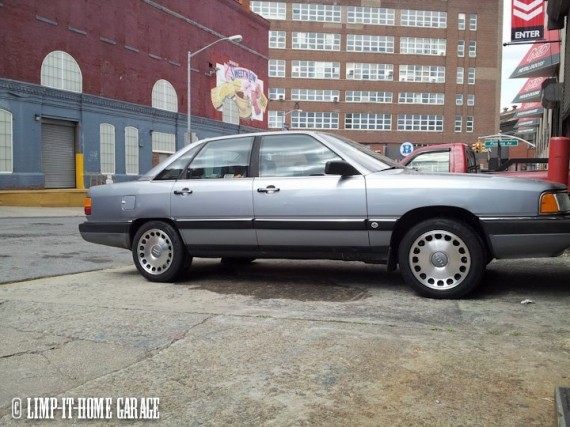 I have tons of spares for this car that are also for sale.
The car has 221k on the clock, runs very well, does not consume oil and is a very solid car. I wouldn't hesitate to drive this car across the country. If you'd like to run a carfax, the VIN is WAUHE0449GN051010 Since purchasing the car this past february I've …

flushed the cooling system with g12++ (everything came out super clean from the flush).
Replaced the thermostat and fan switch with low temp (80 degree) units.
replaced the radiator, and upgraded the fan to a quiet s-blade unit with seven blades.
As of this week the suspension has been overhauled, and all reused parts were cleaned and painted (including the spring hats that you can't even see).
The car sits on bilstein sports and H&R springs that provide a 1.4″ drop from what you see in the photo below.
New control arms.
sway bar bushings
strut bearings
front and rear upper bushings, dust boots, etc….
the car sits on 16×8 A8 monoblock wheels with new Kumho's that though "modern" still look like they could be period correct.
Ben Swann Software w/ a 2.1 bar wastegate spring.
the K26 is in perfect condition and feeds into to a two piece downpipe.
the diverter valve feeds a samco hose to keep things in check when you let off the accelerator.
very clean boost and air/fuel gauges installed in center vents, center vent modified and still works!
The car has a new alternator and battery as well.
Rewired all harnesses that go to driver's door controls with factory repair wire and correct harness tape.
i also replaced the wiper blades. 😉

On the highway I get 31.5mpg all day long.
additional work which will all be addressed before the car changes hands:

the car came with a lifter tick due to stuck cam followers/lifters, rebuilt lifters will be going in.
i have a vacuum leak in the heater control that prevents the vents from blowing hot air, this will be fixed. the previous owner replaced the heater core, and i think the unhooked vacuum line was just a byproduct of that job.
the previous owner pulled the headliner fabric (i assume it was sagging), so i can pull and re-trim the headliner and (perfectly working) sunroof.

work that i can do, but won't mess with unless you want me to.

fix a dent above the rear bumper below the trunk from when the previous owner got tapped in a parking lot
fix another small dent along the bodyline just below the rear right wheel opening from the same tapping
repaint the car

photos detailing any of the cars flaws (minimal) will be provided up on request.
the car will be thoroughly detailed inside, outside, and underhood before delivery. you'll be able to eat off of it.
currently there is a properly and well installed Zex nitrous system on the car, big bottle, very full. I can include this kit with the car, or uninstall it, depending on what the buyer wants to do.
Full specs of the car can be found here http://www.audiworld.com/model/5000/86-5000.shtml
Anyone that has driven one of these knows the definition of a tank. The heavy weight, ample power, and Quattro make these cars virtually unstoppable no matter what mother nature throws at you. The owner of this car has done extensive maintenance, and has turned this 26 year old car in to a solid daily driver. With a BIN price of $3800, this car is priced to sell, average retail value on these is $4200, and with all of the maintenance, clean interior, and solid body, this is well above average.
-Brian