After a production hiatus from the early 1970s on, Mercedes-Benz tried its hand once again at a four place convertible with the introduction of the E class cabriolet in 1991. When the 300CE cabriolet arrived in the US, it cost a staggering $76,500 in 1993 money. For this, you got a 24 valve, 217 horsepower inline six cylinder mill mated to a four speed automatic transmission and an innovative roll bar that consisted of two headrests that extended out at .03 seconds in the event of a roll over. There when you need them, hidden when you don't. This 1993 300CE represents the first year this open top E class went on sale in the US and has a distinctly nautical feel about it in white with a blue canvas convertible top.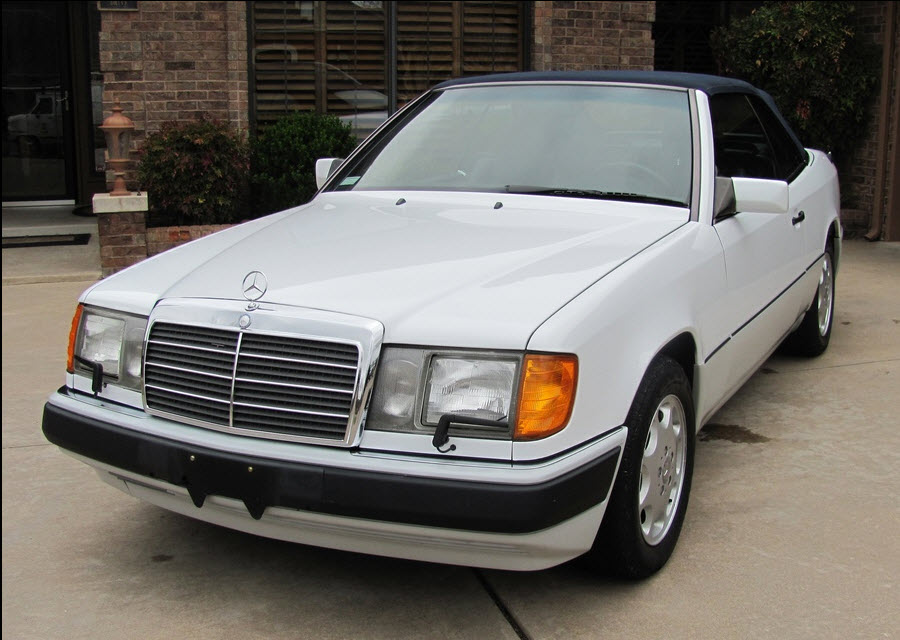 1993 Mercedes 300CE with only actual 52800 actual miles. This car has been very well cared for. Everything works as it should. There are no dents or dings. It just finished a 1500 mile trip with no problems whatsoever. These cars are very rare and finding one in this condition is
very hard to do. You can fly into OKC and we will pick you up and you can drive it home. It gets a lot of attention and is very fun to drive.
While some may prefer the later model W124 with its flush mounted grill and updated headlamps, I don't particularly mind the earlier look of this 1993 model. Present day, these W124 cabriolets bring strong money. You'll have no trouble finding a good example of a 300CE/E320 with under 50,000 miles in good condition, but be prepared to shell out good money for one. Anywhere between $17,000 to $25,000 will net you a very clean driver with mileage anywhere from 40,000 to 70,000 on average. Anything with under 40,000 miles in museum quality condition may run you close to the $30,000 mark. Asking prices over $30,000 can be considered a bit over the top. This 300CE, then, is priced very nicely for someone to enjoy what was the rebirth of four place open roofed motoring for Mercedes-Benz.
-Paul