Warning!
This post is in our archives. Links in this post have been updated to point to similar cars available to bid on eBay.
The late 1970s and the 1980s were a time where manufacturers sought to slim down their offerings in the quest for greater efficiency. Mercedes-Benz was no different and introduced a new S class in late 1979, which was more aerodynamic and returned greater fuel economy. This new range, the W126, carried the flagship torch for 12 years and saw a mid-cycle refresh in late 1985. Two V8 engines supplanted the 3.8 liter V8 that was offered for the US market, a 4.2 liter and 5.6. The 4.2 liter engine was derived from the 3.8 engine and the 5.6 was a development of the 5.0 liter V8. Larger 15" alloy wheels and sleeker lower body cladding helped to modernize the car's appearance until the W140 replaced the W126 in 1992. We've seen a few clean W126s here at GCFSB lately and this 1986 420SEL for sale outside of Philadelphia is no exception.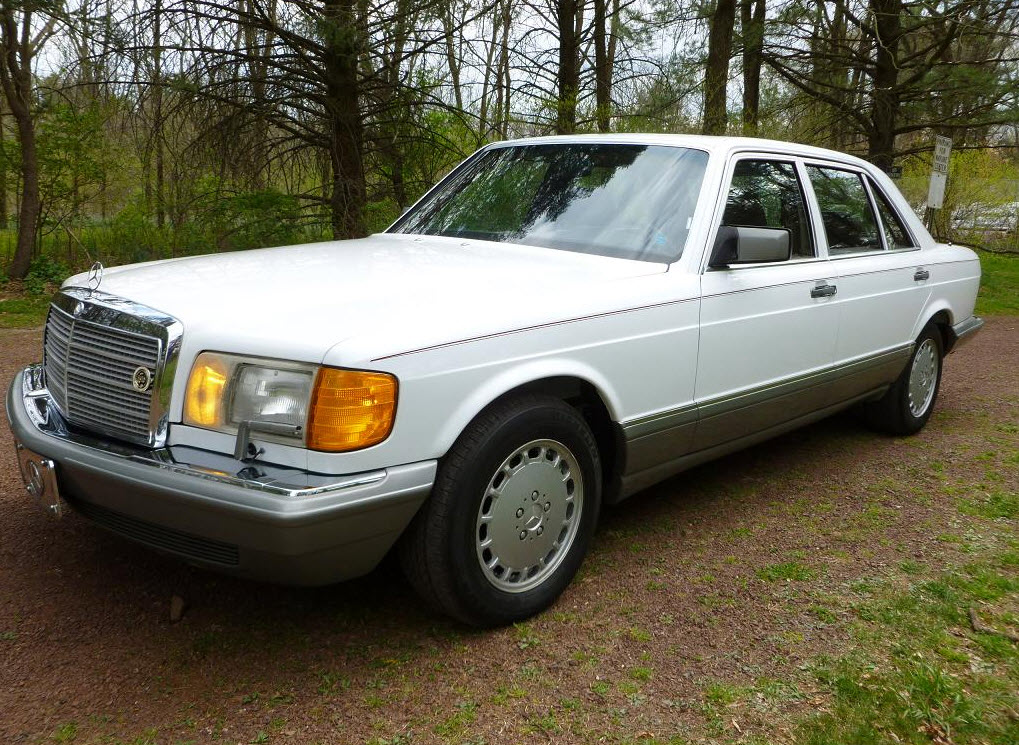 This is the nicest original 420SEL you've seen on ebay, ever. And I am not kidding; I have bought, driven, and sold over 120 W126 chassis Mercedes cars in the last 7 years, more than anyone in the USA including any Mercedes dealer. I have had 9500 mile 560SELs, limos, AMG cars, and more. This 1986 64K mile 420SEL is ridiculously nice. It's a two-owner car since new, has a great service history, has spent its entire life in sunny Florida, is fully serviced and prepped for its new owner, and has NEVER been in an accident and has all its original body panels and paint (except for hood which was scratched so I had it profesionally repainted). All the little things you look for in a mint W126 are here; the nice orange instrument cluster markings, wood trim free of cracks or fading, ice-cold A/C, rock-steady 650RPM idle, dry spare tire/wheel wells, tidy engine bay, gorgeous undercarriage, and much much more.

Yes, this car is expensive. Yes, you can find a less expensive one (I can even find you a less expensive one if you'd like), or even a low mile car for the same or less money. Yes, the market value has declined for these unappreciated kings of the autobahn. But I will tell you this; if you want the best, a W126 that drives like a proper W126, that was cared for its whole life, that feels like a new car and also LOOKS like a new car, that is unmolested, untouched, has ZERO weak areas, and will not need $5K invested in it in the first 6 months you own it, this is the car for you. I will do everything needed to make sure this car is 100% for the winning bidder, and I can provide literally hundreds of references from buyers that will tell you I do what I say, and deliver what I promise.

This is a 1986 420SEL in acrtic white over burgundy leather and matching burgundy carpets, door panels, and dash. This car has only 64,xxx original miles, was a two-owner Florida car its whole life, looks simply amazing, and has no rust or rot anywhere. The trunk is BONE DRY, and the rear window shows ZERO delamination or fogginess. This car was loved, and it shows. Exterior 9.9 out of 10 (I'm finicky) – Excellent overall condition paint, body, glass, and trim. No dings. No dents. This 420SEL looks amazing, with a deep shine to its white blue paint that's like looking into an endless mirror. This car looks great even under fluorescent light in a garage. Imagine getting an 26 year old white car with no swirl marks or spiderwebs in the paint….amazing! The lower side-body moldings and cladding are in great shape. Rubber, glass, and trim are all great. The chrome is nearly perfect with no pitting, the glass is perfect, even the pinstripe is perfect! The tires are correct Michelins Energy, always a good sign of proper care; no cheapo tires. They are at about 10% remaining. But I will include a near-new set of correct Michelins at the buy-it-now price. Factory alloy wheels balance out excellent and look great.

Interior 9.9 out of 10 – Seats, carpets, headliner are all in astounding amazing original condition. The back seat looks like no one ever sat in it! No saggy seatbase cushions or worn out faded leather. The door panels, dash, and center console are all fantastic. The headliner is not faded or droopy, even the Gen I leather rear seats, notorious for pulling and shrinking over time, are perfect! The nets on the backs of the front seats are tight like new. Here is more good stuff. If you know these cars, you know at this age if not in absolute collector-quality condition, the orange instrument cluster needles and markings are faded to dull yellow, the wood trim shows stress cracks and cloudiness/fade, there is moisture in the spare tire well, the door jambs are rough and faded, the headlight bezels are cracked/cloudy, etc etc. NONE of those issues are present with this car. The condition of these items, and all the other items like them, is astounding AND original. You will not find a better condition 420SEL anywhere.

The door panels and wood trim are also in great shape, like the rest of the car. Even the trunk and spare are mint, and the tool roll is in place, in its original plastic, as is the first-aid kit. The spare tire and both wheel wells are BONE DRY. The spare tire, jack, and tools are original and have never touched the ground. Electrical 10 out of 10 – All seat motors, windows, vacuum lock system, lights, radio, sunroof, wipers, defogger, mirror, and other items work properly. The HVAC system is fast to respond, and operates perfectly with scalding hot heat and ice-cold A/C. This system blows harder out of the rear console vent than most W126's do out of their front center dash vents!

Mechanical 10 out of 10 – Engine starts, idles, runs, and revs to redline in every gear smooth and STRONG. This 420SEL runs hard, especially at high speeds. Transmission is smooth yet very aggressive, and downshifts eagerly. No abrupt engagement, just fast, firm, progressive shifts. She runs at high speed with no vibrations or noises. There are no leaks….NONE. No vacuum leaks causing idle or door lock problems, no head gasket leak which these cars are famous for, and no exhaust leaks either. Since this was a Florida car its entire life, the undercarriage looks WAY better than it should for being on the road for 26 years.

This car has passed THREE inspections with flying colors. A pre-purchase overall inspection, a suspension/brake/wheel/tire/exhaust inspection, and my mechanic has gone over ths car as well. After a thorough inspection for problems, nothing of significance was found. But some little items were addressed anyway: brake pads, wiper blades, a relay, all new fuses, oil/filter change, trans fluid/filter change, and more. Engine is strong and VERY eager to run, transmission smooth and ready to drop down two gears at your command to rocket you past slower traffic. Brakes are solid and pedal feel is firm. Suspension is tight like new, no worn tie rod ends, ball joints, shocks, or anything else. Steering nicely weighted with no play in the box. ZERO leaks or noises. This car drives and handles like new.

Recent services listed above, and the MB service history included with the sale. It comes with books, 1 key, tools, and first-aid kit. Even the hood badge proving this car was a European delivery 420SEL. This car was LOVED. No rear window leaks common to W126 cars, no rubber rot, no leaks, no lukewarm A/C….NOTHING. Everything is in fantastic shape, and at 64K miles, it's not even close to broken in yet! If you've been waiting for that time-capsule car, it has arrived. If someone selects the buy-it-now option, I will provide a full $200 detailing including engine and carpet steam cleaning, MB OEM carpeted floor mats, the Michelin tires mentioned above, and all services mentioned above. I'll even include Toughguard paint protectant. This stuff is simply amazing for durability, as it will last up to five YEARS. Dealers charge up to $695 for this stuff! That's over $2000 in value!

Nits: While the exterior looks fantastic, and even the bumpers are virtually unmarked, the car does have a few light scratches, a few small touch-up marks, etc from use over its 26 years. THAT'S IT! There are no other significant cosmetic or mechanical problems whatsoever, and if you know the W126 chassis cars, you know it's amazing to find one in this overall condition.
The color combination of this W126 isn't my favorite, but red interiors have gained a bit of popularity in recent years, no doubt helped by companies such as Audi offering a vast palate when it comes to interior trim. I'm sensing that W126 values are starting to track those of the W123, one of the most revered Mercedes-Benzes in terms of durability. I've seen a vast array of 1986 through 1991 models selling in the $5,000 to $15,000 range. Any example with well under 100,000 miles will garner a good bit of attention, but priced wrong, and they won't move all that fast in an economy like this. While this is a lot of car for $15,000, I can't help but think if this was $1,000 to $2,000 cheaper, it would sweeten the deal that much more. I would pass on the paint protectant though. When properly cared for, Mercedes-Benz factory finishes are good enough to stand the test of time.
-Paul