Warning!
This post is in our archives. Links in this post may have been updated to point to similar cars available to bid on eBay.
One of our Featured Listings from last week, the 1986 Porsche 944 Turbo, has been advertised on eBay by its owner with an opening bid of $10,000. This is a car in need of a good home and hopefully will find its way to one this holiday season.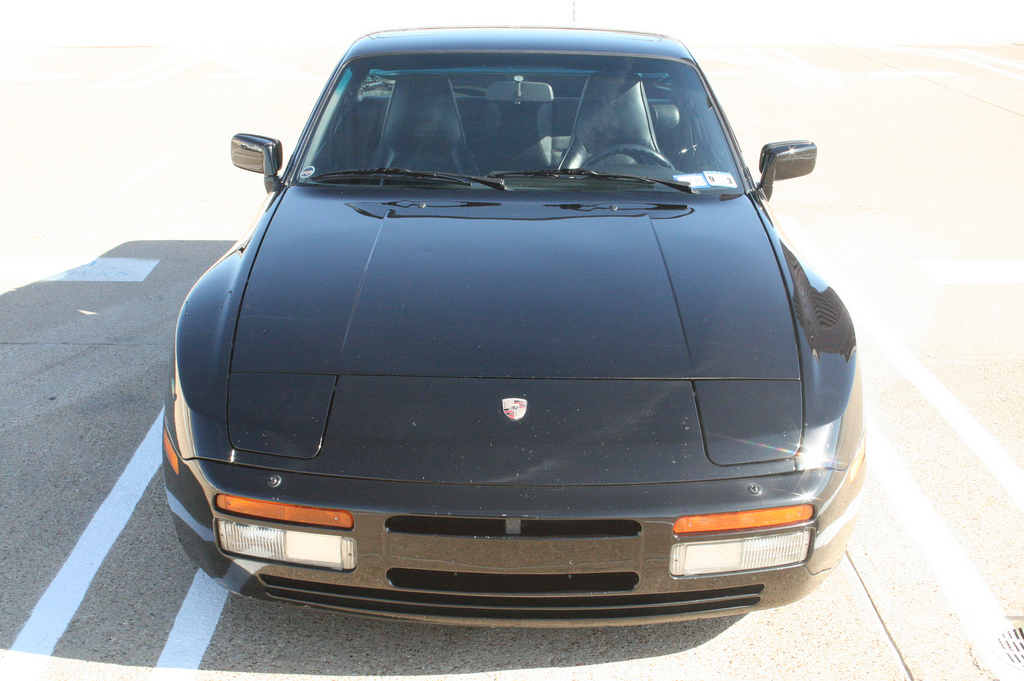 The below post originally appeared on our site December 8, 2012:
The Porsche 944 is a modern classic that has been coming into its own as of late. Not only have 911 purists begun to accept this car more so than in the past, but more and more enthusiasts are waking up to the fact that this was one of the best handling cars of recent memory. An evolution of the 924, the 944 was introduced in 1982 bringing upgrades and refinement to this four cylinder, rear-wheel drive coupe. At first, these cars offered a 2.5 liter, 150 hp engine, but in 1986, Porsche decided to bring out the big guns. The 944 Turbo arrived in 1986, known internally as the 951. Included was a turbocharged, intercooled version of the standard engine, producing 220 hp in stock form. This was the first turbo fitted to a car that made use of a ceramic port liner to retain exhaust gas temperature. Other features exclusive to the Turbo included a stronger gearbox with a 3.375 final drive ratio. A tauter suspension was also included with progressive springs.
This first year 944 Turbo for sale in Texas comes to us from our reader Chris who happens to be a Porsche Club of America member and one fastidious owner when it comes to maintenance.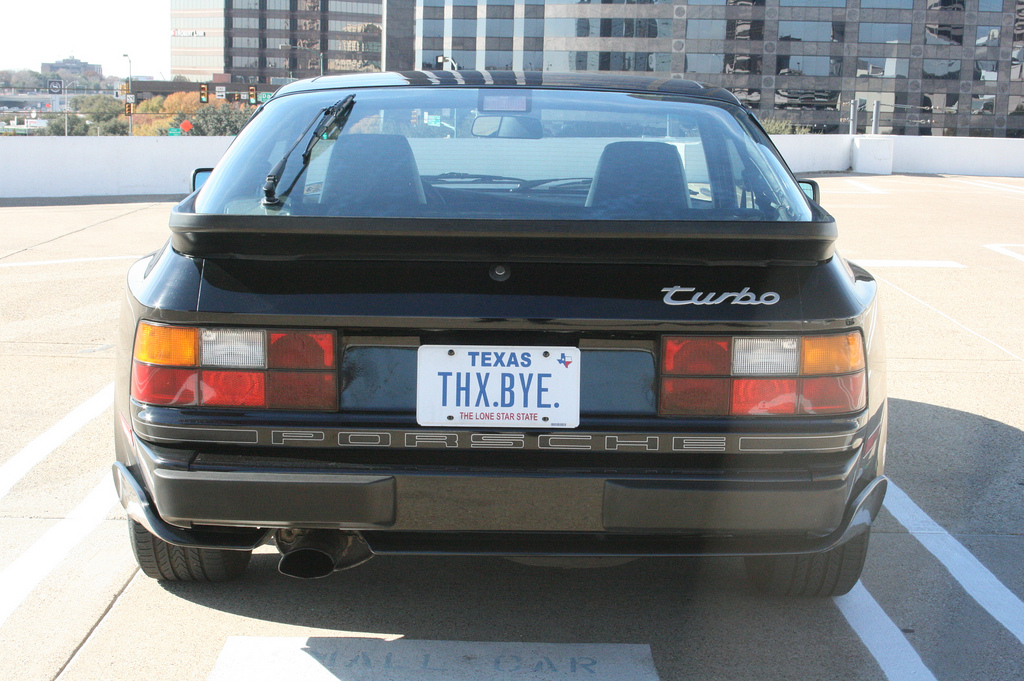 Year: 1986
Make: Porsche
Porsche Model: 944 Turbo
Mileage: 137,000
Options: Air Conditioning, Alarm System, Cruise Control, Foglamps, Intermittent Wipers, Leather Seats, Power Brakes, Power Steering, Power Windows, Sunroof
Color: Black
VIN: WP0AA095XGN156480
Price: $10,500
Location: Texas
Transmission Type: Manual – 5 speed
Engine Type: Turbo
Stereo System: AM-FM CD

On offer is my black/black 1986 Porsche 944 Turbo (Type 951, built 6/86, VIN: WP0AA095XGN156480) with 137k miles in fantastic shape. It's a very clean, well-documented, well-maintained, well-sorted driver with minimal modifications that is original inspired and reliable enough for daily use. Always garaged. Original paint (7/10), minimal dash cracks. Michelin Pilot Exalto tires with 50%+ remaining. Spent most of its life running through hill and dale in Georgia and Tennessee. Rumored to have been tracked once years ago, no autocrosses or 'offs'. I love this classic supercar and wish it could stay in my garage for years to come, but I must sell to fund a home project.

Mutually, it's a good time for me to get out, and for you to get in. The car has seen a great amount of care and maintenance in the past year as well; $6k in receipts as a matter of fact, from when I bought it in October 2011. The records folder goes back to the original owner in 1993. I am a PCA member and have painstakingly approached ownership of this car, like the previous 5 owners, with a near-open checkbook policy more to maintain it, less to mod it. The last owner kept it in storage and drove it occasionally every few weeks for 6 years. I drove it more than a few times every week for the past year in a different climate, so a whole lot of items came to the surface and got sorted out. I don't anticipate the next year needing near this much work as a result! It's been treated like a fine classic German timepiece and most everything works.

Flickr Photoset with 79 Photos

Pictures do appear harsh in the direct Texas sun as it amplifies all details for better or worse in my lens, but looks better in person. Let me know if there's anything you'd like to see more clearly without the glare that is in some of the photos. I may reshoot these on a partly cloudy day for serious inquiries (am already late getting this listed from a few folks waiting).

Maintenance in the past 14 months:
Professional paint correction and detailing by Details, Ltd. of Addison (also regularly hand-washed at home, 2 bucket system, Zaino)
Hatch alignment and new pin seats (hatch does not chronically rattle or squeak)
Porsche idle stabilizer screw and o-ring (idles perfectly around 840rpm)
Porsche cassette holder/tray with hinge and Lart's black leather armrest cover
Porsche hood struts
BOSCH cruise control module
BOSCH hatch lock motor
BOSCH MicroEdge wipers (all 3)
Texas inspection sticker good until 9/2013 if sold in-state (passed in 9/12, no emissions req., still has cat installed)
New front brake hoses, system bleed/flush/fill with Super Blue fluid
Lart's braided fuel lines with OE Porsche damper line (engine bay lines, replaced originals)
BOSCH 3-bar FPR (fuel pressure regulator)
BOSCH FPD (fuel pressure damper)
BOSCH diverter valve (full boost at 1.8 bar)
Porsche coolant tank reservoir (clear, not yellow) and hoses (Coolant temperature regularly reads at and between the two white marks on the gauge)
BOSCH heater control valve and associated hoses (heater operational)
Coolant hose from engine to radiator
Upper and lower radiator hoses
BOSCH auxiliary coolant pump and thermostat (for turbo)
Facet speed and reference sensor wires
Porsche rear half-shaft axle assemblies and CVs
K&N air filter
BOSCH distributor cap, rotor, seal, cover
BOSCH copper spark plugs
BOSCH wireset
DuraLast red-top 3-yr. battery and Porsche cover cap
Rear tail lamp, brake, and side marker bulbs
Oil and filter change @ 133k, always changed every 3-5k (May; Mobil1 15W-50, needs again in 1k or right after driving home a long way)
A/C recharged (R134a, converted in 1995; cold enough for Texas)
Engine re-seal (front)
Balance belt
Cam belt tensioner
Timing belt and water pump (2011 @ 130k miles, 7k on new belt; change every 45-60k miles)
Clutch was measured at 21mm in 2011, 6k miles ago, no abusive launches, strong hookup
Tie-rod ends, control arms, bushings looked good in 2011, no pot holes or hard knocks
Had PPI and Clarks-Garage buying guide reviewed a year ago by an ex-Brumos mechanic in Nashville; all of these were 'OK' or addressed, have notes

Factory Options:
All codes: C02, 158, 418, 425, 431, 454, 533, 650, 946

Modifications:
Autothority/APE 'Stage 2' 270hp chip; dyno sheet included in records indicates 290hp, 170mph max; makes more power than a Turbo S (done in 1995)
Cross-drilled brake rotors; previous owner, still straight and true with lots of bite
Becker/Porsche CDR-220 AM/FM/CD stereo with AUX-in adaptor (swstereo.com) and MB Quart DKD 146 speakers (four 4×6); really great stereo (2012)
Custom milled aluminum black smartphone tray in ashtray location, holds an iPhone 5 and coins, misc. underneath (2012)

Comes with: what it still has plus a spares box
Porsche ignition, door keys, 1 set (original)
Porsche 944 Turbo owner's manuals and folder (original)
Porsche 944 Turbo Workshop Manual binder (original)
Becker radio code in owner's manual folder
Porsche air compressor, working (original)
Porsche spare tire, jack, tools (original)
Porsche black leather sunroof sleeve (original)
Porsche black screw-in front tow hook (new)
Porsche black touch-up paint
Porsche RL bumper pad (spare, RR replaced 2012)
Porsche DME relay spare (new)
Lloyds black floormats
CoverKing fitted windshield shade (save that nice dash!)
Black wooden dowel hatch prop
Porsche Club of America 'Panorama' and Maverick region 'Slipstream' magazines from the past year
Rennlist silver die-cut decal (new)
The replaced original ashtray, stereo under pocket, armrest (junk), speaker grilles (MB Quarts don't clear these) and washer fluid pump (broken)
Bags of various spare Porsche 944 Turbo relays, fuses, switches, screws, brackets, bolts, nuts, clips, etc. for your partsbin
Bottles of coolant (Peak, 1/2), oil (Mobil1 15W-50, new), power steering fluid (AutoZone Dextron ATF, ¼), and some paper towels

Needs and FYIs:

Don't let the long paragraph scare you! I'm just OCD with cars. As with most 951s, the oil pan gasket leaks. Even my mechanic says this is OK and to just regularly check the oil (every fillup, Mobil1 15W-50, keep at top dipstick line). Garage drip tray recommended. If you want to start tracking the car some or get tired of 'marking your spot', you'll want to replace that and the head gasket prior (last done and resurfaced in 2007) to be safe, but these are otherwise fine for street use. Very minor power steering leak, check level every 1k miles. Clutch pedal will occasionally stick at the top 1/5 of travel when cold, does not affect drivability if it happens (pull pedal up 1" with toe); hydraulics and switch are fine, I just cannot physically get up to this mechanism to lube it properly. Electric hatch motor works but the switch is intermittent. Windshield washer system from the reservoir to the nozzles needs to be replaced- I just squeegee. The sunroof works great but the microswitch tab in the panel is handicapped, so you need to use something like a toothpick to engage it only for the UP operation- DOWN is normal. The hatch struts are worn, but 944 owners know if you put new strong struts on, they may make the hatch glass delaminate from the frame faster- I've just used a black wooden dowel (sometimes they stay up if it's warm). The gas gauge when full reads 3.5/4. The oil gauge when fully topped up reads 4.5/5 (2/5 when idling).

The car has a clean CARFAX, though you'll note a mileage discrepancy- the previous-owner swapped in another gauge cluster rather than repair the faulty speedometer plastic gear (2010). The car shows to have 96,XXX miles but really has 136,XXX miles (am selling at 137k, still driving it some). CARFAX more obviously shows the actual mileage (rule of thumb- add 40k miles to whatever is on this working ODO… again, this is a very nice driver, but will not pass a PCA concours show car test). If you decide to address these items and really want to make it perfect, the nose and front bumper along with the side rub strips trim could use a respray as they're faded from 26 years of road rash and touch-up paint spots. Otherwise and elsewhere, the original paint is really a very nice 8/10! A couple small dings on the hood. No critical showstoppers- just gas and go!

How to get it:

Experienced drivers and serious enthusiasts only who have funds ready. The car is available with a clean Texas title in my name in-hand for $10,500. This already takes into account a few of the needs. The car is an increasingly rare solid driver out of the box, with much documented recent maintenance, few needs, and a couple modest upgrades. It cleans up really well, drives smoothly and solidly, and isn't a neglected project basketcase nor a concours trailer queen. This is one of the nicest, most sorted, turn-key, desirable and interesting black-on-black 951s on the market that is ready for you to drive home today. It's been reliable and will start and go whenever you want. Available for a fresh PPI on your dime. If you're a hobby mechanic like me, you can maintain this car using the wealth of open technical knowledge on clarks-garage.com and the Rennlist.com forums. And join PCA!

As I have done with all other cars I've bought and sold online, funds are to be either wired to my bank or delivered in-person with a bank draft check. I trade you a title, bill-of-sale, and keys. A refundable $150 PayPal deposit is required up front to hold your place. Whether you're local or flying-in, plan on a short overview of the car in my garage before you set off with it so you're as familiar with it as possible. I can pick you up from DFW or Love Field with a full tank of gas and throw in a local case of beer if you want. Fly-in, drive home in your new Porsche, and see America along the way. Such trips to pick up a 'new car' are among my favorite life experiences. Plan a route and make a brief vacation out of it! You'll be glad you did. If you don't plan to travel, I have a great transport broker I've used a few times that can ship the car to your driveway on a transporter. Hope to hear from you soon!
As one of the commenters said on the original Rennlist post, THIS is how you write a classified ad. The seller leaves little unturned and it's quite obvious that this car has received the respect and care it deserved over the years. I've admired the 944 for many years, and even though it has higher mileage than I'd normally consider, I wouldn't hesitate to pull the trigger on this car if I was in a situation to do so. Anywhere between $7,000 to $12,000 will buy you a solid, higher mileage 944 Turbo these days, so this seller is right in the sweet spot when it comes to the asking price.
-Paul