In the spring of 1987, my father bought a brand new Volkswagen Golf GT. For those that forget, this was a warmed over version of the base Golf with GTI trim and the 1.8 liter engine. The car proved highly tempermental. My father blames this on the fact that this was one of the last VWs to be built at the Westmoreland, Pennsylvania plant before it closed its doors in 1988. But who really knows? I do, however, remember seeing a brand new Quantum Syncro wagon on the showroom floor when he went to pick up the Golf GT. Even as a kid, I was intrigued by these big VWs as much as I am today. Using the same mechanics as the Audi 80 Quattro, these were very versatile haulers that have a strong, close knit following. Today, these Syncro wagons are rarely seen, especially one in this kind of condition. This example for sale in Oregon has over 160,000 miles on the clock but I haven't seen one this mint in years.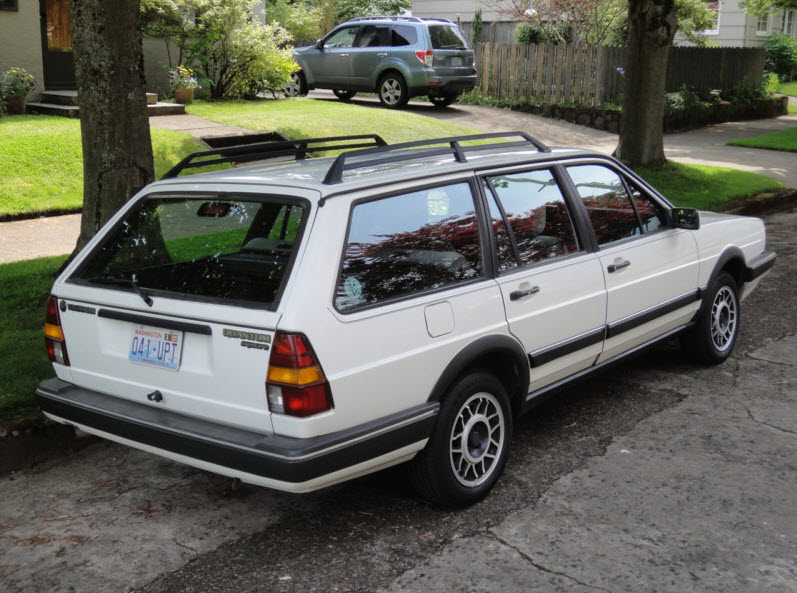 Really good example of a QSW! 161K but looks like 61K. 2 owners, bought new in Palo Alto, California before moving to WA State. Always garaged, the wagon has original paint that still looks great, NO RUST issues anywhere, it's super solid top and bottom. Never hit, body is very straight, no dents, a few small dings here and there but overall presents very well. All original glass, good trim, straight bumpers. Factory roof rack, cross bars are still in their original pouch in the back. Lights, signals, horn, wipers, washers – all working, no electrical gremlins.

Interior has held up great thanks to its garaged life, seats are still firm, upholstery all good with the exception of some minor fraying on the seat piping in spots. Driver's seat shows no wear, amazing for the mileage of the car. Locks all work, windows wind smoothly. Unused ashtrays, never smoked in, car has no bad odors. Watertight in the rain and the drivetrain doesn't leak oil. The car starts easily, doesn't smoke, has good power, shifts well, I just took a 3 hour freeway drive in this car and it did great all the way. All gauges work, the temp gauge overheat light will blink on cold mornings but gauge shows normal readings and I verified with a infrared temp gun at radiator hose to confirm the car is running cool. No blinking at the gauge when warm so it must be some weird glitch when cold. Climate control needs looking into as it seems to be stuck on warm. 4WD indicator lights don't come on when you pull the switch, I can't say if the system is working or not, seems to drive fine the way it is and I haven't taken it off-road to test. The car comes with all original manuals, a Bentley service book, and some service records.

I'd like a $500 paypal deposit within 2 days and the balance within 7 business days of auction end. Please, only serious bidders that are ready to follow through with this purchase. Reserve on this wagon is reasonable and the car offers very good value for the money. As you know, VW didn't import very many of these Synchro wagons, they're even harder to find in this condition.
If this were a perfect example of a Quantum Syncro, I'd probably estimate $4,000 or even a little bit over that would be reasonable, but with the climate control issue and the issue with the Syncro indicator light, there may be some repairs lurking. In that case, somewhere around $3,000 to $3,500 might be more of a reasonable price point. Still, I'd wager to say there are few Quantum Syncros out there without their mechanical faults, so this example would be as good of a place to start than any to feed your affordable all wheel drive wagon cravings.
-Paul