UPDATE: The seller writs us that since this was posted the car has now had a complete paint job and some other goodies added:
Older info: For years Callaway has been synonymous with Corvette performance, and to this day they produce some of the fastest turn-key vettes around. Turn back the clock to the 80's, and Callaway was also heavily in to VW tuning.  This 84 VW GTI, is not only one of the cleanest remaining examples of the classic pocket rocket in its own right, it has been fully prepped R&A Applied Arts which, was and still is one of the most respected authorized Callaway Installers on the east coast.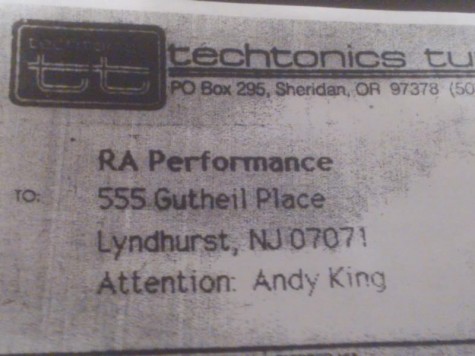 Project started in 1996,
Engine + trans completed
Balanced Blueprinted + built by Collin @ TT
Stage two port + polish head job
int shift bearings set
piston set 81.5 G-60 Corrado
Rado rods
Bored + Hone block
Modi 8v Intake
Mani Pork + Polish + flowed
Aps 272 cam
Callaway turbo stage II ( last new pipes for ND ) Non AC
Jet hot coating 2000-4100 header pipe / Turbo housing 1300-2000
Water cooled conver.
Trans wide ratio 2nd 3rd 4th 5th
3.94 / .75 5th
quaife
And much more….

Road tested for 846 miles and counting as of November 2011… all receipts avail.

****Updated Installed Parts List from build date(ALL New/with receipts)**** 1/31/12
-Manual Steering Rack
-Autotech Baffled oil pan
-Trans parts: Bolt kit, diff&pinion Bearings,mainshaft bearing, 2&3 syncrows,drive flanges ETC..
-All HD motor mounts
-Autotech close ratio rack&pinion kit
-Autotech short shift kit
-Mocal 25row oil cooler kit
-Aps Euro T-Body
–Callaway / ND inter cooler kit non ac
–N/D Turbo Micro fueler kit
-VW/Bosch injection system
-TT Stainless Steel 2.25 exhaust with (16v)12in resonation,Borla muffler
-Vw fuel dist. unit
-VW Bosch Ing.Dist & Coil(GLI),knock Box, Ams knock sensior
-16v Sirocco master cylinder
-100mm Drive flanges
– Oem Control arms
– Oem Ball Joints
– Oem Tie Rods
– Oem Hubs
– Poly Bushings complete
– Oem Front Spindles
More work by Colin @ TT
-HD Valve springs
-Drill & tap Crank oil Galleys
-Diassemble & Assemble Short block, Install intermediate,bearings, o-rings

*I know I'm missing a lot more! but you get a clear idea of quality work done….

New parts list: As of Nov 2011- present
100mm Axles Empi
All new seals
Front Scirocco Carriers w/ new calipers 10.1 rotors, pads.
Rears Mk2 Gti/GLI Disc brake conver. All new calipers, rotors, pads.
E Brake cables
Vmaxx Coils
NOS Euro Bumpers , I have the amber lights and clips, just not installed
4 point lower stress bar
Tie rod flip kit
Fuel Filter
Alignment 4 wheel w/corner balance
NJ inspection Passed, good until 05/2013
BBS Rs's All completely redone (6) Set on the car : F-15×8, 6'inner, 1.5 outer(BFI) R- 15×8.5, 5.5 inner, 2.5 outer(radinox) Plus.. (2) 15×7.5, 4.5 inner, 2.5 outer (radinox) w/o tires
BN toyo's 195 45 15 on all 4's..

I will also include OEM (2) BBS 3.0 lips Front, (2) 4.5 BBS Rears to use with the Berg Cup kit,
end note would be F 15×8, R 15X11 they were made that way by BBS for use with BCK's & Reiger wide bodies..

Have but not installed : Callaway Valve Cover (polished) & Boost Gauge, NIB VDO Boost Gauge.
++++See pics for NOS parts that will be included in the sale++++

Asking $14,500 per forum rules.
In the past few years values of clean MK1 GTIs are certainly on the rise, but high retail is still only $4900.  While this clean example of a GTI is chock full of go fast goodies, and includes a ton of spare parts, at $14,500 it's about $5K too heavy on price.  It's going to take the right person to justify this top dollar, whether it be a Callaway enthusiast, or a MK1 GTI enthusiast. That being said, with only a tick over 113K miles, I think you'll be hard pressed to find such a clean, complete example of the original hot hatch, let alone one that has the Callaway treatment.
-Brian