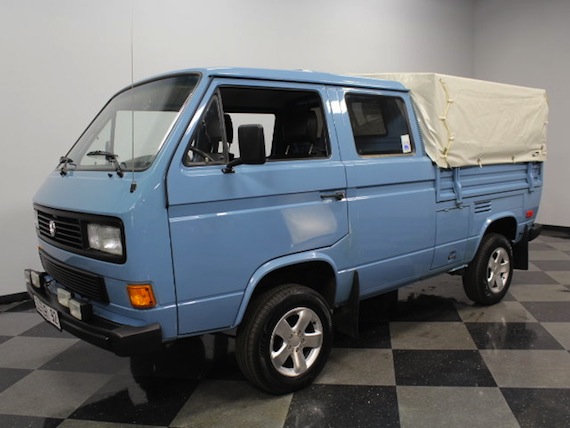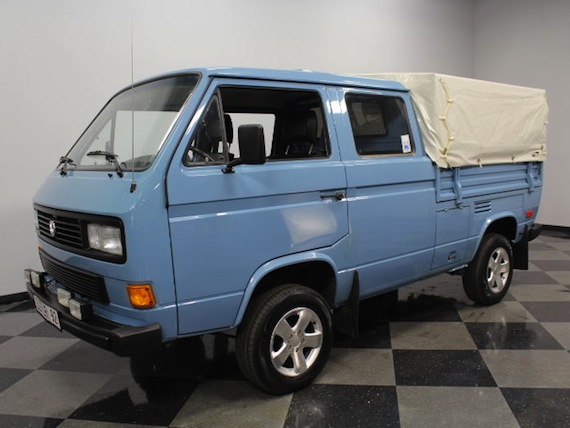 Here's a lovely little Doka (double-cab) Transporter to throw a curveball at my usual Westfalia love. I've always loved Transporters for their rarity, funny proportions, and eminent usability – exaggerated when they come with Syncro. That bed is pretty tiny, but I'm already thinking of ways to extend a small platform and sleep in the back… maybe not quite the RV-status of a Westy, but it could certainly take you anywhere with aplomb and be a great continental adventure vehicle. This example comes with a baby-fresh 56k miles and a decade-old Baby Blue repaint. Asking price is hair under $30k, which is a lot, but it's a lot of Volkswagen and if it had a pop-top they'd be asking twice that amount.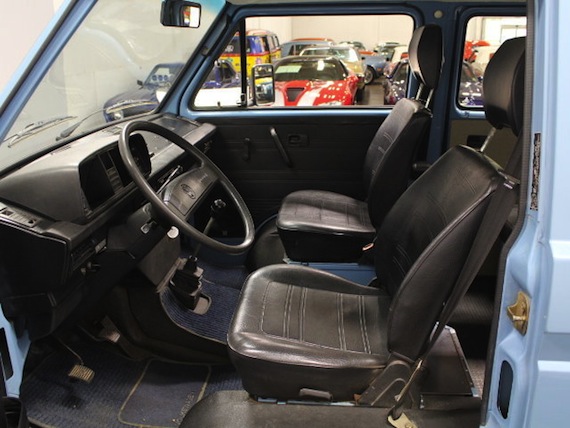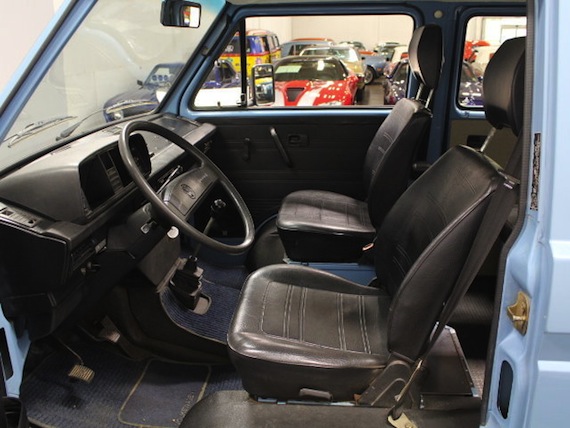 Year: 1986
Model: Transporter Syncro Doka
Engine: 2.1 liter flat-4
Transmission: 4-speed manual
Mileage: 56,560 mi
Price: $28,995 Buy It Now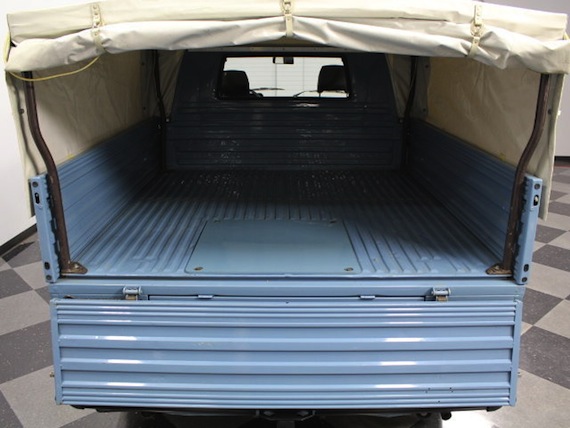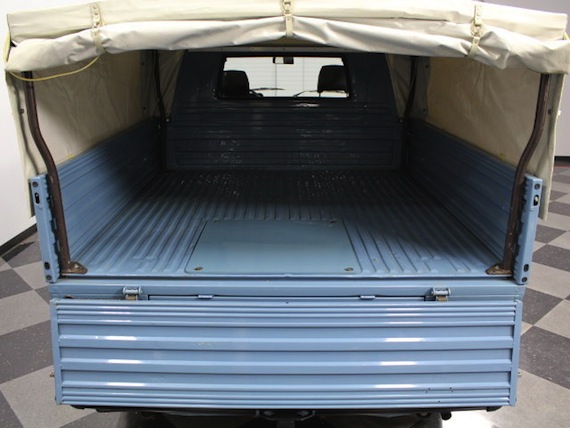 Is there anything the evergreen VW bus hasn't done? Take a look at this very cool and very utilitarian 1986 Volkswagen Transporter Synchro, a go-anywhere, do-anything kind of machine where form follows function to its most practical extremes. You can't find these in the US, so this is a rare opportunity to have something the guys at the next VW meet have only read about in magazines.

You see trucks like this running around in third-world deserts all the time, but actually finding a clean one here in the US is somewhat of an achievement. Repainted about 10 years ago, it looks better than any of those Transporters you see in the movies and on the news, and thanks to VW's build quality, it looks great. No, it wasn't meant to be a thing of beauty, but if you appreciate a tool that's brilliantly designed for its job, then this truck definitely has its own kind of appeal. The extended cab look adds practicality and still leaves room for a good-sized bed out back, and you'll note that it has three doors, a rather interesting feature. A canvas bed cover means you can carry just about anything and drop-down bed sides make it easy to load from any angle, a little detail pickups could use today. It's ultra-clean throughout with no signs it's been rusty or abused, and even the black bumpers and side mirrors haven't been baked by the sun. Someone has really taken care of this truck.

The interior is standard VW bus fare, with supportive bucket seats up front, lots of glass, and no-nonsense gauges. The vinyl upholstery is as durable as iron, so it doesn't have any major splits or tears and it remains comfortable enough even for long hauls. The extended cab leaves plenty roomy for five, especially with the flat floor afforded by the rear-mounted engine, and the original rubber floor coverings are industrial strength for easy maintenance. Of course, there are matching blue floor mats, including one down the center that slots around the shifter for the 5-speed manual transmission. For entertainment (aside from the wild looks you'll get on the road), there's an AM/FM/cassette stereo I the middle of the dash and you can brush up on your math skills, since all the gauges are metric (remember they didn't sell these in the US). For functionality, this one is hard to beat.

VW's erstwhile air-cooled flat-four grew to 2.1 liters and 90 horsepower in this application, but still starts, runs, and feels like your traditional Volkswagen. With smart gearing, it's perfectly happy cruising through modern traffic and makes all the right noises for old-school VW fans. Stuffed way under the bed like it is, there's not much to see, but thanks to long-term ownership you know it's been looked after. VW's Synchro system was their version of all-wheel-drive and is loosely based on Audi's Quattro system, so regardless of where you are going, it's likely that this truck will get you there. A slightly lifted suspension was part of the Synchro package and it gives you room to have a good look underneath and see that it's in remarkably good shape. This truck comes with two sets of wheels, the stylish alloys on it now, along with 205/70/15 Michelin radials as well as the original 14-inchers.

So if you like things a little out-of-the-ordinary, this VW certainly delivers. Call today!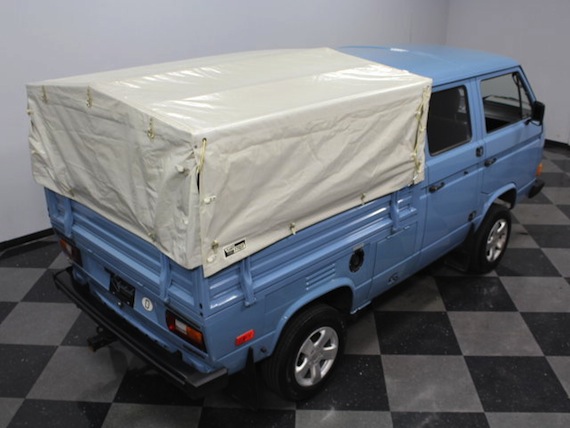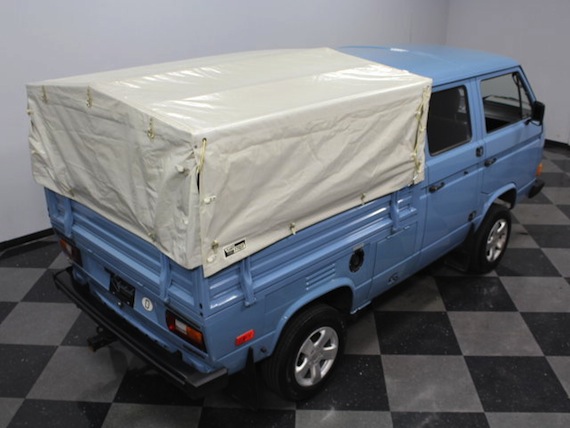 Like the Unimog I wrote up on the weekend, I respect how exceptionally clean this example is but am longing for a little more toughness to reflect the capability. Some bars up front would complement the lights well, and the original wheels (or any of the myriad VW/Audi/Mercedes wheels that fit Vanagons) in black would make the Baby Blue shine without looking like a wussy garage creampuff. I love this mini-Mog Vanagonamino a lot though, and hope the buyer takes it out and enjoys it.
-NR