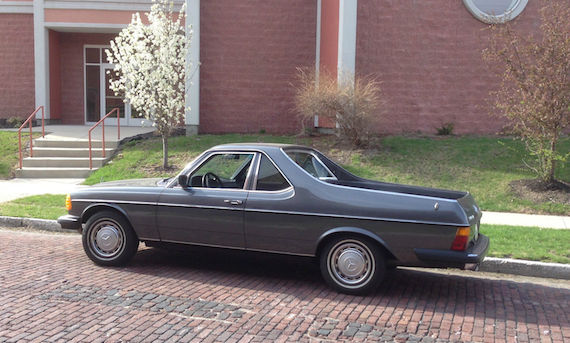 The unique 1979 Mercedes-Benz 300TD pickup is back up for sale, giving someone with light payload duties one last crack at this classy hauler.
The below post originally appeared on our site April 22, 2014: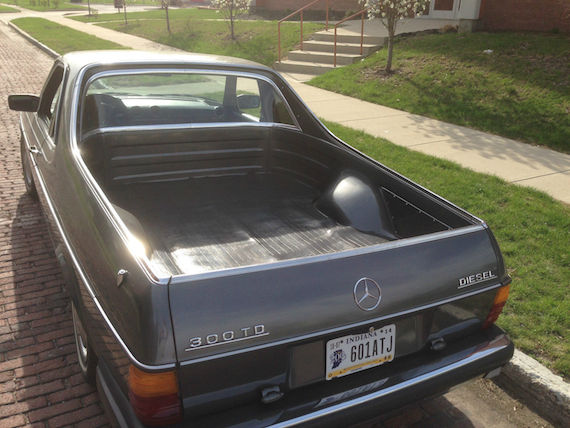 With the death of the Commodore-based Holden Ute, GM Australia's take on the El Camino, and the imminent demise of the Ford Falcon Ute, there will be few options when it comes to car-based pickups. This was a market exploited by GM and Ford in the US from the 1950s to the 1980s and attracts a rabid set of enthusiasts. Such fans will even go as far as to create their own "ute" based on a passenger vehicle, with Volvo estates seemingly a popular basis for such conversions. If a Mk1 Rabbit Pickup feels a bit too common, here a Mercedes-Benz W123 based pickup to handle all your hauling needs with class. This truck for sale in Indiana is a conversion based on the W123 estate and has the reliable OM617 diesel engine under the hood.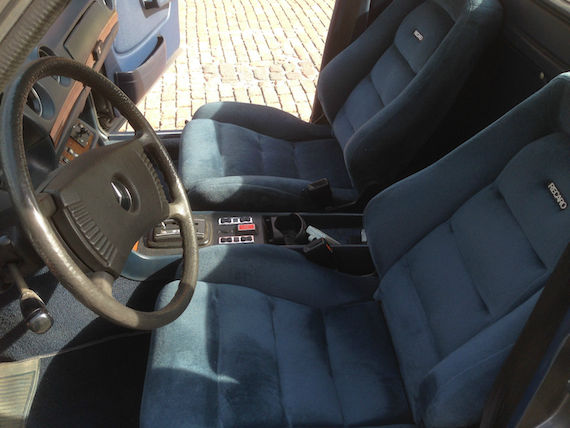 Year: 1979
Model: 300TD Pickup
Engine: 3.0 liter inline-5 diesel
Transmission: 4-speed automatic
Mileage: 149,800 mi
Price: Reserve auction
1979 300TD Mercedes Benz Diesel Ranchero El Camino Pickup Working Tailgate Recaro

This vehicle started out life as a 1979 Mercedes Benz 300TD (non-turbo) wagon; sometime in the 1980's it was converted into a Ranchero or El Camino style pickup truck. The conversion was done so well even the guys at the MB dealership have been fooled into thinking that this was a factory pickup. The best thing about this is the working tailgate, which many conversions, whether they be Cadillac or Lincoln from the 1970's, or BMW or Mercedes more recently, do not have. This is a fully functional vehicle, not just done for looks. It was custom built in Wisconsin by Bill's Auto & Body, using a 1980's era Chevrolet El Camino bed, rear window, and trim. Of all the custom El Camino and Ranchero style creations I have seen over the past 40 years, this is the most factory looking. The dark gray exterior with blue pinstripes and navy blue interior only adds to the class of the vehicle.

Despite the mileage, this vehicle is in excellent condition, a good solid car, looks and drives great. I bought it in June 2004 with 142,500 miles on it and it now has 149,800, so you can see it has been a reliable old car logging about 700+ miles per year, using it as a fun run-to-the-parts-store vehicle, obviously not as my daily driver. The title says actual mileage on it since MB's have a six digit odometer. The car starts, runs, drives, all excellent, this is a good solid fun driver. If you know these wagons, they handle very nicely and are great highway drivers. And you know these diesels are nearly bulletproof. It has had one major repair; the transmission was rebuilt in 2010, at about 147,000 miles.

The interior is in very good shape. No rips in the door panels, all in good shape. I replaced the headliner a few years ago. The A/C has worked during my ownership, just not right now. The A/C parts are all there but it does not work, my mechanic ordered a new compressor last fall which he will install before the car is delivered, but he thinks there might also be a leak in the lines somewhere, we aren't sure. I replaced the original seats with a set of Recaros (covered in a deep blue velour to match the interior color) that I had sitting in storage just for the fun of it, and added a power seat base for the driver's side. I also did this since the original seats did not tilt forward, being that this was a four door wagon to start with, so the Recaro seats will tilt forward so you can put stuff behind the seats for more storage. Unfortunately it seems that when we moved, the original seats got thrown away; sorry they are not with the vehicle.

The Flaws?: The wood on the tailgate needs to be either painted or revarnished, there are a couple of chips and cracks in the paint here and there as with any 35 year old car, there is a small carpet rip to the side of the gas pedal, there is a tiny crack in the dash by the right front speaker, and the weatherstrip is starting to crack around the doors. The window switches on the console obviously only work for the windows in the doors, the other switches are dummys now, the rear quarter windows are lexan and do not go down. There is one panel on the dash that had two screw holes in it from where I mounted my XM bracket (no longer connected). And the back up lights do not work right now, I'll see if I can get them fixed before the auction ends.

Comes with 6 printed owners, radio, emissions, etc. manuals. Everything works, the windows, radio (which appears to be the original radio), antenna, clock keeps accurate time, central locking, etc., with the exceptions noted above. I just put a new battery in it.

The car is sold as is where is; check my feedback for confidence on my description. Buyer is responsible for pickup in or shipping from downtown Indianapolis. Buyer must provide a $500.00 deposit via paypal within 3 days after auction closes. Full payment due within 2 weeks of close of auction or upon pickup, whichever is sooner. Vehicle must be picked up within 30 days after close of auction; pre-paid storage is negotiable after 30 days if you are having trouble finding a shipper. Sorry, I do not reveal the reserve because if bidding is going well I may lower it during the course of the auction to make sure the vehicle sells, so why would I reveal a number I might lower?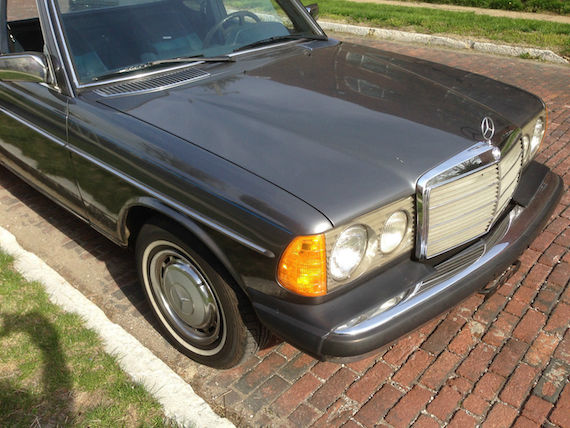 We've seen 300TD estates of similar vintage and mileage hovering in the $10,000 to $14,000 territory. Given this is an earlier non-turbocharged diesel, I'd expect a conversion like this would bring on the lower end of that range, but will this truck be looked upon kindly by the Mercedes faithful? On the other hand, could this 300TD capture the imagination of compact pickup fans? A vehicle like this one is always hard to place a value on due to rarity. That being said, this certainly looks like a quality build with only a bit of fettling needed. Own a Mercedes-Benz dealer or repair shop? Your parts runner has arrived.
-Paul