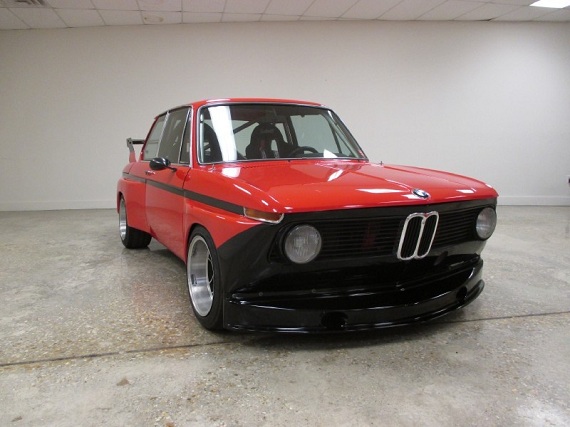 Last week, I put a neat 2002 up on our Facebook Fanpage. Sporting crazy Zender flares, an even crazier rear wing, and most crazy a S14 E30 M3 engine transplant, it sure looked the part and generated a lot of interest. Well, the good news! It's back up on Ebay this week, along with an added M10-swapped Targa Newfoundland Rally veteran that makes an interesting comparison. What's your flavor?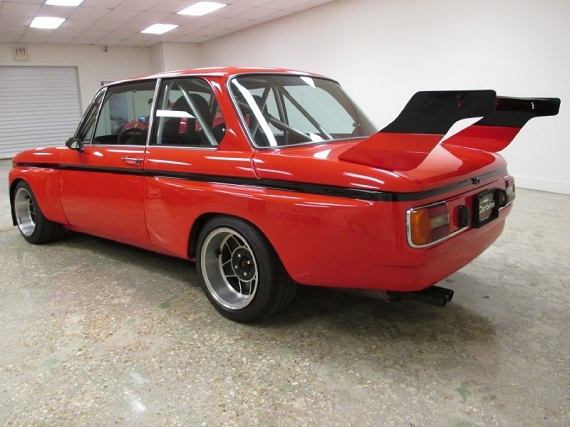 Year: 1972
Model: 2002
Engine: 2.3 liter inline-4
Transmission: 5-speed manual
Mileage: Not Listed
Price: Reserve Auction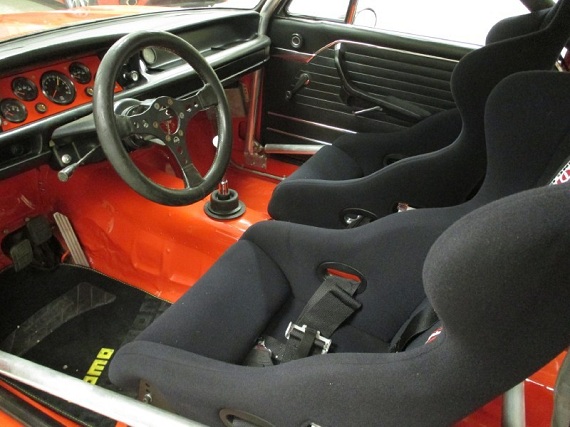 1972 BMW 2002

1972 BMW 2002 (M2)

Clean and clear Title- Street Legal

S14 BMW M3 Engine 217 H.P.

Dogleg 5 Speed Close Ratio Transmission

Korman Finned Differential

Headers w/Custom Exhaust

Custom built Race Shocks

Rear Disc Brakes

Upgraded Sway Bars

9″ Wide Wheels x4

Aluminum Roll Cage Built in Germany

Sabelt Seats and G Force 5 Point Harness

This vehicle has light use on DE Track Days

Refresh done within a year

This is a great Track Day cool Car.

Updated Tail Lamps, Front Spoiler

Please Contact Chris Carbine 504-733-1377 chris@carbinemotorcars.com

Vehicle located in New Orleans La.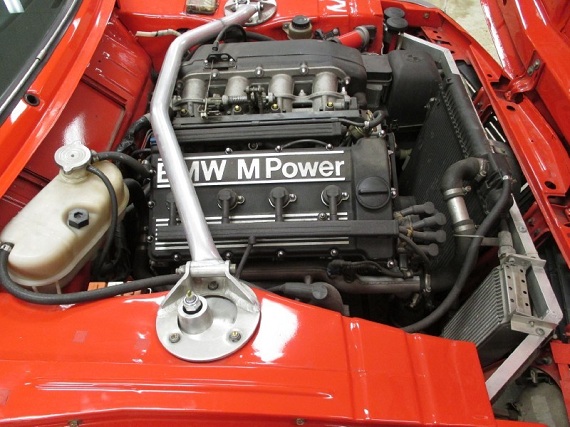 There's are a lot to like here; the S14 being probably the chief amongst the considerable amount of modifications. The car's stance is just right, the wheels are unbelievably wide but period-correct looking, and this combination should yield many more smiles on track than newer cars. If I have a gripe, it's that I think it's probably a little overbuilt; the paint isn't to my liking, the flares are a bit too extreme, the rear wing looks out of place; it's as if it's trying too hard to be an IMSA 320i without really achieving the look. For my tastes, I like something a little more period: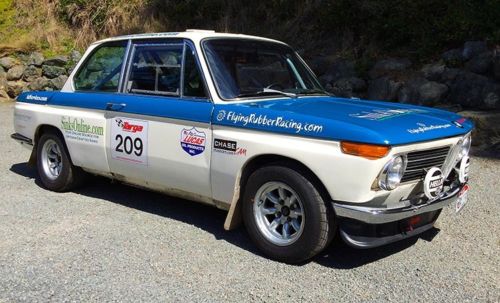 Now we're talking! And for all of the S14 love in the world, I'm not sure I'd really want to own one when compared to a motor build such as this. The S14 is a monster motor, there is no doubt. However, rebuilds are equally monstrous in pricing. So, rather than the rare unit in the previous example, this one has a much more pedestrian 320i M10 engine as it's base – but it certainly isn't a stock powerplant! When you add the aesthetic details of this build such as the Schnitzer flares and mini-light wheels, I think this car is just about perfection: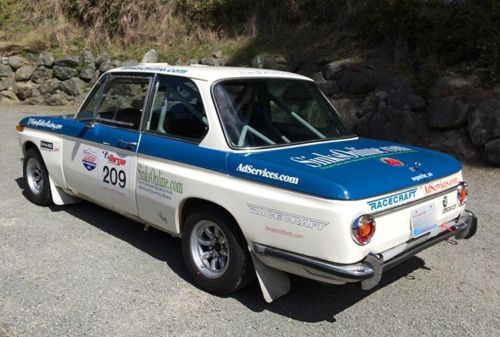 Year: 1969
Model: 2002
Engine: 2.3 liter inline-4
Transmission: 5-speed manual
Mileage: Not Listed
Price: No Reserve Auction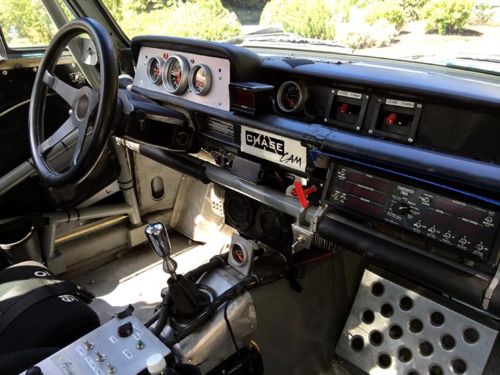 1969 BMW 2002 with fresh motor ready to go. Set up for tarmac rally and raced in several events, most notably Targa Newfoundland. Would also be a great car for La Carrera Panamerica.

Engine:
• Custom JE pistons
• 11.2:1 Compression to run on pump
• Schrick 328 Camshaft
• S14 Crank with M3 Rods
• VAC motorsports upgraded oil pump (with keyed shaft and sprocket)
• Aluminum flywheel, E30 M3 clutch and pressure plate
• Lester Owen forged steel rocker arms
• Completely rebuilt by C&D machine in Kirkland, WA Feb 2013 with only approximately 200 miles for break in and fuel injection mapping/tuning.

Stahl header with stainless steel exhaust running to the rear of car with muffler
New optima battery Feb 2013
Bosch 044 electric fuel pump
Omex Fuel Injection ECU
MM Competition Systems Ltd. – fuel injectors (brown – 329cc), Runs with crank trigger, throttle position, water temp and air pressure sensors inputs
Distributor-less ignition with GM coil pack providing spark
Jenvey Throttle bodies
Getrag 262 CR 5-speed box (used in BMW 6-series cars) Completely freshened before installed in 2009
Custom aluminum Ron Davis radiator with T-Zero thermostat housing
85 amp alternator
E30 M3 starter
Modified pedal box uses Mercedes master cylinder mounted down on the front of the pedal box
Stainless steel flex brake lines
UUC shifter (modified by to use E36 aluminum base and shifter bushings)
Differential – E30 4.11 LSD
Front disc brakes with Volvo 142 calipers
320i rear drums brakes
Porterfield R4 brake pads front and rear
12 gallon fuel cell with external filler neck
Lexan door windows with sliding vents
Forward and reverse opening roof vents
Compomotive 13×7" wheels with two matching spare wheels, Toyo RA-1 205-60/13 tires, both spare wheels mount to custom quick release rack in trunk
Aftermarket heating and defogging unit with 3 speed fan
LED map lighting
Momo Corse acropolis Carbon Fiber/Kevlar race seat
Sabelt Left and Right side race harnesses
Co-driver foot brace
Helmet box
½" thick poly plastic skid plates running the length of floor pan
Quickly removable engine skid plate with steel frame and same ½" thick poly plastic
Wipers, washer fluid, turn signals, headlights high/low beams, brake light, tail lights, horn – all in working condition.
Extensive roll cage built for safety while still allowing for driver and co-driver comfort

Dash mounted Timewise 798A Rally Computer with remote driver display, 12v remote power jacks on dash.

A box of support parts are included such as brake pads, fan belt, oil filter, etc. Also included is a set of mounted gravel tires, only used for one gravel event day.

Car has a title and is street registered. Paint and overall body is in great condition. Schnitzer style flares. Ready to RACE!

For more photos and in-car video, see: www.flyingrubberracing.com/rally-featuring-willy/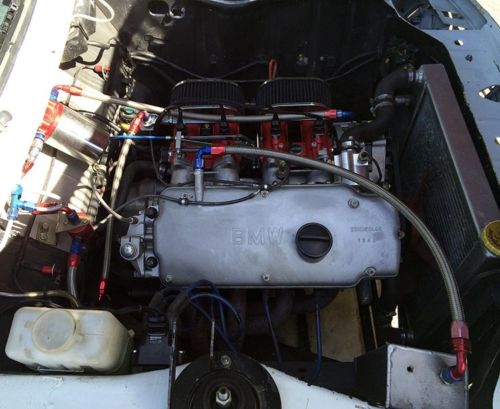 If anything, the build is even more impressive! Sure, it probably won't generate the S14-powered version's headlines, but the more conservative build in period style really has me won over. As a road-legal competition car, this is really a trick little unit. I especially love the roof vents, the double-quick-release spares in the rear, and the color combination with the classic roundie tail. Bidding so far is pretty low on both of these examples relative to the E30 M3 or even clean examples of the 2002, but they'd offer a lot of bang for the buck to their next owners. Which would you prefer?
-Carter