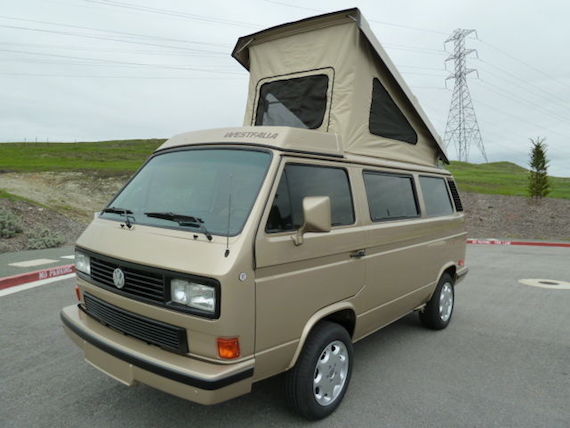 We often speak of the value of Vanagons here, which has stretched upward to dizzying heights in some cases. It's worth taking a deeper look at how conservative campers from the People's Auto inspires such devotion. Today's seller has touched every piece of this car and tried to do the best possible thing to make it immaculate and/or updated. Leading in with
I will try not to bore you with all the details of my restoration but here goes:
he proceeds to passionately explain rebuilding the engine, then removing it recently and painstakingly clean everything… just because. And this guy isn't alone. The parts are available through amazing companies like GoWesty to have tinkering on your van for years, meeting all kinds of other people who also like driving a mobile personal campsite. His Buy It Now is big money, creeping towards some decent Syncros, but the fact that he can't not share his excitement about making the perfect van is convincing. It's cleaner than clean.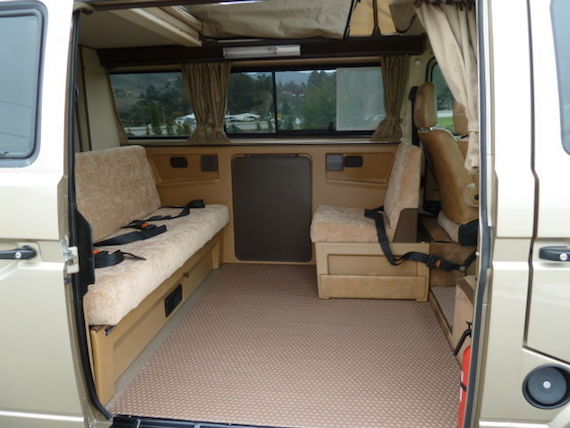 Year
: 1986
Model
: Vanagon Westfalia
Engine
: 2.1 liter flat-4
Transmission
: 4-speed automatic
Mileage
: 171,500 on chassis, 64,000 on engine
Price
: Reserve auction, $29,500 Buy It Now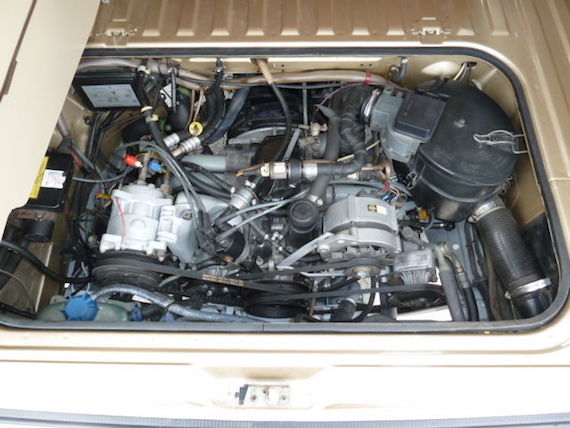 1986 VW VANAGON Westfalia Weekender 2.1 liter

THERE ARE OVER 100 PICTURES HERE, CLICK ON ANY PICTURE AND YOU WILL SEE ADDITIONAL PICTURES JUST BY SCROLLING WITH THE ARROW TAB ON THE RIGHT OF THE SCREEN:

http://www.dropviewer.com/index.php/view-image/?option=com_gallery&id=3356

Hope you enjoyed the pictures above.

Up for your consideration is my beautifully fully restored Wolfsburg edition Westfalia , Weekender model which took over a year to fully restore.

The entire under chassis was pressure washed cleaned of all old dirt, grime, grease etc…

It has been meticulously taken apart literally piece by piece and has gone through a complete and extensive restoration back to factory new like condition.

I have personally seen and examined many restored Westfalias as I consider myself a Westy aficianado and will put my restoration on the same par if not higher to those selling for 2 -3 times my reserve price.

I will try not to bore you with all the details of my restoration but here goes:

Vehicle started out as a rust free and accident free California/Oregon Westy with a clean Carfax. I purchased it from the 3rd owner who owned it since 2003 .

I have a thick folder of previous maintenance, repairs and a list of all parts that has gone into this full restoration.

Lets start with mechanicals:

My westy has approximately 64k miles on a fully rebuilt 2.1L engine according to the previous owner. When I bought it, the engine still ran great and passed strict California strict smog tests/regulations. I decided to dismantle the entire motor and go through it. Both cylinder heads needed to be replaced. The short block was in very good condition.

The engine was recently removed from the van and completely stripped down to the short block for full inspection. Engine has had a full deep clean externally.

Both heads are rebuilt by AVP worldwide in Sacramento, they supply all rebuilt motors to the guys at the Bus Depot. They have a very good reputation. All new German head gaskets, push rod seals, cylinder wall seals, cylinder head metal seals, German Febi rear main seal and all related serviceable parts was replaced. All maintenance related parts was replaced, all parts such as intake runners, intake plenum, fuel injector mounting brackets, all engine tins, valve covers, coolant metal lines, engine support bar, was either sandblasted or stripped mechanically to be repainted to factory new.

Full engine restoration included but not limited to:

New Graf water pump and seals.

New low and high oil pressure switches/sensors.

GoWesty intake plenum seal.

Brand new seals and gaskets.

Brand new internal and external fuel injector seals

New German fuel lines from the gas tank all the way back including the entire engine bay fuel lines. I only use Oetiker fuel clamps, these are what was originally used at the factory as they do not pinch the fuel lines.

Engine has new serpentine belts, Bosch integrated ground cap, Bosch rotor, Bosch new plugs wires and new fuel filter.

Engine oil just changed.

4 brand new motor mounts.

New transmission mount.

Complete stock exhaust headers were bead blasted and refinished in proper high heat tolerant paint with brand new exhaust gaskets, new nuts and bolt kit care of GoWesty.

Brand new stainless steel muffler and new exhaust tip.

New Bosch oxygen sensor.

Engine is smooth and quiet and runs and sounds as great as it looks! cruises 70-75 mph easily.

Entire engine bay is spotless, that is because everything was removed for proper cleaning, it's the only right way to do it.

Like I mentioned, it only has approximately 64,000 miles on it since full rebuild. It does not leak a single drop of engine oil.

It starts right up and runs like new with no leaks of any kind or have any weird or odd noises( none of that lifter noise you often hear with VW motors), etc.

New accelerator cable installed as they tend to wear and snap over time leaving you stranded.

Automatic transmission was rebuilt at 152k miles with receipt of $2900. The transmission has been fully serviced , new transmission filter, gasket and new ATF automatic trans fluid along with a brand new GoWesty auto trans cooler. New Redline trans fluid in the gearbox side of the transmission. Some of you may not know that these automatic transmission have 2 separate components that uses both ATF and manual trans. fluids. Rebuilt flex plate was also replaced for good measure since I decided to replace the rear main seal. Torque converter was also replaced at 152k miles. All shift points have been inspected, cleaned, and greased. Does not leak a drop of oil either.

Van shifts smooth through all gears like new with no grinding or any issues whatsoever. Super convenient if you don't like to manually shift gears, especially in traffic. It climbs hills just like a manual transmission does without you having to hunt for the right gear.

Onto the cooling system:

The cooling system frequently gets neglected in these westys but not during my restoration.

Brand new Behr, factory replacement original radiator, new thermostat radiator switch.

Bottom mounting brackets has been refinished, along with new rubber retainers for the top and bottom of the radiator.

All 3 new radiator baffles which directs the air onto the radiator from GoWesty.

All coolant lines in the entire engine bay areas including radiator rubber coolant lines are all brand new. Brand new stainless steel coolant pipes from Van Café which are made in Germany. I only use stock radiator self adjusting spring clamps where possible on my coolant hoses and avoid adjustable metal clamps which has a tendency to be over tighten and leak over time . Spring clamps is what the VW factory uses.

Brand new Gates heater hoses, from the front heater core all the way back to the rear heater core.

Brand new coolant tower, brand new thermostat housing, thermostat, new coolant sensors were all replaced.

full coolant flush and refresh with a perfect 50/50 blend of phosphate free anti freeze and distilled water.

Van runs cool with no water leaks. . .anywhere.

Gas tank was removed for full inspection it is in excellent condition, absolutely rust free, it was completely prepped and refinished in black . I replaced all parts with new german fuel lines, cross over tubes, connectors and seals. (OLD cracked fuel lines and gas leaks tend to be neglected or overlooked and could pose a dangerous situation for vanagon owners as we all know) . New German fuel filter and all new German fuel lines all the way back to the entire engine bay.

I didn't want to be a statistic hence was super safe and changed it all!

Even the fuel tank 2 support brackets was sandblasted clean and repainted.

Onto the brakes:

Braking system was fully rebuilt! Anything that could not be refurbished was bought new and replaced.

DISC brakes in front have new rotors, new bearings, all new seals, new brake pads, and rebuilt calipers. Front brake shields has also been sandblasted and re-painted for a lifetime of use. Brake caliper support bracket was also sandblasted and repainted.

Rear brakes was completely redone approximately 3000k miles ago with new shoes , new drums, new rear wheel cylinders and all new brake hardware. The entire rear brake system was removed for inspection and is in proper like new condition.

Complete rear swing arm was cleaned, prepped and repainted.

All rubber brake lines were replaced front and rear with new Meyle German units, not aftermarket.

Steering tie rods are both brand new, control arm bushings are in very good condition, front strut bar bushings are brand new, upper ball joints are in very good condition, lower ball joints were inspected and in good condition.

Front control arm was also refinished before brand new bushings were installed.

Front end complete alignment was done so it drives straight.

Complete power steering unit was replaced by the previous owner and is in very good condition.

Complete braking system has been completely flushed and refreshed and bled with new DOT 3 brake fluid.

Westy drives solid with no slop or wiggles in front end, steers straight, and stops straight and on a dime!

Westy rides on 4 new front and rear KYB performance shocks.

Both CV axles were replaced as these commonly wear out on you at the most unsuspecting time. All retaining axle bolts are brand new with multi point heads and serrated washers, not the cheap Allen head bolts .

Nothing was left untouched or unattended to during mechanical restoration to ensure safe, smooth, and troublefree operation for years to come!

Now onto the exterior body and paint work.

As I have mentioned, westy was a perfect restoration candidate being an accident free, clean and dry California/Oregon vehicle.

Van was totally stripped of all rubber, all glass including the two front door vent windows/frame, all lights, all trim, and even the pop top prior to body and paint work. All the doors, slider and rear hatch were taken off to properly be prepped and painted so all the jambs and all the crevices were done properly! Ask other restoration jobs if they do this, I doubt it.

Talk about labor intensive but you only get the best results when everything is stripped off the vehicle. This is how the VW factory would have painted them.

Masking is never perfect when painting a car and being a perfectionalist, I could not stand for any overspray. . .anywhere.

The entire rear cargo area was repainted, as these areas take on a lot of scratches from loading and unloading of materials and being worked on at the auto shops over the years. Even the rear hatch latch was removed, so no overspray .

Minor scratches and dings were repaired on the bare body and westy now sports a beautiful and shiny 2 stage Dupont base clear coat paint job. Front end was completely stripped to bare metal as these vans do take on a lot of small paint chips, and it's the only way to ensure a perfectly smooth and flawless painted front end. Paint was entirely color sanded and buffed to perfection! Van is glossy smooth now.

Paint color is the original factory Savanna Beige Metallic color code LH1V. I am sure paint looks better now than the vw factory would have ever imagined. You can only fully appreciate the paint and body finish in person.

It may look like other Vanagons/Westfalias on the market in pictures, but believe me. IT IS NOT!!

Van was painfully put back together with all new GERMAN window seals. Again, not the cheap, poor fitting aftermarket rubber found out there.

While all the glass was removed, I had all the glass professionally tinted with Ceramic tint. All the rear glass has 15% tint which still allows you to be able to see out the camper. The two front doors have 35% tint, which is perfect to keep the sun and UV off your skin. The entire windshield was tinted in 70% which is great to cut the glare and UV from coming into the cabin. You will be amazed how much cooler the van stays with the Ceramic tint.

We even replaced the glass seals on both front doors which is very difficult to do (often neglected and usually cracked and never replaced)

New A pillar drip railings were also installed (genuine VW German moldings of course)

All door handles, front and rear wiper arms, A pillar vent window frames, sliding door window latches was removed, refinished in satin black during restoration and replaced with new seals where possible.

Rear marker lights are all new.

Windshield wipers refinished and replaced with new shaft seals and new wiper blades.

Even the windshield and rear hatch washer spray nozzles and seals are also new.

Even the slider door cover seal is new and slider door rear hinge was refurbished to like new condition.

Fuel door enclosure is all new (completely removed during gas tank and paint restoration and replaced new)

Windshield is brand new with integrated tint strip and full 70% ceramic tint.

Poptop tent from GoWesty 3 windows allows perfect ventilation. Material they use is supper durable and screens are easily replaced if you ever need to replace them.

All sunroof parts were replaced new (seals, skylight, brakets, nuts, bolts) with GoWesty parts and new pop top and luggage rack seals were also installed care of GoWesty parts.

Every nut and bolt was removed from luggage rack restored and replaced new with stainless steel units. Luggage rack tie downs was sandblasted clean and refinished.

Even luggage rack drain hole screens were replaced during luggage rack restoration. I bet you didn't know there were screens in there to keep junk and leaves from collecting under the luggage rack.

Did you notice the poptop is body color? Both luggage rack and pop top were completely strippted and refinished and repainted to match body color. Even extra coats of clear (4 to be exact) were sprayed on pop top for better UV sun protection so it will be beautiful for years to come. Every nut was completely removed from the top to be repainted to match, with the exception of the skylight mounting hardware which uses brand new stainless steel bolts now.

Fiberglass bumpers from a later model Vanagon were painfully and meticulously prepped to perfection and painted to match body color with the same attention to detail as everything else.

Headlights were fully cleaned, polished, and restored inside and out and have new bright Sylvania ULTRA Silverstar bulbs in them. That is why they look new in the pictures.

Upper, lower and the 2 rear side mounted grills was restored and rare new VW German front grill emblem replaced in center.

Power rear view mirrors was completely taken apart and had the same attention to detail paint job. Power mirrors did not come from the factory until late 87, this van had the original floppy mirrors, so I decided to upgrade to modern units from a late model van. Brand new stainless steel mounting screws. The electrical connection is not hooked up to both mirrors, no need to as you can just adjust them manually once and you are done. ( keep it simple)

Both rear hatch struts are brand new.

Interior restoration:

Since the van interior was completely stripped for restoration, every nook and corner inside was thoroughly cleaned all all dirt, bugs, grease, dust, etc, etc.

Then Dynamat sound insulation was installed everywhere that was possible. You can read about the benefits of Dynamat online but it is used for professional stereo installations to keep noise isolated and does wonders for keeping road noise out of the cabin. Van is a lot quieter driving down the highway now then when it was new. All the doors sound solid upon closing now.

The original interior in the Weekender has never been known to hold up to use, not sure why VW did not use the same quality fabrics as they use in their full camper models.

I had the entire interior(both front seats, rear facing seat, complete rear folding bench seat and rear/cargo mattress reupholstered in matching original fabric, not just any fabric but modern $65/sq yard . The upholster did an amazing job of matching the original stitching to the van.

Upper bunk bedding was completely removed from vehicle and all fabric was thoroughly washed and shampooed clean.

All the curtains was completely removed and hand washed.

Van smells fresh and new inside because it essentially is.

2nd battery installed to power the rear interior light.

Brand new Interstate main starter battery.

Camper retains the foldable table.

The entire dash was removed for cleaning and restoration. All air ducts were cleaned out as historically crazy stuff gets into there! new modern foam gaskets/seals to all flaps inside the fan housing was replaced as the old foam gaskets has a tendency to disintegrate over time. No more breathing in years of collected dust and debris, etc, etc.

Front and rear dash fans works perfectly in all modes.

And best yet: Factory air conditioning was fully serviced and blows COLD. Van has a rebuilt Sanden A/C compressor, new drier, new oil seals, new low and high pressure valves. full system vacuum for over an hour and recharged with modern R134 refrigerant and has proper PAG compressor oil.

It was temp tested and blows 45 degrees F even at idle, that is cool.

Full cluster LED light upgrade, no more dull dash lights while you are going down the road.

Everything works on the van down to the windshield washer squirters, wipers, and I mean everything just like the day it left the factory. Nothing needs attention or work.

Stereo has been upgraded to a brand new Pioneer Am/FM/CD with remote, Sirius Xm ready, Bluetooth, iPod, iPhone, Pandora, etc, etc

Brand new fully retractable Hirshman antenna / made in Germany of course.

Brand new front RubberTite Hex grey floor mats protects the carpets, the entire floor carpeted areas of the van was removed from the van and have been fully shampooed and cleaned removing all dirt / debris / stains / odors / etc, etc. there are no tears or stains to be found on the factory carpets underneath the floor mats.

Brand new fire extinguisher rated for all A,B, C fires mounted inside the van at the original factory location.

Westy sits on brand new 16 inch GoWesty alloys with brand new Michelin Defender 215/65/16 tires .

Michelin Defender tires are some of the best all season tires you can buy for the Westy and has high tread wear over 800. All lugs nuts and bolts are brand new. These tires can hold up to the weight of the Westy.

2 brand new cut to code German original keys with plastic fob included . 3 sets of keys are included

Westy passed strict CA smog test and is currently registered until April 2016.

It has been garaged stored since full restoration.

Title and insurance is under my name.

Thank you for your interest and for taking the time to read my ad!

If you have any questions about my westy or its restoration process, please do no hesitate to ask. I know every square inch of the vehicle and the painful details it took to bring it back to factory if not better standards.

If you have any questions, please send me an email.

I will be happy to assist the winning bidder with arranging any transporting needs.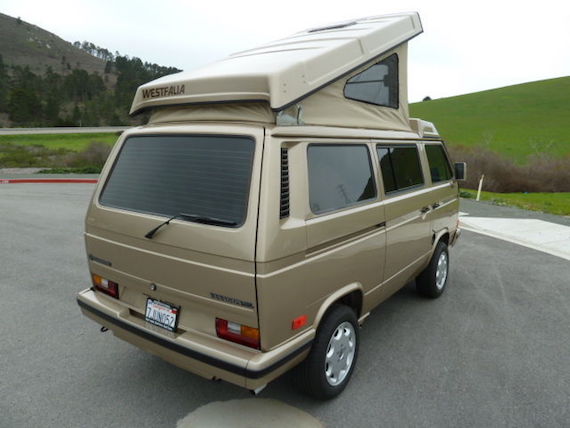 He's not going to bore you with the details, because you should think that every last detail is a touchdown! The perfectly-matched later fiberglass bumpers are a personal favorite, as are the GoWesty wheels. See? This guy's got me wanting to join the VanLife and spend my days hunting the perfect part. Other than hot rod shows or the McLaren factory, have you seen someone as meticulous? If the miles are keeping bidders away, I think they're grossly mistaken. Of all the sweet vans I've written up over the past few years, this is the Vanagon to have.
-NR