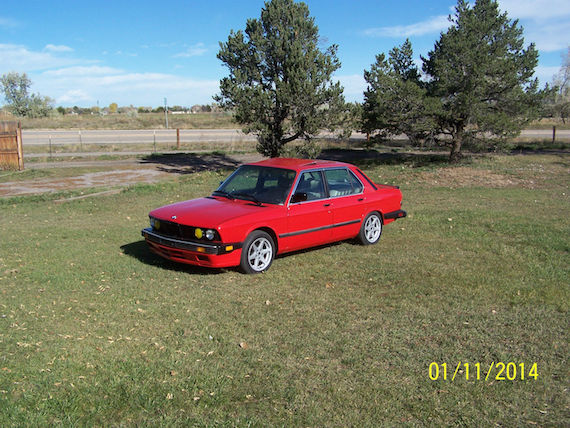 The 535is was the first E28 that really caught my eye and led to my pursuit of the M5. Back then, the allure was just a very sharp 80s sedan with some subtle aggressive tweaks – exactly how I like it. There are at least two gorgeous red examples in my area, and the rare times I see them out are always a treat. Today's example comes well-used, with a lot of miles and some general cosmetic love needed. The Borbet wheels will probably be polarizing, but I've seen worse choices. The biggest draw here is the no-reserve auction, and this could be a great entry point to the E28 life.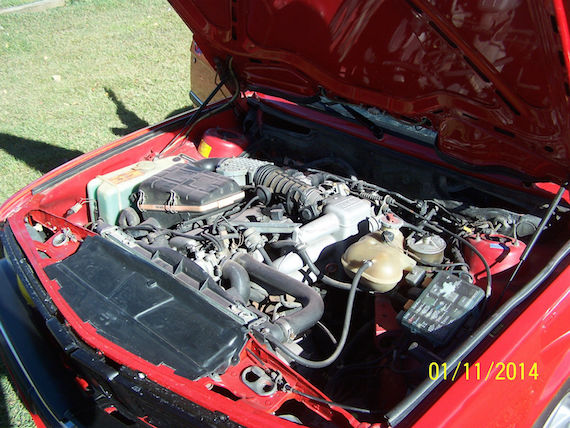 Year: 1987
Model: 535is
Engine: 3.5 liter inline-6
Transmission: 5-speed manual
Mileage: 229,000 mi
Price: No reserve auction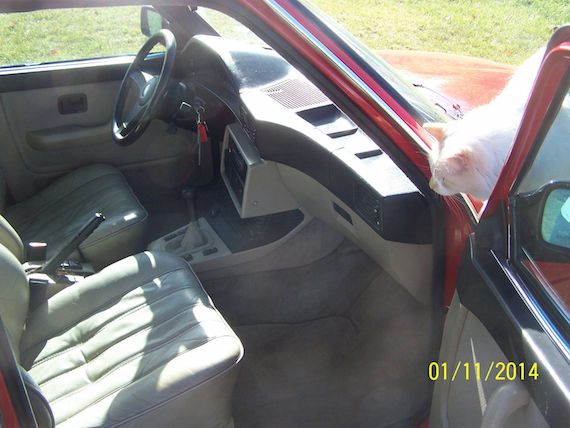 Car is In good Condition Runs strong and is reliable. It has a cracked Windshield and some cracks in the dash. The tachometer is a bit jumpy on occasion but the rest of the gauges work as they should including the OBC. Front windows and sunroof work perfectly the rear windows are a bit sticky but do work. Car come with a trunk full of spare parts including a differential (3.25) and some halfshafts a bunch of bushings and a digital copy of the bently manual. Cosmetically on the exterior the car is beautiful paint is great and there are no dents. This car has had some work done to the front suspension Lower control arms and front brakes are fairly recent. This car would benefit from some further bushing replacement nothing is bad but after 30 years the bushings would make a good car great.

Hello I have for sale a 1987 BMW 535is with 5 speed. This is a fun car classic BMW style that is fun quick and enjoyable to drive. Motor runs well and transmission shifts smooth through all gears. Very nice condition paint and interior. These are great cars i've owned several e28s and everytime i sell one its only a matter of time before i end up with another they are easy to maintain and fun to drive. This car was well cared for but like any 30 year old car it does require some love and attention. Ive listed what the vehicle could use above I had this vehicle inspected at a local shop and have listed what was found.

Buy and bid with confidence this is a fun classic car that will make you happy as it has me. Time and date stamp on the pictures is incorrect these were taken today 11/2/14. Clean Colorado title in my name in hand. Any questions feel free to ask.

Thanks for looking,
Steve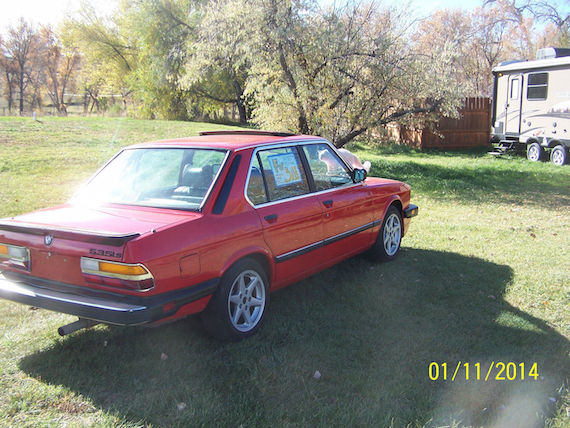 It's going to be a project, but it's not a bad place to start at all. It's not that rough and the classic looks and eye-catching color will still draw thumbs up wherever you go. Whether you're a knowledgable E28er with grand plans or just a Bimmer fan looking to get their feet wet, this would be a great buy for anything less than $5k.
-NR