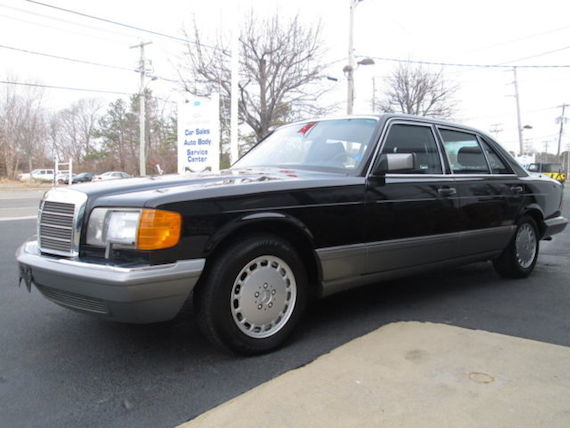 Like the Porsche 928 we featured yesterday, this 1987 Mercedes-Benz 560SEL for sale in New York brought up memories from my childhood. I remember coming back from an auto show and scanning the pages of the latest Mercedes brochure to come across a picture of a similar black on black 560SEL. The flagship of arguably one of the most revered luxury brands, this was a car with few equals. With a rear seat that measured almost five feet across, this was a conveyance for dignitaries and celebrities. While it started to seem a little bit dated towards the end of the production run in 1991, people still clamored to buy these über sedans and many are still pressed into service today. With only 50,000 miles on the odometer, this is one W126 that has lots of life left to give.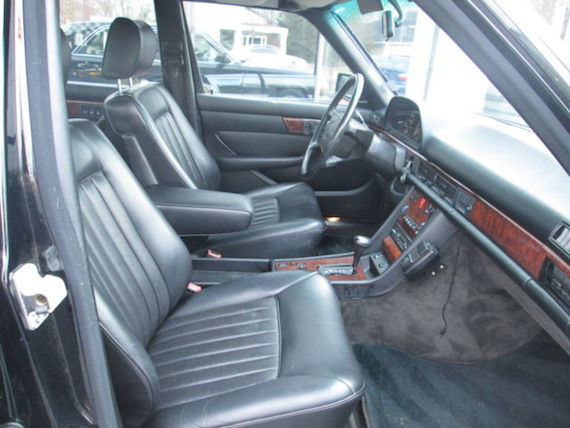 Year: 1987
Model: 560SEL
Engine: 5.6 liter V8
Transmission: 4-speed automatic
Mileage: 50,551 mi
Price: $15,000 Buy It Now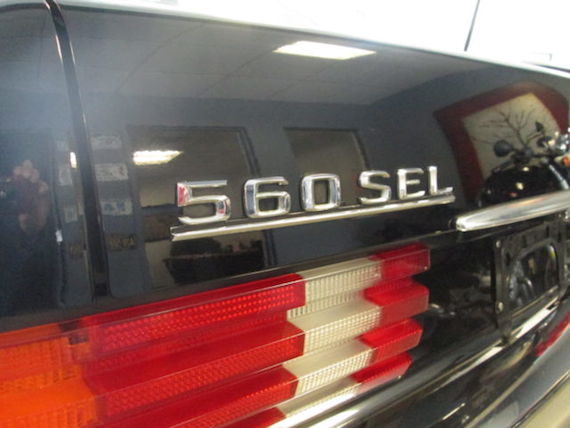 We are pleased to be offering this very special 1987 Mercedes-Benz 560 SEL. Transport yourself back to a time when cars were actually made by hand, materials like genuine leather, real wood and metals were crafted to create the most luxurious interiors available to only the most affluent buyer. A car with technology and refinement still not available on some of todays modern vehicles. Attention to detail, timeless design, state of the art safety, bulletproof engines and of course luxury! We were lucky enough to obtain this vehicle from it ORIGINAL owner. YES, this is a ONE owner Mercedes-Benz 560SEL in its original form. The S class that started it all. The most recognizable big body Benz that set the bar for luxury sedans.

One Owner

All Original In and Out

ONLY 50,551 carefully driven miles since NEW

Black w/ Black Leather interior

Original Becker Stereo

Rear Seat Package with adjustable and Heated Seats

Cold Climate Package

NO cracks in dashboard leather or wood

First Aid kit in original form

Beautiful leather interior with almost NO wear

Power moonroof

This car is a TIME-Capsule for true German engineered luxury vehicles. A ride like no other. Here is a great opportunity to own this very special vehicle that will truly appreciate in value over time and prove to be a solid investment. Buy this beautiful Benz for a daily driver or as the perfect addition to any collection.

PLEASE look at all the pictures-this IS a very special car in excellent condition. However, we are not presenting this vehicle as a "concours" car. It does have a few small apologies as it was a primary vehicle for the previous owner. It is our opinion that with a small investment of around $1000 this coulee be a remarkable car.

PLEASE-Look at the pictures, and ASK questions. We have set a VERY fair reserve AND buy it now price..

IT WILL be SOLD!

Call or email with any questions

Adam

(631)236-8659

adam@beachautosalesinc.com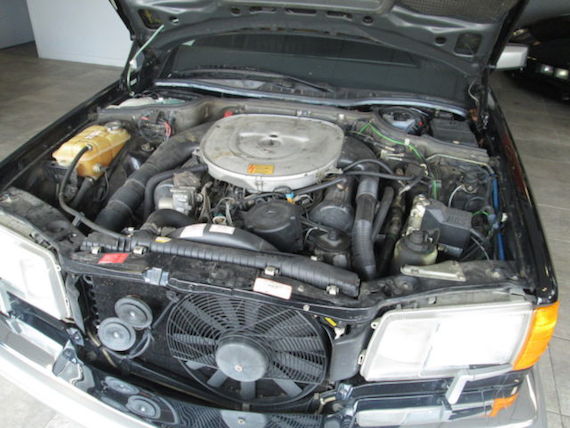 One thing about luxury cars from the 1980s is that you are sometimes left with the vestiges of old technology. It's rather amazing how seamlessly integrated options such as mobile phones and satellite navigation have become. This car at one time had a mobile phone installed as we can see from the receiver on the dashboard and extra antenna on the rear decklid. Hopefully if these features, if removed, don't leave too many marks or errant holes. I used to dream about the day I could go cruising around in a black W126 of my own. These were cars that just embodied everything I've always loved about Mercedes-Benz. Thankfully prices for good ones are still holding at a reasonable level.
The seller seems to think that this car might require a little bit of investment to become a "remarkable" car. It would have been nice if the deficiencies were listed, but it appears, at least, that the self-leveling rear suspension is in working order, as the car is sitting fairly level. If no engine or electrical gremlins lurk beneath the surface and all that is needed is a bit of cosmetic freshening, this 560SEL in a desirable color combination would be a great collectable for the S class enthusiast.
-Paul