Warning!
This post is in our archives. Links in this post may have been updated to point to similar cars available to bid on eBay.
The Mercedes-Benz S class has long been the bar by which many executive sedans have been judged. Perhaps the most revered S class generation of all is the W126 which premiered in 1979 and was produced until 1991. While the world was busy celebrating Glasnost and listening to Duran Duran, Mercedes-Benz was hard at work doing what it did best: producing some of the best cars on the planet. At the top of the Mercedes-Benz sedan food chain was this car, the V8 engined S class.
When it was revised for the 1986 model year, the new top dog of the range was the 560SEL. Chock full of standard features and powered by a 5.6 liter V8, this long-wheelbase version had self-leveling rear suspension on North American bound cars, heated seats for front and rear passengers, burl walnut interior trim and a two way, power rear bench seat. When the W140 S class arrived in 1992, many lamented the loss of the W126 S class, as the new model was bigger, heavier and more complex.
The following 560SEL comes from our reader John in Florida and is a stunning example of a W126. It serves as an example how well these older Mercedes-Benzes can hold up over time if given the proper care.
Year: 1987
Model: 560SEL
Engine: 5.6 liter V8
Transmission: 4-speed automatic
Mileage: 83,000 mi
Price: $10,000
1987 Mercedes-Benz 560SEL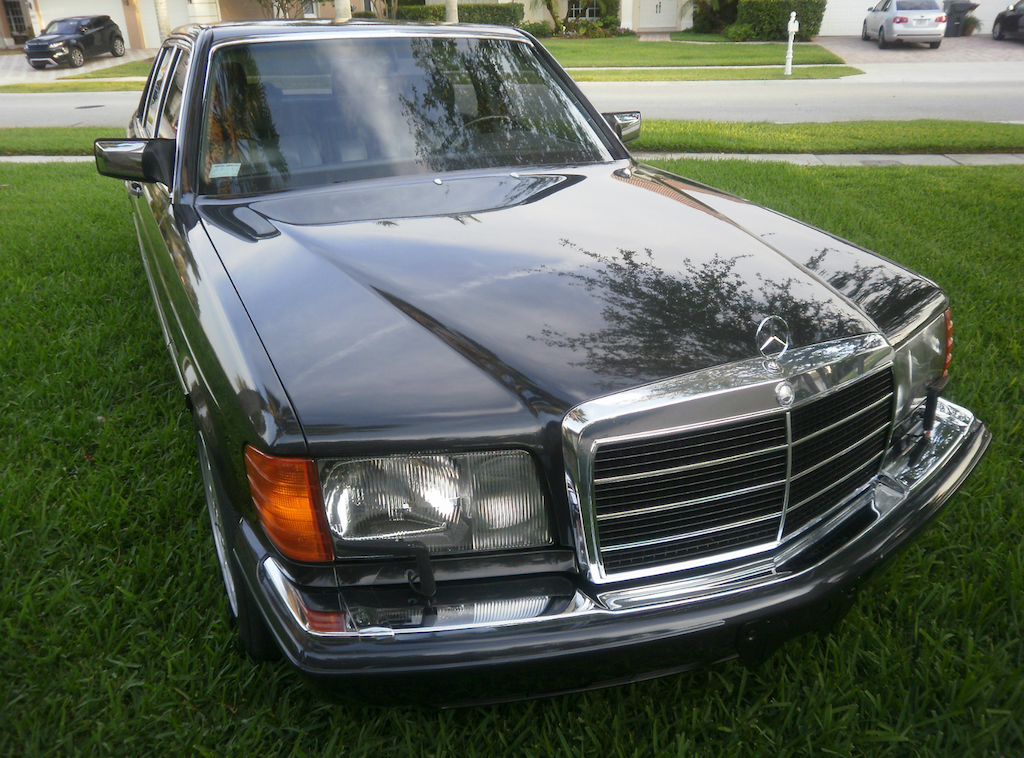 If circa 1985 you had asked Porsche to conceive and build a Rolls-Royce, the Mercedes-Benz 560SEL would have been Zuffenhausen's answer. Power without temperament. Imperial but measured. Over-engineered and nothing wasted. Germanic to a fault but also elegant in ways that neither its predecessor 6.9 nor successor S600 could manage. The 560SEL represents the best of a platinum era in Stuttgart. Virtually every car since 1981 has been influenced in some way by this model which is why it doesn't look 25 years old. It also had its first and only upgrade at a point when normal cars are on their third or fourth facelift. An exceptional example from the 1986-92 facelift series must rank as a potential special interest model, if it isn't already. For many the W126 S-class is the last Mercedes-Benz that looked like a Mercedes-Benz, a marque that now stands accused of producing models, apart from the A-class, that look like everything else. Mercedes-Benz has since struggled to produce a premium model with the same impact and universal appeal as the W126. Could Mercedes-Benz ever deliver another S-class that didn't require a single sheet metal change in 11 years?

This car was purchased by my father with less than 20,000 miles in 1989 has been in his hands or mine since. Originally a Michigan car that has been in Florida for 22 years. Finished in Schwartz metallic over grey leather with burl walnut trim. The exterior black pearl paint is a spectacular color choice on a large prestigious auto as is the 560SEL. With just over 83,000 miles on the clock, it is just broken in. The paint and interior are original. The lower body cladding panels were sprayed Schwartz to match the car. The leather looks new, the wood has no cracks, the headliner is unblemished and carpets as new. The finish is glossy and shows straight as an arrow body panels and only the usual rock chips at the front edge of the hood and below the headlights.

While the wheels are not original to the car (the original 15" alloys are available) they are OEM 16" from the owner's 124 series E500 shod with new V rated radials. The euro-spec H4 lamps have been fitted to the car since the early 90's. Recent maintenance includes, water pump, belts, hoses, plugs & wires, transmission filter and fluid, rear accumulator spheres and fluid, cam cover gaskets, front rotors, front and rear pads, master cylinder and fluid flush, and frequent oil and filter changes (Mann). The window tinting can be removed to return the car to its original specification, but; served well to protect the interior from sun fade. The interior is in exceptional condition.

Service records are available from date of purchase 22 years ago. I also have the original window sticker, manuals and assorted brochures. The car is in amazing time capsule. It is regularly driven so it runs great. The car drives as good as or even better than it looks which is saying a bunch. Very few original 25 year old automobiles can compare to this example.
Generally, I'm not a fan of later model W126 sedans that have their lower body cladding color matched, but on this car, it looks really sleek in black metallic when combined with the euro spec headlamps. While you could spend a bit more money and get a W126 with less miles, it would be tough to find an example that has been loved as much as this one.
If you are interested in this clean 560SEL, you can contact the seller, John, at (561) 376-2106 or via email at john_campbell@bellsouth.net
-Paul