Designed as a replacement for the Porsche 912, the 924 was designed to take over the mantle as Porsche's entry level offering. This was a shocking car to Porsche purists when it was introduced, being the first front-engined, water cooled vehicle the company ever offered. It also shared its four cylinder engine with the Audi 100 and Volkswagen LT van, which put off the P-car faithful even further. But, this car did spawn the more powerful 944, which has gone on to be a well-respected classic and recognized for its fantastic handling dynamics.
The 924 lived a long life, from 1976 through 1988. Towards the end, in 1986, the engine from the 944 appeared under the hood, turning the 924 into the 924S. This 1987 924S for sale in Arizona is frankly one of the best examples I've seen of the breed.
Year: 1987
Model: 924S
Engine: 2.5 liter inline four
Transmission: 5-speed manual
Mileage: 62,000
Price: Reserve auction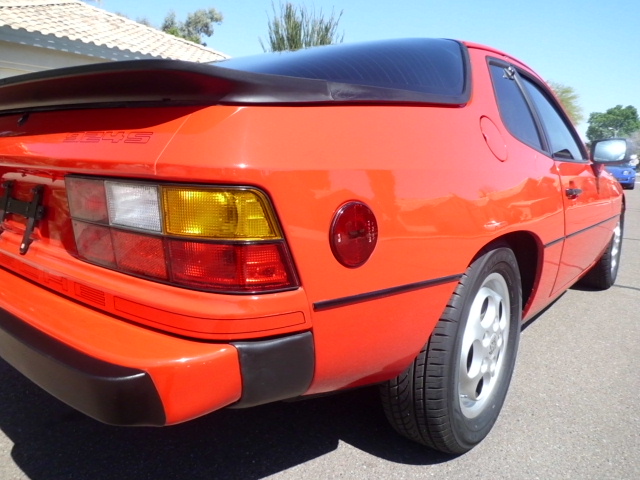 Take Note America…

Up for auction is one of nicest examples of a Porsche 924S that is currently for sale and not tied up in some private garage or on loan at an auto museum. The very limited production run of the S model was imported only for 24 months in the US for the years of eighty seven and eighty eight with production ending in September of 88. This model had the Porsche 944 drivetrain disguised inside of the 924 body. This eighty seven coupe is truly stunning without any exaggeration whatsoever. A modern marvel of motor engineering this S has only sixty thousand miles since new with original paint and upholstery that looks fabulous both inside and out. The body could not be any cleaner and everything opens and closes like new. Guards red that looks wet to the human eye with a ridiculously clean all black Porsche inscribed upholstery that still smells like it did when she left the Stuttgart factory overseas.

Her correct drive train consists of her 2.5L straight four cylinder motor producing 150 horsepower with a 5-Speed manual transmission that shifts remarkable in all gears. The Porsche was recently more than fully serviced at Stuttgart Southwest with about six thousand dollars of correct maintenance being performed on her. A set of brand new Yokohama YK-580 tires where just installed all around on her factory rotary dial Porsche sport rims. Her spare looks like she never left the rear compartment and everything including tool wrap, air compressor, owner's manuals and more is included. Factory VIN inscribed glass with razor sharp tint that looks very stealth. Factory electric popup and pullout sunroof in mint condition. Her air-conditioning blows ice cold and was just fully serviced and operates superbly. Flaws are minimal with just some very minor hairline cracks on her otherwise gorgeous dashboard. This 924S looks fabulous but drives as what I would describe as better than new even. Nothing is loose and the handling is superb. If you want a rare touring car as a driver, to collect or even as an investment this S model should suffice. Call with questions and you will get answers. A great Porsche that is not easy to duplicate with these options, miles and of course condition. Worldwide shipping can easily be arranged.

Auction May End At Anytime Without Notice
602.754.7359
To be honest, the 924 never caught my eye, but if I had the space, I would jump on this car. The color and condition are right, and in this day and age of Cayennes and Panameras, the 924 suddenly appears to be a more acceptable Porsche than those aforementioned models. The 924 is a sports car bargain and even this well preserved example won't wind up breaking the bank. While it has a reserve, I'd suspect this car might have what it takes to crack the $10,000 mark, but only slightly.
-Paul