One of my all time favorites, the original Audi Quattro, was one of the most technologically advanced cars of its time. One of UR Quattro's the most significant contributions, was the addition of permenant all wheel drive, ultimately making "Quattro" a household term. The first sports car with permanent all-wheel drive, the rally quattros rewrote the book to both road going cars, and more notably motorsports. Because of the URQ, all World Rally Championship cars are four-wheel drive, and so the Audi Quattro legend was born.
This beautiful Gobi Beige UR Quattro for sale outside Chicago is a well kept example of Rally car history.
Year: 1983
Model: Ur Quattro
Engine: 2.2 liter inline five
Transmission: 5-speed manual
Mileage: 97,000
Price: $19,000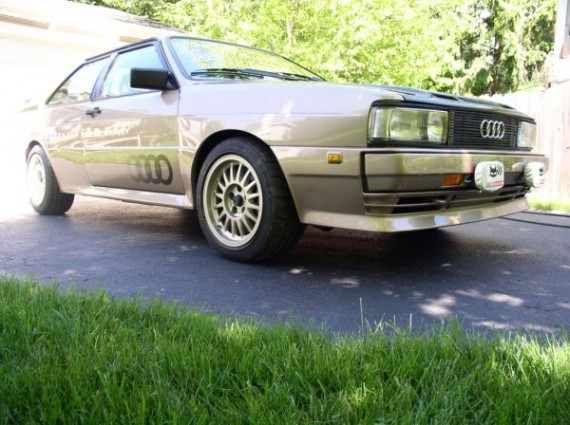 For Sale 1983 UR Quattrro
Third owner from new,
Rust free West Coast car.
Complete history from new.
97,000 miles since new but no miles on rebuild.
Fresh Gobi Beige/Mocha interior
20v 3b with fresh bearings.
4:11 Frankenstein rear diff.
034 stand alone ECU just updated.
Bumper shocks compressed for shortened/euro bumper look
Sport q cf hood.
Built to spec fmic.
Hank Iroz intake manifold.
Rs2 exhaust, injectors, etc.
034 ss exhaust.
New dashboard with taxi pod & period correct radio.
All new bearings & upgraded bushings,
3 sets of wheels 6″,8″ & Fuchs.
The list is endless plus spare parts
I can send complete detailed rebuild pictures.
Please no tire kickers.
You'll have to see this to believe it.
$19,000.00 or best offer.

Added more pics of finished car today.
You may notice a few things;
I deleted power mirrors.
The radio is 1984 not 1983
Zeitronix wideband display instead of diff lock
The carpet is clean but not new.
I have the stock steering wheel if you don't like the Nardi look.
Under the hood;
Notice Porsche brake conversion.
The rest speaks for itself.

FULL restoration pix here: http://photobucket.com/urq
Owning a legend isn't cheap these days and the '80s cars are starting to go through the roof.  While the URQ isn't in the stratosphere like the E30 M3, it's arguably just as significant in motorsports and should eventually catch up to the M3 in the price category.
At $19,000 this car is priced just a tick above where it should be as a solid driver. With a little haggling, this car could be had right where it should be, in the $16,500 to $17,000 range.
-Brian