Pablo from flüssig magazine is back once again to take a look at this clean, lower mileage 1987 Porsche 944S for sale in Pennsylvania.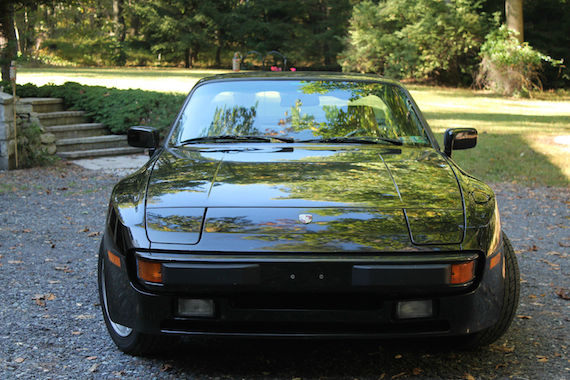 It began with mild curiosity.
My then-future wife already knew of my close-minded, air-cooled superiority complex, but didn't understand why I thought her 944S didn't figure into my Porsche passion…then she took me for a ride. I was hooked. This car made me a believer; in fact, it was this very car that would inspire me to start a magazine called flüssig ten years later.
What was it about this little car that nudged, no shoved, me into the world of early water-cooled Porsches? The smoothness. This is a character trait my beloved 911 didn't possess. In fact, that air-cooled fossil is very much like me; rough, uncouth, noisy…a little bit dangerous, a little bit friendly, but generally behaving like an oaf—a sophisticated oaf.
The S was the exact opposite. Its character mimicked that of my wife, Diane. Well mannered, svelte, elegant. Perfectly bulged hips, thin at the waist, and strong enough to shove you back when provoked. No wonder I was attracted to both.
Now, before we get too far ahead of ourselves, I want to point out the historical significance of this car.
In 1981, Porsche entered a 924 GTP in Le Mans (full story on this car can be found here. What few people know is that this 924 was in a fact the first 944 prototype, hence the "P" suffix. Even less known is that this GTP, chassis 924-006, packed an engine that was pure Porsche under the hood; their first water-cooled four cylinder engine Typ 944/71 (internal designation Typ 949), derived from half of the 928's V8 but of completely new design, displacing 2.5 liters (2,479cc) developing 420 bhp with 1.1 bar of boost— and that was less than what the engine really could put out.
It utilized dry-sump lubrication, and placed into the engine compartment at a 45 degree angle, this large capacity was obtained with huge 100 mm bores and a relatively short 78.9mm stroke. But there was something a bit different going on above those bores: an all new sixteen valve head coupled with a KKK K28 exhaust driven turbocharger breathing in through an air to air intercooler. This head was a one-off design by Dipl Ing Hans Mezger adapting cross-flow cooling, a Gilmer-type toothed belt driving both the intake and exhaust cams, and, because of this engine's larger capacity, they employed a pair of contra-rotating balance shafts developed by Mitsubishi and perfected by Porsche. This was the very first application of balance shafts on Zuffenhausen's water-cooled four.
Exactly two weeks after the GTP finished Le Mans, the 944 was announced to the world at the Frankfurt Auto Show. The engine in chassis 924-006 was the foundation Porsche would use to build the production 2.5 liter and the 16-valve head that would be used for the first time in the Porsche 944 Cabriolet "Studie" at Frankfurt in 1985. This car was the forerunner of the 944S that was introduced in August of 1986.
The engine Typ M44.40, was essentially identical to half of the 32-valve 928S, sharing the same bore of 100 mm and 78.9 mm stroke. The valves were arranged in parallel actuated by a pair of camshafts; the exhaust cam was driven by a Gilmer-type belt and was in the same position as the 8-valve version 944 leaving the intake cam to be operated by the exhaust cam with a hydraulically tensioned short chain. The spark plugs were placed dead center in the hemispherical combustion chamber providing equidistant flame travel which allowed a higher compression of 10.9:1 under the watchful eye of two knock sensors and the Bosch Motronic 2 ECU.
In this configuration, the engine would put out 190 bhp DIN at 6000 rpm and 170 lb-ft at 4300 rpm, the rev limit was set at 6800 rpm. This was enough for a launch to 60 in 7.5 seconds which was disappointing since the 8-valve 2.5 liter did it in 7.4 while the 1989 944 2.7 liter 8-valve did it 7. But…the S could catch and pass both with a claimed top speed of 142 mph. This put the S squarely in the middle between its contemporaries, the 220 bhp 944 Turbo and 163bhp 8-valve. Critics shrugged their shoulders at this car since it did have 27 more horsepower than the 8-valver, but it just didn't offer the kind of performance they had anticipated at such a price premium.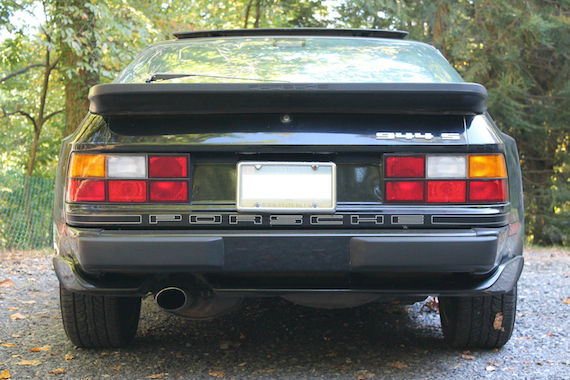 What the S did have was good top end bite, coming alive above say 4,000 rpm where below it was no different than the 944 with half as many valves but it weighed in a bit more at 1,280kg, 100kg more than the 8-valver. The S stands for "Super" in every Porsche, and while this one may not have impressed a few punters, it did have super qualities like intake tract, valve cover, and cam gear covers in Magnesium, a totally new larger capacity oil sump, and a revised exhaust system unique to the S. It was suspended on 944 Turbo springs and rear wheel braking circuit with a regulator to prevent lock-up in panic situations. Pity that it didn't carry over the Turbo's Brembo calipers, instead it had the floating calipers used on the 944 8-valve.
As far as the rest of the underpinnings, it had Sachs front struts and torsion bars at the back with Sachs shocks, a 21 mm front sway bar, the first four gear ratios were revised, with 5th and the 3.89:1 ring-and-pinion the same as the regular 944, and 15 x 7 phone dials wrapped with 215/60VR-15 rubber. It could have been ordered with the legendary M030 sport suspension package with stiffer springs, torsion bars, sway bars and bushings, and 16 x 7 front/16 x 8 rear slotted 928-style forged Gullideckel or Phone Dial wheels with 205/55VR-16/225/50VR-16 tires. There was also a Bosch 4-channel ABS option for the first time, which is why 1987 and later 944s had a wider offset than the earlier versions, M220 LSD gearbox, and dual airbags that became standard in 1988. None of the S models offered an automatic. You had to be familiar with the third pedal to play with this one as it only came with a 5-speed gearbox Typ G083D.
Year: 1987
Model: 944S
Engine: 2.5 liter inline-4
Transmission: 5-speed manual
Mileage: 88,835 mi
Price: Reserve auction
I hate to sell this car. Two young kids makes it difficult to find time to drive. My loss is your gain.

Great condition. New tires, shocks, brakes, timing chain and water pump. Chipped computer, fast off the line and still gets 25+mpg. Paint is original, some chips but still shines. Driver's seat has a tear. Dashboard has some cracks, will provide a vinyl cover.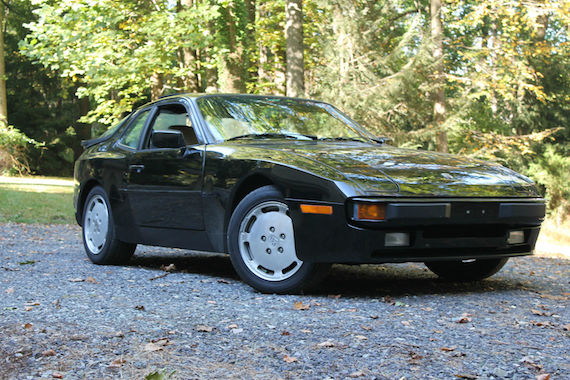 Now, Diane has a penchant for the rare and unique which is precisely what this 944S is. Made for only two years, 1987-1988, a total of 12,786 units were ever produced (some sources point to 12,831 units, some even claim 12,936) with 8,703 of those earmarked for the US; 3,312 for 1987 and 5,391 to finish off the series in 1988. If we account for total loses, I'd bet that there's less than two-thirds of those left.
The base price of entry for this 944 was USD $28,250, that's USD $59,148 in 2014 dollars. Add in the M030 suspension package, sport steering wheel, rear wiper, cruise control, alarm, sunroof, and partial leather seats, and you'd be emptying an additional USD $2,231 (USD $4,671 in 2014) out of your piggy bank. That's a lot of cash to part with, especially for a 944 that looked like it's cheaper sister. Only the eagle-eyed would spot the discreet "16 Ventiler" badge on both fenders and the "S" tacked on to the 944 badge on the rump.
If you're the passionate sort, this shouldn't be a bother to you since this car has all the pedigree it needs from Porsche. What you'd be buying into is a car that was exhaustively tested by Austrian Porsche PR man Gerhard Plattner on a 250,000 mile journey around the world in a completely stock 944 S. Dubbed "Operation Luna," a twelve-month excursion that began at Cape Canaveral in Florida in '87 was so-called because it was the same distance as a trip to the moon and back. Its purpose, really, was to try and break the car. Well, Gerhard couldn't. Jochen Freund, father of development or project director of the programme, wanted to cover this distance just to see what happens. During its course, the M44.40 engine was changed out three times not because it faltered. Rather, the Weissach engineers wanted to put newly developed parts to test in real life conditions. Incidentally, one of those engines was the 3 liter slated for the up and coming S2 model. Suppliers such as Pirelli and Shell tested their products along the way too using the S as a guinea pig for the P700 tire and TMO oil.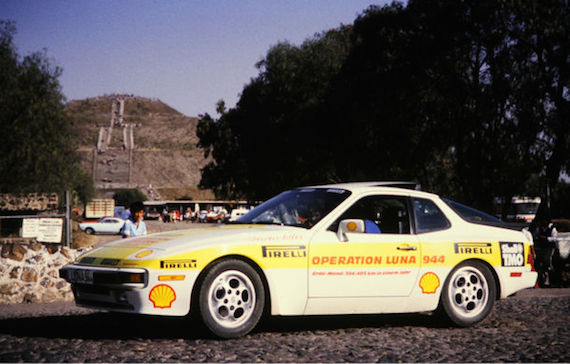 Seventy one drivers took their turn behind the wheel, including Freund. They crisscrossed the US completing the lunar trip in nine months and then the car was flown back to Germany to finish off the last of the 500,000 km test. Durability, longevity, and endurance – these are the virtues you pay for when buying a Porsche and you can rest assured everything they engineer is subjected to the absolute extremes of use.
So here's your chance to buy a piece of Porsche history. This 1987 vintage VIN WP0AA0942HN450593 not only has a low mileage of 88,835, logging in an average of under 3,300 a year, it also has the "944 S" badging in brushed silver and the very cool looking Gullideckels (manhole covers in German) slotted wheels that are a rarity on the US-spec version.
What I got back from Porsche on this car was an invoice date of September 24, 1986 leaving the Neckarsulm Audi Plant with engine type M44.40 engine number 42H01209 (4 stands for 4-cylinder, 2 is the engine version, H is model year 1987, 01209 is the serial number), and gearbox type G083D serial number APG13096 (APG are the code letters, 13 is the manufacturing day, 09 is the manufacturing month September, and 6 is the suffix for manufacturing year 1986). It was shod in Dunlop and dressed in Black exterior paint code A1, LQ interior trim, partial leather front in light grey.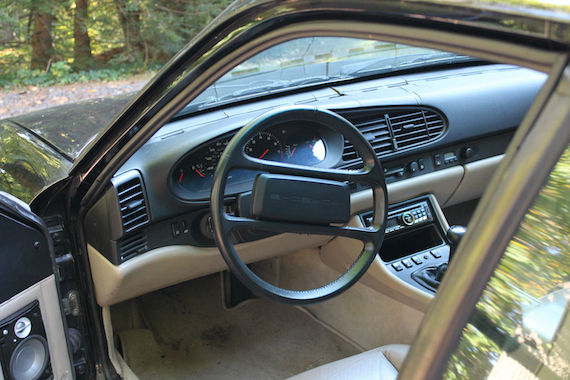 The new car warranty went from December 17, 1986 until two years later in 1988. Varnish warranty started on the same day in 1988 ending in 1989 when the corrosion warranty came in effect until seven years later when it ended in 1996. The emissions warranty spanned from December 17, 1988 until 1993 to the day or 112,000 km. There were also two recall campaigns, code AK03 for the fuel line and AM03 for a pressure switch.
This baby was lightly equipped but equipped well enough. Here are the options she carries:
M158 – Radio Blaupunkt "Monterey" 1986, Radio Blaupunkt "Reno" 1987
M341 – Central locking system
M395 – Light metal rims, forged 6J x 16 with tires 205/55 VR16
M404 – Stabilizer bars front and rear
M454 – Automatic speed control
M650 – Electric sunroof
M946 – Leather/Leatherette seats
We still own our S. She's also of '87 vintage, also lightly equipped, but it has a very special color used on the 1988 911 Carrera Commemorative Edition celebrating the 250,000 milestone of 911s produced on June 3, 1987, Diamond Blue Metallic. We've had this car for over 20 years and I gotta say this is one hell of a robust Porsche. The build quality is superb, parts are long wearing, it's an absolute blast to drive and the handling is very taut and very forgiving. My wife, the spirited driver that she is, manages to let the tail hang out once in a while when provoked.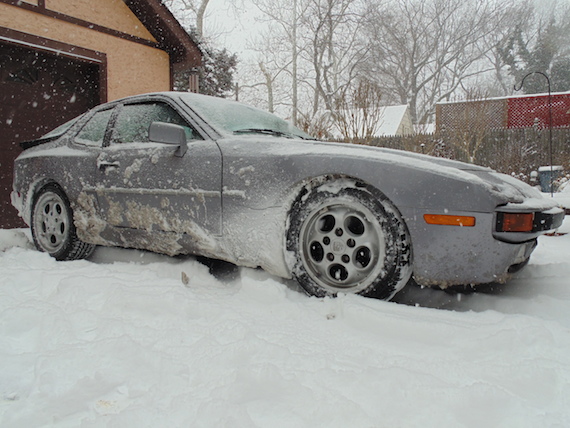 It's a car that's slightly underpowered by today's standards, but I prefer that because it's much more fun to extract every drop of power in all gears in such a car than it is to drive a higher powered in a few gears. That being said, like all Porsches, the price might be temptingly attractive, but the parts are still expensive. In other words, she ain't no cheap date.
There's two important things on the list of must-do-when-you-buy-and-continue-doing-while-you-own: the timing belt and the timing chain tensioner pads. Neglecting these will, not may, result in a massive catastrophe far greater than in any other 944. The head will be reduced to scrap. If you're looking at this car, check to see that it had not only the timing and balance shaft belt replaced, but also all of the seals in the front (balance shaft, crankshaft), the water pump and most importantly, the timing chain tensioner pads which Porsche doesn't list as a regular service item. Believe me, they wear down, get brittle with age, and disintegrate leaving the chain slack. These two things are what puts an S, S2, or 968 in the scrap yard and thins out the breed.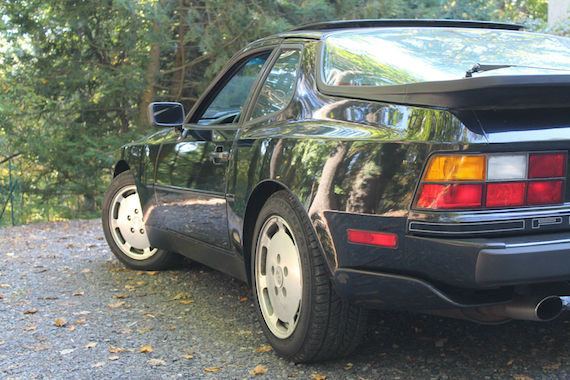 There is a third important thing that's often over looked; the oil cooler seals. These 944s have a water-to-oil cooler set up on the passenger side of the block where the exhaust is. Over time these seals harden allowing water and oil to mix, and when that happens, rod bearings are usually the first to suffer if caught late. Look to see if the coolant looks like chocolate milkshake, the seals in the cooler went south.
Other items that need to be looked at carefully and replaced if they pass their freshness date are the motor mounts, fuel lines, brake hoses, power steering lines, leaky steering racks (caused by split bellows that let grit in), split CV boots, fuel filter, and coolant hoses to name a few. The clutch is another expensive to service item, not so much in terms of parts, but the labor involved. Remember, the gearbox is in the back, the clutch is in the front behind the engine. This means that the gearbox and torque-tube must be removed in order to access the clutch. Also be mindful of any driveline noise as torque tube bearings also wear out.
There's so much to look for and consider before pulling the trigger, but rest assured, when all is done, and done correctly, you'll have a car that will last a lifetime. These are as real a Porsche as any 911, they're not junk, nor built from VW/Audi parts like the 924. These are one of the best entry level Porsches that are built to old-world standards using high quality labor and materials. Your money will be well spent, especially since values are starting to rise.
Take it from a former 911 snob. This car will make you into an early water-cooled Porsche junkie in short order.
happy highball!
pablo
flüssig magazine