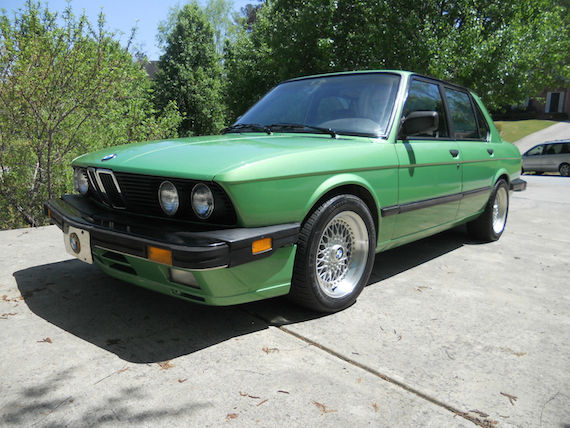 Coming from some dude who is living the dream and has a barn with unique and obscure German metal under covers, we have a very uniquely-colored E28. Resprayed in the 70s hue Taiga Green, this 535is looks very clean and would stand out at any 5er show. A dead odo means the mileage is unknown, and while it's nice to know that he's recently started it up, the combination of very occasional drives and an unknown history leaves a lot of questions. A lot of that will have to be explored before judging if the price is fair, but it certainly looks cool!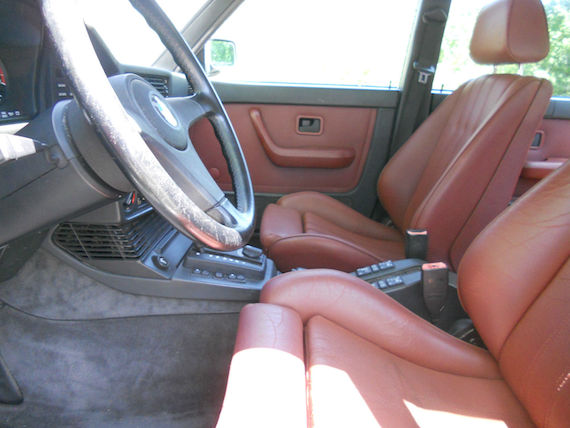 Year: 1987
Model: 535is
Engine: 3.5 liter inline-6
Transmission: 4-speed automatic
Mileage: Unknown
Price: $5,500 Buy It Now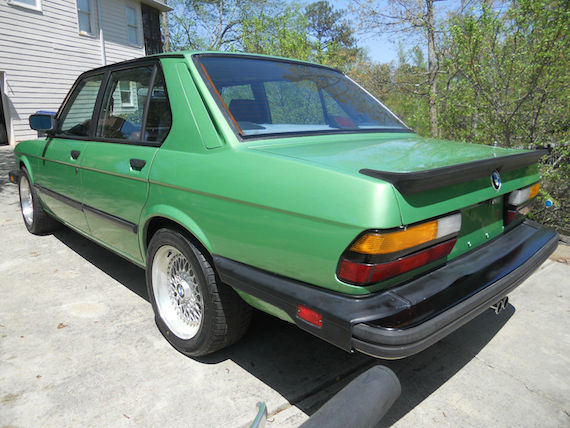 You are looking at my 1987 535is that I bought from one of my mechanics 1.5 years ago. I am a BMW enthusiast and own quite a few along with other makes. My mechanic aquired this car from one of his other customers that had already purchased a newer BMW and this one had sat for some time. In no particular order parts were replaced: valve cover gaskets, plugs, wires, cap and rotor, various hoses, radiator, belts, AC compressor, valves adjusted, fluids etc. I purchased the car after the work was done and have driven it sparingly since then. It sits in my warehouse under cover and I take it out about once every few months. I drove her today, she fired right up and ran as she should. All of your windows work, the power seats all function with the exception of the driver headrest. The seats were redyed and look good. The sport seats are still sport seats, not flat like a comfort! The dash has the usual cracks, I had a cover over it so it never bothered me. The engine runs like a top and the temperature is just about perfect if not a little cool. The transmission shifts well and zero evidence of clunking from a diff. mount or center support bearing.

The paint is the highlight of the car for me! I have had several 2002's, e9's, etc. but have yet to have one in Taiga Green. The paint on this car was dead when I aquired it so I thought I would make it stand out. You either love it or hate it. I did not spend thousands of dollars on the paint job, but did not spend a few hundred either. I have wet sanded and rubbed on it, but someone with better skills could make it better, I just like to do it myself. The 16″ BBS wheels on the car are in pretty good shape, although not perfect they are very nice and come with center caps. The tires are in great shape and I would recommend a rotate and balance since the car sits more then it is driven. The lights all seem to function including the fog lights. Negatives that really stand out to me about the car: star in the windshield, inoperable odometer and cheap radio. This is not a perfect car, but not a northern rusty rat either. It is a great start for someone to improve on or make it a daily driver as is.

I will be happy to answer any and all questions, this is a used car and I will be happy to do a thorough walk around for serious buyers. If you live out of state I have a couple of shipping companies I use depending on which coast you are located. This car has lived in GA since 1990. Somehow the people over at Autocheck labeled this car as rebuilt years ago. I have a clean title in hand and a clean carfax as well. I called my local DMV to do a title search on the car but they could not go back further then 5 years as GA discards their records after that period. They told me that since the car has been registered in GA for 20+ years that there is no way it could have been rebuilt and now made clean. A mistake by these ridiculous reports that were not even around back then! Anyway, I do have a clean and lien free GA title in my hand that is ready to be transferred. Good luck and happy bidding!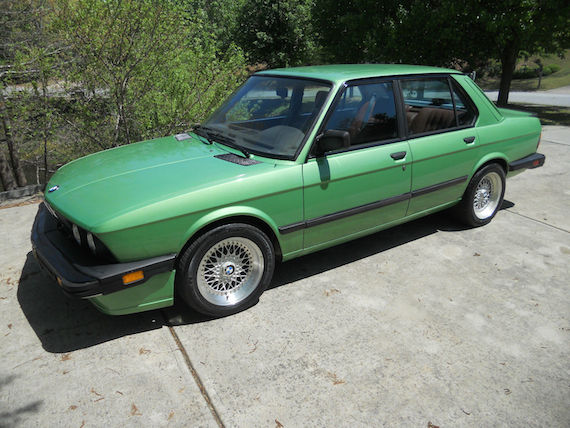 The 535is is a great way to get into E28s and 80s Bimmers in general. The color is the main selling point here, and that's a tough item to take this many leaps of faith on. With an offer closer to $4,500, this would be a fun and unique driver.
-NR