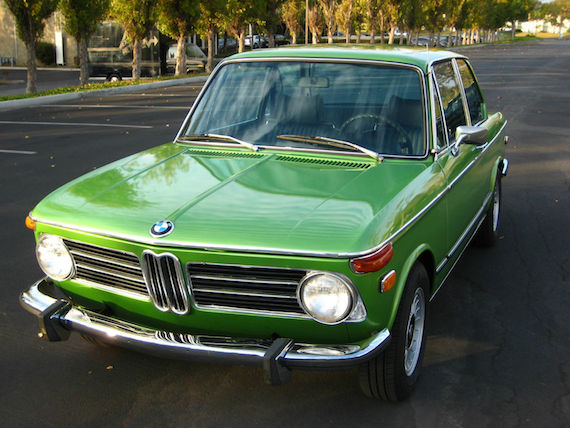 Nate featured a Taiga Green BMW 535is a little over a week ago and I have to admit, I was taken aback by this color. I had rarely seen such a bright color on a BMW from the 1980s. There were a lot of bright colors on offer in the 1970s and the 1990s saw a bit of a resurgence in this trend, not just from BMW, but other manufacturers as well. It seems these days manufacturers are a bit less adventurous towards color than in the past. After visiting my local Mercedes-Benz dealer two weeks ago, I was hard pressed to find something other than black, white, silver or gray on the lot. Fairly depressing, if you ask me. This 1973 2002tii for sale in California has undergone a frame on restoration that included a respray and engine overhaul. This is a car that will certainly stand out in the sea of gray out there today.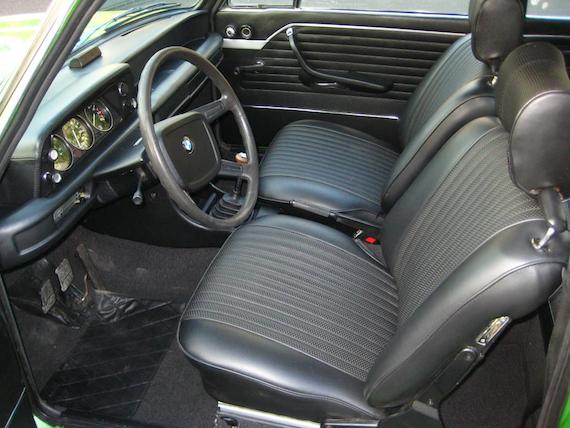 Year: 1973
Model: 2002tii
Engine: 2.0 liter inline-4
Transmission: 4-speed manual
Mileage: 70,026 mi
Price: $32,500 Buy It Now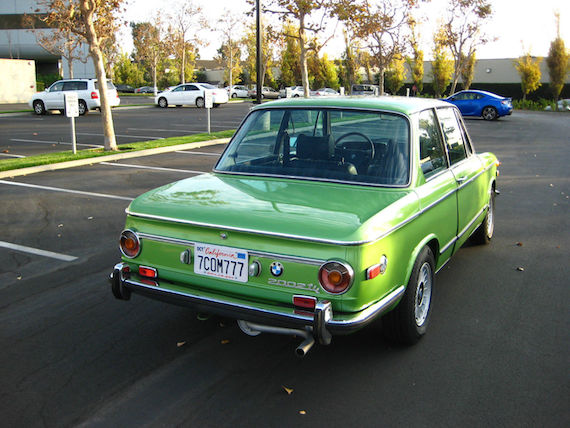 I'm selling my excellent condition 1973 BMW 2002 Tii, factory Sunroof, Original Taiga Green (Color Code: 072) exterior with Black color interior. I believe I am the third owner of the car. The car lived majority of it's live in Oregon and then Connecticut as I have stack of maintenance records from previous owners. The car is solid and rust free as was pampered by previous owners.

The previous owner did the complete engine overhaul and the car has approximately 19,000 miles since overhaul. The car had the original paint when I purchased it 15 months ago, however the metallic paint was oxidized so I did the frame on restoration. The paint was striped to bare metal and then it was repainted to original Taiga Green using PPG paint quality. I replaced all rubber seals (doors, trunk, and windows), anodized trim belt moldings& other window and rocker moldings, and re-chromed bumpers and rear tail light rings. The interior fabric, headliner, and carpet are new and German material was used. Please check the photos as it best shows the condition of the car.

The car starts fine (by the first crank) and it drives super strong. No white smoke or black smoke of any kind. Likewise, the transmission (4 speeds) shifts smooth. Everything works, with exception of the radio. The clock works, however it moves fast by the rate of an hour per 2 days. Please look at the pictures and ask questions before you bid, likewise please do your inspection before you bid. All inspection must be done before the auction ends. I do reserve the right to end auction early.

I am selling the car AS IS and have no responsibilities toward anything go wrong with it, as it is a 40 years old classic car. I might be missing some details, but please feel free to contact me if you need further photos or information.

EBAY MEMBERS WITH NO FEED BACK OR LESS THAN 8 FEED BACK MUST CONTACT ME BY EMAIL OR CALL ME

@949-433-4311 BEFORE BIDDING NEED YOUR INFORMATION (!! NAME ADDRESS AND PHONE NUMBER THANK YOU!!) FOR SOME REASON I DON'T GET AN EMAIL OR PHONE CONTACT YOUR BID WILL RETRACT OR WILL BE CANCELED!!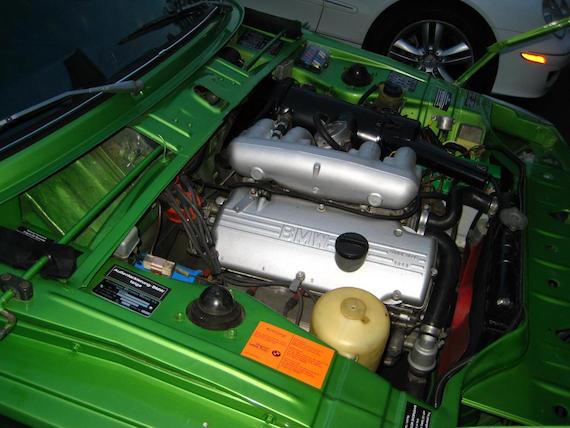 The 2002tii, like the 911, has been one of those classics that has enjoyed a steady amount of popularity over the years. With E30 3 series prices on the rise, this is bound to put the 2002tii in an ever better light than it already was. Around $30,000 to $35,000 is what you can expect to pay for a tii in good original condition or one that has been well restored, so given this car has the sunroof option and wears its original color, we're probably not too far off the mark in terms of the asking price. I've seen better examples of this car out there, but this is one you certainly wouldn't feel shy driving. Then again, that color…
-Paul