Introduced in 1984 as a successor to what many consider the original hot hatchback, the Mark I Volkswagen GTI, the next generation brought a bit more size to the party and featured the same 1.8 liter, fuel injected 110 horsepower 8 valve four cylinder engine as late model Mk I GTIs packed. Further down the line, there were more variations on the theme, including the Golf GTI 16v, the GT and homologation special, all-wheel drive Rallye Golf.
Every now and then we take a look at vehicles across the pond, and I was impressed by this impeccable 1987 Golf GTI 8v for sale in Worcestershire, England. Jade Green is an uncommon color for this generation GTI, but looks sharp and compliments the teardrop alloy wheels quite nicely. This car had one owner for 16 years and comes with a full service history.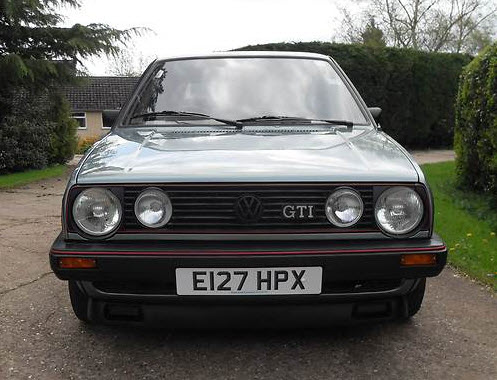 I have sympathetically overseen the refurbishment of this special GTI over the past year and the results are most gratifying! Only one previous keeper from new. A well-heeled lady bought this GTI brand new from Whyke Motors of Chichester in 1987 and continued to have it serviced at the supplying main dealer for her entire 16 year tenure, not many GTIs were kept within the VAG main dealer network for that duration, so needless to say it was maintained absolutely regardless of cost.

In 2003 it then passed to its current owner who only used it for four years before falling ill. It was serviced up to that point by a local garage near Solihull before being squirrelled away in his garage. I purchased the car from his nephew in April 2011 and have been bringing, what was already a wonderfully honest and original GTI, back to its former glory. The car has a fully stamped up service history and is HPI clear with certificate.

This is so much more of an interesting sight on the roads than the ubiquitous Oak Green big bumper 16Vs that people have flocked after for years. Aside from its impeccable provenance this car has two major plus points: it is one of the very last 8V's with the legendary K-Jetronic engine (first registered in August 1987, with the first "Digifant" cars arriving in the UK in September 1987), those in the know will tell you it's a more charismatic, rortier and punchy engine than the "Digifant" 8V engine that replaced it, and it is fitted with rare factory power-steering. I have never seen this on a 7-slat grill/quarterlight window MkII before.

The K-Jetronic fuel injection system is a mechanical one that was only slightly revised from that of the pioneering MkI (the 16V engine used K-jet injection for its entire 1986-1991 lifespan as did the MkI Cabriolet 1979-1993). The "Digifant" engine had electronic injection brought in as the German market were switching to catalytic convertors which had to run on unleaded fuel. I have owned over 30 "Digifants" and they're great, but the K-jet 8V is just that bit more special and is decisively faster, mid-range pick up is better than even a 16V. My car sports a VW label inside the fuel flap stating it has been adjusted to run on 95RON unleaded petrol so there need be no worries on this score, and I have never had any issues running MkII's on unleaded and I have had over 50.

Being a K-jet 8V it benefits from the original MkII 7-slat front grill, quarter lights on the front door windows (with set back wing mirrors that give less wind noise), LHD wipers and the signature 4-horn button steering wheel carried over from the MkI, which give it added appeal in my eyes and make it that bit more distinctive. MkII K-jets also employed a high quality fabric to upholster the seats that is in an eye-catching bold sports stripe pattern which is so much more appealing than the dowdy and cheaper plaid material used in 8 and 16V GTI's from September 1987. One very seldom sees these early style MkII's on the road, and certainly never in this condition.

Jade Green Metallic was only available between 1986-1989 and as the majority of GTIs were supplied new as company cars, usually only private buyers upgraded the spec of their new car order and paid extra for the metallic paintwork. It makes a refreshing change from the humdrum Tornado Red or Alpine White and gives the car a more classy air.

The most interesting feature is the fact that it is fitted with factory power assisted steering. This was only introduced in the 1987 model year and as I have mentioned, I have never seen a quarter-light window Golf fitted with PAS ever, so it is incredibly rare. Back then people just didn't think PAS was a necessary option on a small car like a Golf and indeed it didn't become standard fitment on the GTI until mid-1990. Nowadays, everyone is used to PAS and many people, not just women, will totally rule out a car that does not have a powered rack. Standard GTI specification: Sports seats, sliding sunroof, MFA trip computer, twin exhaust tailpipes, 5-speed sports gearbox, twin headlights, twin tone horn.

Extra-cost Optional Equipment: Power steering, metallic paintwork, 14-inch Volkswagen "Silverstone" ('teardrop') alloy wheels, tinted glass, Blaupunkt SQR26 radio/cassette stereo, Fischer cassette stowage console, original tailored VW cord overmats, rear mudflaps, rare "Hepp" VAG first aid kit and warning triangle.

Service History Résumé:

DATE MILEAGE DEALER / GARAGE ADDRESS
28.07.87 Delivery Inspection Whyke Motors (Chichester) Ltd.: VAG Main Dealer Bognor Road, Chichester, West Sussex.
15.09.87 1,406 miles Whyke Motors (Chichester) Ltd.: VAG Main Dealer Bognor Road, Chichester, West Sussex.
28.11.88 6,973 miles Whyke Motors (Chichester) Ltd.: VAG Main Dealer Bognor Road, Chichester, West Sussex.
04.12.89 10,268 miles Whyke Motors (Chichester) Ltd.: VAG Main Dealer Bognor Road, Chichester, West Sussex.
18.07.91 14,399 miles Whyke Motors (Chichester) Ltd.: VAG Main Dealer Bognor Road, Chichester, West Sussex.
11.03.93 19,809 miles Whyke Motors (Chichester) Ltd.: VAG Main Dealer Bognor Road, Chichester, West Sussex.
23.06.94 25,512 miles Whyke Motors (Chichester) Ltd.: VAG Main Dealer Bognor Road, Chichester, West Sussex.
23.06.95 28,591 miles Whyke Motors (Chichester) Ltd.: VAG Main Dealer Bognor Road, Chichester, West Sussex.
16.07.97 33,847miles Whyke Motors (Chichester) Ltd.: VAG Main Dealer Bognor Road, Chichester, West Sussex.
14.07.98 37,485 miles Whyke Motors (Chichester) Ltd.: VAG Main Dealer Bognor Road, Chichester, West Sussex.
29.06.99 42,046 miles Whyke Motors (Chichester) Ltd.: VAG Main Dealer Bognor Road, Chichester, West Sussex.
13.07.00 47,279 miles Whyke Motors (Chichester) Ltd.: VAG Main Dealer Bognor Road, Chichester, West Sussex.
23.07.01 51,332 miles Whyke Motors (Chichester) Ltd.: VAG Main Dealer Bognor Road, Chichester, West Sussex.
23.07.02 55,330 miles Whyke Motors (Chichester) Ltd.: VAG Main Dealer Bognor Road, Chichester, West Sussex.
04.08.03 63,041 miles Mayswood Garage Mayswood Road, Wootten Wawen, Solihull.
04.08.03 Timing Belt Replacement & Full Service + Thermostat & Antifreeze.
12.01.04 75,961 miles Mayswood Garage Mayswood Road, Wootten Wawen, Solihull.
19.08.04 88,527 miles Mayswood Garage Mayswood Road, Wootten Wawen, Solihull.
07.02.05 94,505 miles Mayswood Garage Mayswood Road, Wootten Wawen, Solihull.
14.01.06 102,528 miles Mayswood Garage Mayswood Road, Wootten Wawen, Solihull.
16.09.11 102,791 miles Cross Motor Engineering: Performance Specialists Bidavon Ind. Estate, Bidford-on-Avon, Warks.
16.06.11 Timing Belt Replacement & Full Service + Hydraulic Tappets, Water Pump, R/Cover Gasket, Antifreeze.

The earlier cars are better built too, as the MkII endured it had to remain price competitive so materials were slyly downgraded. I have had a few 1991 big bumper 8Vs and they are not as well made. They commonly suffer from worn valve stem oil seals leading to smoking and backfiring, also the headlinings drop, the carpets are an inferior grade, the sills rot behind the plastic skirts and they just seem to get scabbier. My car suffers from none of these afflictions and has never been welded.

My car is correct in every detail, EVERY detail! Call me a anorak if you like, I don't care, to ensure future appreciation of this car's value, originality and period detail is crucial. When a K-jet is occasionally spotted on eBay, all too often it has been ruined, frequently the original interior has been swapped for a later model set, a shame as these stripey seats are so distinctive and the fabric is the best quality, or the front grill is the wrong sort, and often it is worse as some total ned has fitted coilovers so it's skimming manhole covers and a nasty drainpipe exhaust, 6×9 speaker holes in the rear shelf.

A more newly established 80s car specialist are selling a Jade Green 8V, albeit a much more common "Digifant" car, for £6000 and yet they've fitted incorrect centre caps to the car, and their car lacks PAS of course, their Diamond Silver K-jet car is missing its black swage decals which points to it having been resprayed, and the Pirelli P wheels no longer have black insets, so they have been repainted too, so does having 40K less on the clock make it worth double what mine is?! I set the price ceiling last year for a MkII 8V when I sold my one lady owner 1991 Bright Blue GTI with a mere 19,000 miles and FVWSH for £8000. That was the best and most attractive MkII remaining in the UK, full stop. This car cannot quite hold a candle to that one, but it's not that far off.

If you want a truly timewarp, ultra low mileage specimen, the type you'd always be loathe to actually use, then you need to be looking in the £6-8K bracket nowadays I'm afraid. However, for half of that you could consider my car which thanks to my considerable time and significant expenditure looks and drives very nearly as well, and still has that crucial FSH to ensure it's value will not depreciate. It's definitely good enough to take to all the VW club events that abound, but it is not so museum-piece special that one needs fear driving it regularly. I want someone to drive it daily or at least as a weekend toy.

There's a compelling case for using a 25 year old compact hothatch as a daily driver. Regardless of how "clean" new car emissions are, the huge amount of energy and water and fuel consumed in the manufacture of the steel bodywork and all the miriad of components that make up a new car and then the transportation to the UK is VASTLY more polluting than driving a car that has already exceeded twice its planned life expectancy. Don't let our warped government have you believe otherwise and bring back the rolling basis classic car tax exemption! So for all you parsimonious Nigels in your Toyota Prius ugly dogs, you aint saving the planet at all.

The GTI 8V will return 40mpg and even with spirited driving will only drop to 33mpg, factor in petrol being cheaper than diesel, enjoying zero depreciation as a bona fide modern classic, cheap classic insurance premiums, and an annual service bill of £120 at most with no pesky catalytic convertors, airbags, ABS, engine management lights and needless electronics to go wrong. Does it sound too good to be true? Not one jot, I practice what I preach and have been using GTI's daily without a gap for the past 11 years and have never required anything serious like an engine rebuild or gearbox reconditioning, I don't even have an AA membership. I even bought a 262,000 mile F-reg GTI 8V last year to cannabilise its headlining, did it drive like a shed? No it felt as good as any GTI I have had with half its mileage!

My car has been treated to a high quality professional respray to all panels bar the roof. To all you doubting folk, not because the car was rusting and covered in dents (I have "before" pictures to substantiate this) but as with most cars of 25 years old that have been used, there were the fair share of chips, areas of dull lacquer, parking dings, scratches and the like. In fact it was very presentable in its raw state, but due to the provenance it was worth me spending £750 (trade price!) getting the paintwork looking stunning again. It is now superb, flawless panels, very high lustre and a uniform finish, it looks showroom shiny. New decals, swage trims and tailgate, have been carefully applied, new badges at the rear where necessary and all the plastic trim treated with my magic method that won't wash off, the alloy wheels have been professionally shotblasted and powder-coated and shod with excellent premium VAG approved Pirelli P6000 tyres all round. Any bit of missing trim or something I wasn't quite happy with has been replaced with the correct item, not a cheap exercise now MkII's are increasingly collectable.

The car retains all of it's original detail decals, the under-bonnet warning sticker, the VAG codes sticker in the boot (confirming it hasn't been shunted at the rear), fuel flap label etc. I also have the original main dealer number plates and tax disc holder. Rather than my usual website address I have had brand new number plates made up with the original supplying main dealer details at the bottom in the correct VW font which is a superb finishing touch to this stunningly attractive car.

The amount of attention (all positive) this car generates is immense. You could be driving a 1987 911 Turbo, but this humble 1987 MkII GTI has mass appeal, so many people owned them back in the day and very often they were the best and most reliable cars they ever owned. They are accessible to most, from £500 EBay ragbags to my £8000 museum-piece last year. Thankfully my car is priced beyond the reach of tasteless neds with dubious taste, I am hoping that it will appeal to someone who owned one when new or nearly new and wants a trip down memory lane but has neither the time or expertise to embark on a restoration themselves. Jump in and drive my remarkable specimen and you will be right back in 1987, turn on the Blaupunkt slot in your Duran Duran tape, put on your Raybans and be 25 all over again, and the rare power-steering means your wife won't moan too often about picking you up from the pub or golf club in it either. Oh and forget about cassette tapes, the fruity deep bass exhaust burble is a delight and so captivating, the poor generation of today brought up on a diet of diesel clatter.

The car has had a major service and many parts replaced as a precautionary measure with OE branded items to ensure the new owner can just jump in and enjoy. This is the very opposite of a cheapo eBay project GTI, it is the finished article. "Do the maths" as they annoyingly say, look at the extent of my refurbishment and you'll realise you could never bring in a project to this standard for less. Besides you wouldn't find such a worthy raw car in the first place and you don't have my attention to detail or anorak knowledge. In this price bracket this is most alluring and authentic GTI by a long shot, don't miss it. Car comes with full 12 months MoT.

Job list:

1) Professional major service: New Ruville hydraulic tappets, rocker cover gasket set, Contitech timing belt and roller kit, PAS pump bracket, fan belt, Bosch oil filter, air filter, Bosch wiper blades, Mk3 weighted shift rod and Molyslip gearbox oil treatment.
2) Ignition system: New Bosch spark plugs, Beru distributor car, rotor arm and ignition leads. Varta battery.
3) Coolant system: New water pump, radiator, heater matrix and antifreeze.
4) Suspension: New Boge/Sachs gas shock absorbers front and rear, Febi top strut mounting kits and rear shocks bushings.
5) Brakes: New rear brake discs and pads, new rear wheel bearings fitted at same time.
6) Exhaust system: New entire OE spec system, downpipe, front, centre and rear sections. New exhaust manifold and downpipe gaskets and new hangers.
7) Exterior: Strip down of all bumpers, grills, lights and wheel arch trims. New front valance and lower grill fitted. Professional preparation and repaint of all panels bar roof. New tailgate lock and tailgate struts fitted. New OE Hella wing mount aerial.
8) Waxoyling of wheel arches and inner wings prior to re-fitting GTI wheel arch trims using genuine VW rivets. Underseal inner sills and floorpans. New tailgate decal, side swage decals, replace rear badges.
9) Interior: Coachtrimmer to rebuild driver's seat bolster and fit unworn passenger seat upright cover. Replace driver's window regulator. Waxoyl door bottoms inside and clear drainage holes fit replacement door membranes behind doorcards. New leather gearshift gaitor boot. Replace all dashboard illumination bulbs. Clear sunroof drains and grease mechanism. Thorough shampoo of seats, carpets, doorcards, replace sound deadening before re-fitting seats.
10) New "main dealer" number plates (originals retained).
11) Thorough detail and valet and Autoglym finishing.
The asking price of £3,495 equates to about $5,400 at today's exchange rates. This is very strong money for any Golf with over 100,000 miles of this vintage, regardless of what the seller is stating. It does put it right around what NADA is stating for a high retail value, but many of the cars we feature here at GCFSB are so unique, they are hard to categorize under such a scale. This MkII GTI is about the most well documented I've ever seen, and kudos to the seller for such a thorough description. The exterior and interior look tidy, and no doubt certain VW aficianados will be attracted to the combination of the K-Jetronic engine combined with some uncommon options. The only downside I can determine with this car is that it is too far away to be economically feasible for most.
-Paul