The Mercedes-Benz 190E was the car that introduced consumers to the idea that of a compact Mercedes-Benz. This small luxury sedan would eventually be revered for its longevity and brought the idea of Mercedes ownership closer to upwardly mobile consumers in the 1980s. My father drove a 1992 190E 2.6 for a few years and while it wasn't the most exciting car I had ever driven, I remember it fondly for it's smooth power, excellent build quality and durability. It's getting harder to find nice examples of the Baby Benz, as it was called, these days. But two have cropped up this week, one with the 2.3 liter four cylinder engine, the other with the 2.6 liter inline six.
First up, we have a 1991 Mercedes-Benz 190E 2.3 with a very low 50,000 original miles for sale in Texas.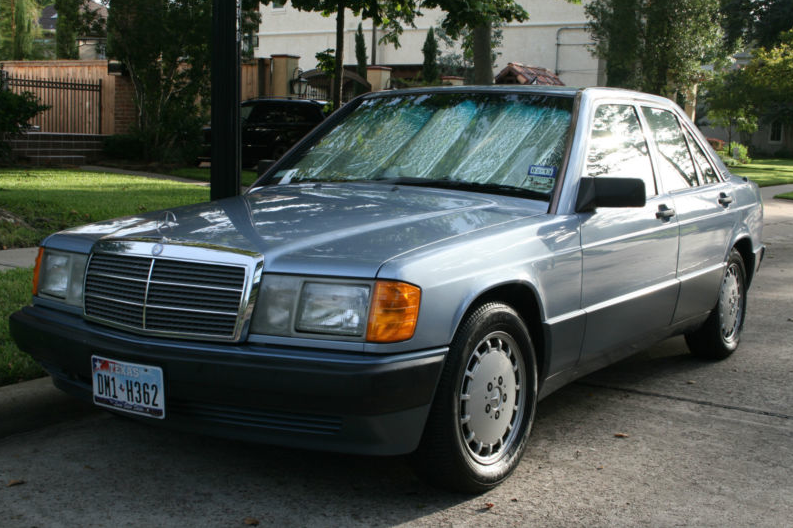 Hi Folks,

Up for grabs is a beautiful low mileage 190E finished in Pearl Blue over Blue. Car has been garged and well maintained. It gets compliments everywhere I go. You just don't see very many in their orginal well preserved state any more. I am a huge Mercedes fan and really enjoy driving and caring for older Mercedes. We are in the middle of a move, and the wife would prefer I not bring along all the toys. My prior Benzes included included a 92 300D diesel, an 83 300SD and and an 85 300D.

This car was owned by an elderly couple and then transferred to the son and subsequently, grandson, who I purchased it from (hence the multiple owners). When I purchased the car last year, I went through the entire car to ensure its roadworthiness. It was used sparingly by us for in town driving.

MECHANICAL:The 2.3 L four cylinder engine is smooth and efficient, with adequate power. Only 50k original miles. Transmission shifts smoothly through the gears. It drives efforlessly at 70 MPH. No leaks. COLD AC and heat. Recent service highlights include:

– AC recently serviced, with a replaced AC relay. I had the system checked for leaks (which there were none) and topped off. It blows very cold.
– New Bosch Alternator and Battery
– New spark plugs/wires/rotor
– New accessory belt tensioner.
– Replaced heater valve. Heat works great.
– Replaced radiator last year. New radiator hoses replaced aging hoses.
– New air filter
– Suspension is tight.
– Slight vibration at idle and may benefit from new motor mounts.

EXTERIOR: Finished in pearlblue (perlblau) paint (code 348), the exterior is in great shape. No fading or oxidation, even on the roof. No RUST or oxidation anywhere. Lower plastic panels are in great shape. Has been mostly garaged. Sunroof delete model so more headroom and no leaky or clooged drains to worry about.

– The headlight and tail light lenses are in great shape and not faded.
– 15″ inch OEM wheels in good shape with fairly new tires.
– Windshield is in good shape. Has a tiny chip. No cracks.
– There are shallow hail dings in the trunk. They do not show up well in the pic and can only be seen up close.
– Small crack in the right rear bumper trim, but I have a replacement trim to accompany it. Has a small ding right above it.

INTERIOR: Matching blue interior is in great shape and well preserved thanks to being garaged. NON SMOKER.

– The dials and the needles in the instrument cluster are bright and orange, and not faded, another sign of being garaged.
– The seats are firm and supportive, without any tears or sagging. The mesh storage inserts behind the front seats are still taut. They usually sag in cars ofthis vintage.
– The Zebrano wood is in excellent shape without any cracks or delamination.
– NO DASH CRACKS
– Headliner is perfect. Sun visors are perfect.
– OEM factory radio and speakers are in good shape.
– Clock and temp indicator work great.
– Carpets are in good shape. No unsightly stains. Driver's side floor mat has some wear.
– All power windows work great. Functional power side view mirror.

In summary, you are getting a wonderful piece of German engineering that will continue to provide years of motoring bliss. The car is not new and not perfect, but is very clean for a 21 year old. It is not concours but can easily be. They don't quite build them like this anymore. Be realistic in your expectations and you will not be disappointed.
Next up, we have a 1992 Mercedes-Benz 190E 2.6 for sale in California with an even lower 43,000 miles on the clock.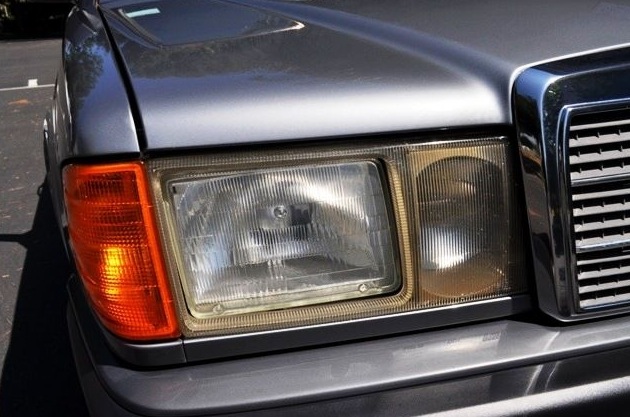 1993 Mercedes Benz 190E. Although this 190E is 19 years old it does not compromise its luxury and style through the changing years of Mercedes-Benz. The Mercedes Benz 190E offers all you would hope a Mercedes-Benz would. This particular 190E is in immaculate condition and when I say immaculate, I really mean it! The interior is flawless and looks like it did the day it was born! This is a car that will impress even the most fussy buyer! To top it off, it's a one owner California car!
Both of these 190E sedans are very appealing. Personally, I'd rather have the 1993 2.6, mainly because of my familiarity with this version and because of the color combination. However, the 1991 2.3 could be an excellent, efficient commuter car for someone who couldn't bear being seen in a modern day econobox. It's nice to see clean W201s out there, as many were used up and thrown away. These cars deserve to be preserved, as they are great examples of good things coming in small packages.
-Paul