As summer starts to wind down, so does my summer work, and I am struggling with the temptation to use my compensation to help buy an E28 M5. While not the most prudent purchase, it's hard to resist turning a dream car to reality when the opportunity arises. Today's example would be a plausible entry point, well-maintained with 169k miles. It comes with some solid extra parts like Bilsteins that could replace the still-intact self-leveling suspension, and an extremely reasonable buy-it-now of $10k.
1988 BMW E28 M5 for sale on eBay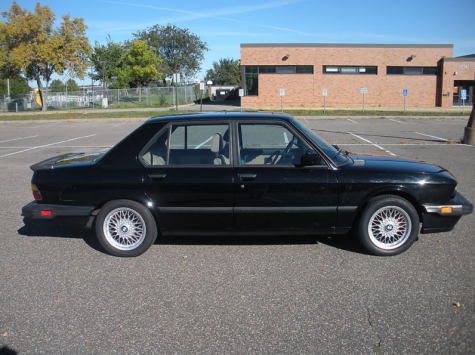 From the seller:
Very clean & well sorted 88 E28 M5. Bought the car in 09 with 166k miles & have put little miles, but a lot of cash. Car hs spent life in CA before coming to MN. It has never seen snow or salt by myself or prior owner here in MN as it was garaged winters. Absolutely rust free, ding free,very good paint. Has original SLS, although I have puchased a set of Bilstein sports that will go with the car. B&B triflow exhaust as well as the original. Euro headlites & grill. M5 emblems are removed ,but come with car (hell, it was always supposed to be a sleeper).Tight suspension & rides on rails @ 135mph+( don't ask). High end Alpine deck w/ MP3 & Infinity speakers & amps where possible (did not want to butcher a pristine E28 for the sound system). Comes with original stereo. Was checked out by very reputable local BMW dealer prior to my purchse, as prior owner was planning a full $25K Euro conversion, & was deemed an excellent candidate. Prior owner ended up buying a Euro M5 for huge money & sold me this one. Leak down & compession are all good. Interior is very nice, except for the all but obligatory bolster damage on drivers seat. Dash is uncracked. Records from new.
Pros: Seems pretty well taken care of, I like that SLS replacement is ready to go, is clean for 170k miles, and the price is right.
Cons: 170k is a lot of miles, the autocheck score could be better, and the M5 emblems are not on (but come with it). It's enough of a sleeper stock- I want the M5 on the back.
In the end, I'd probably spend a little more to get fewer miles, but it's nice to know that there's still a reasonable price of entry for the original super sedan.
-NR